2016 moments we loved at U of T
Olympic medals, pop culture royalty, jaw-dropping research and everything in between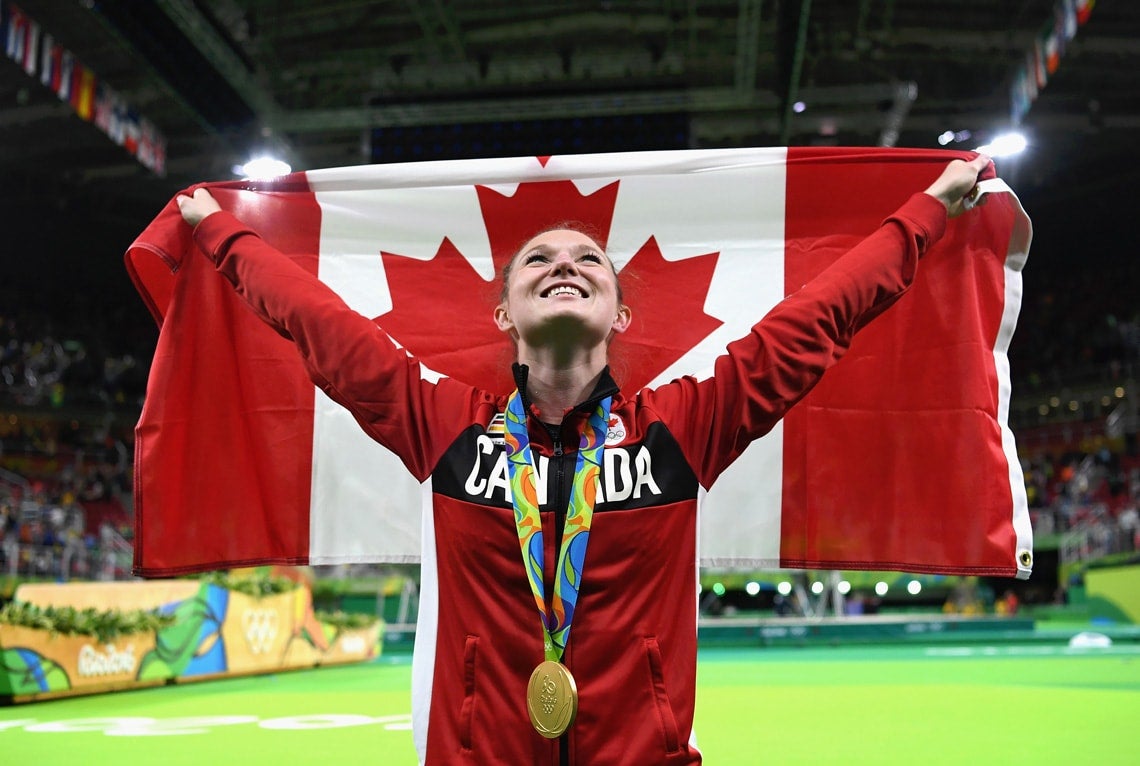 We cheered on our Olympic athletes, made scientific breakthroughs deep in the Earth and high above the clouds, became Instagram famous and cooked up a storm.
To say 2016 has been an eventful year would be an understatement.
Here are just a few of the amazing things University of Toronto students, faculty, staff and alumni have gotten up to in the past year.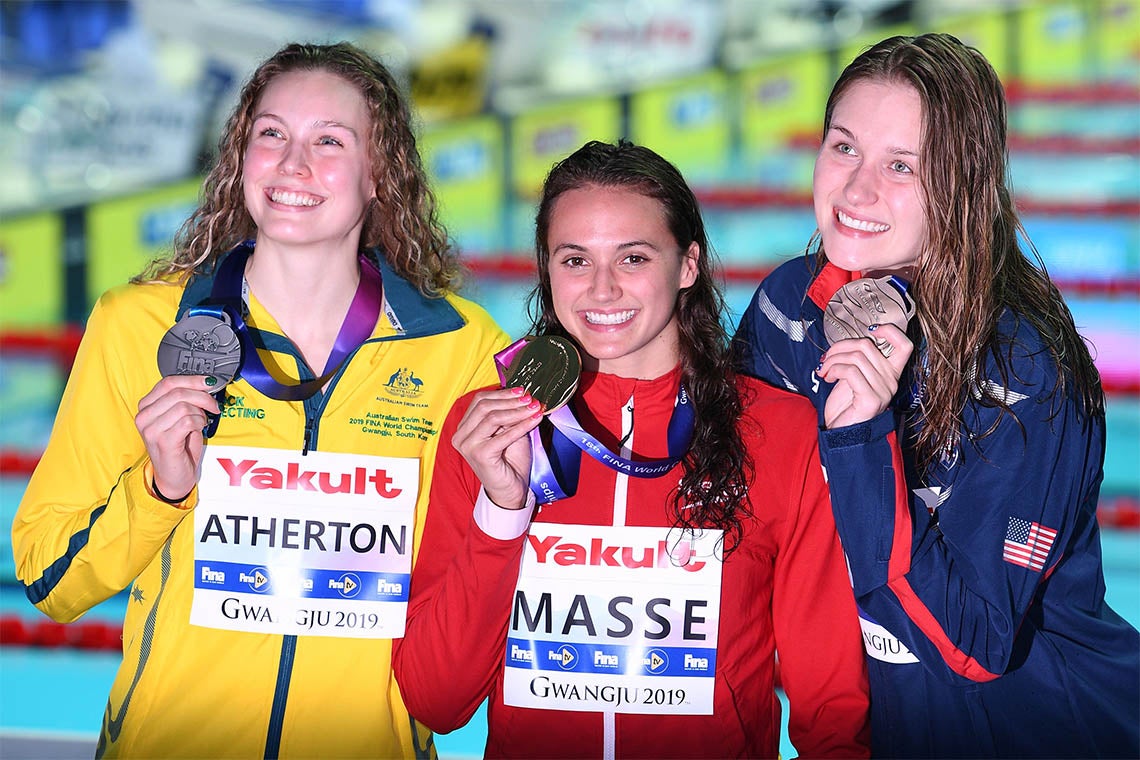 Kylie Masse wins bronze in the women's 100-metre backstroke at the Rio 2016 Olympic Games (photo by Ian MacNicol/Getty Images)
The gold standard
U of T's incredible athletes made a big impression at the Olympic Games in Rio this summer with alumna and student Rosie MacLennan successfully defending her gold in trampoline, and Varsity Blues swimmer Kylie Masse, a student in the Faculty of Kinesiology and Physical Education winning bronze in the women's 100-metre backstroke. U of T alumna Shelley Gautier scored a bronze medal for Canada in paracycling at the Rio 2016 Paralympic Games.
Vice-President and Principal of U of T Scarborough, Bruce Kidd, an Olympian himself, said he's incredibly proud of the athletes continuing the university's Olympic legacy.
"It's been thrilling to watch U of T students and alumni compete so brilliantly, courageously."
The university's grads were once again among the world's more employable – and U of T's impact on the world stage, from ground-breaking research to innovative teaching propelled it to the top of global rankings lists.
And who can forget the incredible achievements of U of T faculty like Deborah Cowen, whose work spanning urban planning and politics, citizenship, contested spaces and social justice, earned her a prestigious Trudeau Fellowship and Professor Molly Shoichet, a world-renowned researcher and leader in the use of biomaterials to enhance stem cell delivery for treating disease conditions from stroke to blindness, who received the Till & McCulloch Award.
Twenty-five U of T researchers were named as Canada Research Chairs this year. A majority –16 of them – were women.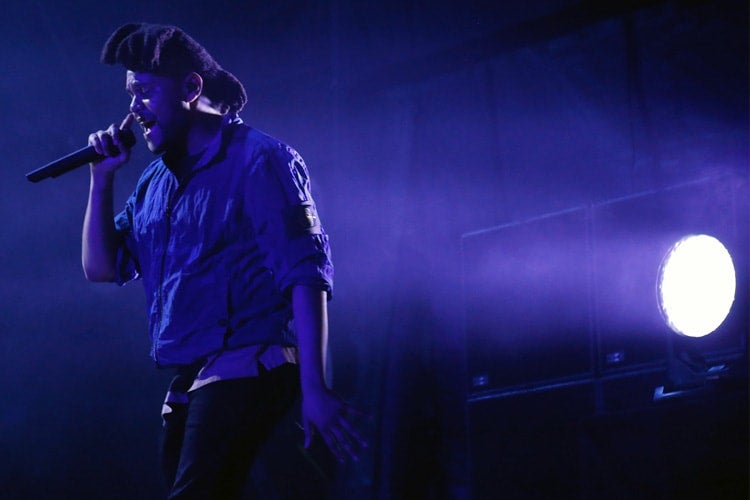 ​The Weeknd helped to raise money for the university's efforts to create Ethiopian studies. (Photo by Taylor Hill/Getty Images for Hangout Music Festival) 
A dose of pop culture
U of T earned some pop culture cred this year with two alumni starring in some of this year's biggest TV shows – David Sutcliffe, who plays Rory's dad on Gilmore Girls spoke to U of T News writer Geoffrey Vendeville about his time at U of T and what college he thinks his on-screen daughter would have attended.
Kim's Convenience's Paul Sun-Hyung Lee, reflected on his time at U of T's drama program. He said his first year "ignited inside of me a passion for the performing arts that I'd never had before."
We were incredibly thankful for Grammy-award winning star The Weeknd's $50,000 donation, which will help U of T launch Ethiopian studies.
Remember Pokémon GO? Students, staff and faculty – across the three campuses – spent some of the hottest summer days glued to their phones, trying to catch the monsters that popped up on their screens. Crowds huddled around U of T PokéStops – locations where players could download items to help in their quest – and lures, stops that attracted Pokémon, and those hunting them.  
U of T even made an appearance in Hello Magazine when their Royal Highnesses Crown Prince Haakon and Crown Princess Mette-Marit of Norway paid a visit to Hart House as part of their four-day trip to Canada. We also had a visit from the first female president of Croatia.
Mike Babcock, head coach of the Toronto Maple Leafs, dropped by OISE to share leadership lessons with educators.
And don't forget about the time Drake visited the U of T Scarborough campus…well, kind of.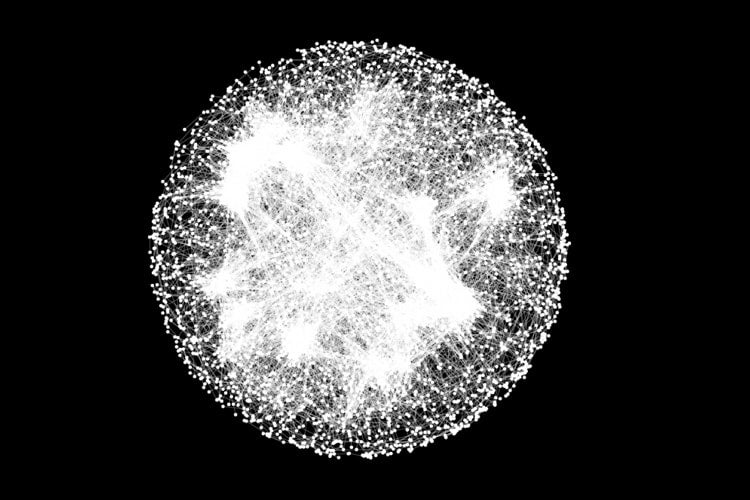 This map shows how genes interact in groups to shed light on the genetic roots of diseases.
Awe-inspiring research
The year began with Prime Minister Justin Trudeau touring the lab of U of T's Peter Zandstra, executive director of Medicine by Design, to announce a $20-million grant to back commercialization of stem cell research by U of T and its partners. (And before the year was up, the commercialization of stem cell research was winning major backing from the private sector.)
This was a year of incredible discoveries from signs of life kilometres underground by Earth Sciences Professor Barbara Sherwood Lollar to U of T research by Associate Professor Harald Pfeiffer and his team at the Canadian Institute for Theoretical Astrophysics (CITA) playing an instrumental role in the detection of gravitational waves in space.
We even questioned whether dinosaurs were able to pucker up through research by U of T Mississauga palaeontologist Robert Reisz.
The "hacktivist hothouse" that is U of T's Citizen Lab continued making headlines from Vanity Fair to The New York Times  and CNN International about abuses of power online, including being the subject of a Canadian documentary, Black Code.
U of T's massive project to sequence the whole genomes of 10,000 people per year will help us understand complex diseases while a new map visualizes the genetic network of a cell. And who could forget the beating heart on a chip and Canada's first hand and forearm transplant.
Scientists and environmentalists at the university took some serious steps to tackle climate change.  While researchers helped to solve the puzzle of converting CO₂ emissions to fuel, experts attended the "Woodstock of carbon dioxide" to figure out how to save the planet. U of T Scarborough's Nick Eyles also explored the California drought for the CBC and researchers have discovered "superstar" varieties of rice that can reduce fertilizer loss and cut down on environmental pollution in the process. 
U of T Mississauga Assistant Professor Jennifer Stellar found the power of positivity can go a long way – and it's good for your health. Another U of T study found that an enagement ring's value drops if there's an "unhappily ever after."  But be warned, the better you feel about your partner, the higher the risk to your sexual health.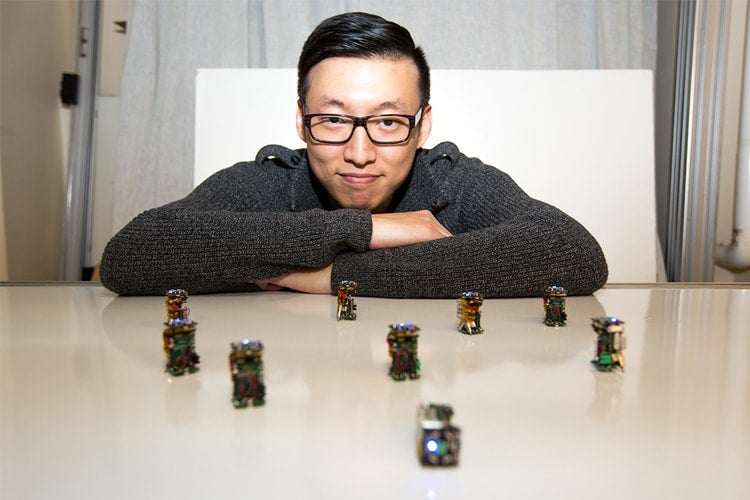 Engineering PhD student Justin Kim has built nine robots not much larger than a thumb that exhibit "swarm intelligence." (photo by John Guatto)
Clever bots
From a swarm of tiny robots that could be used to save lives to a smartphone that could tell you if you're having a bad hair day, students and faculty at U of T are on the front lines of innovation when it comes to robotics and artificial intelligence.
So it's not surprising that the best and brightest gathered at U of T to ponder the future of AI at the Machine Learning and the Market for Intelligence conference – including everyone's favourite astronaut Chris Hadfield.
"The sky is not the limit," he said. "I've lived above the sky, and I know it's just the start of our opportunities."
But don't worry, U of T experts say we don't have to surrender to the robots just yet.
If you're planning on belting out some carols during the holiday season, let this U of T created program help you turn your favourite photos into a jolly sing-a-long.
Hosting a New Year's Eve dinner party and want the perfect wine and cheese pairing? There's a U of T made algorithm for that.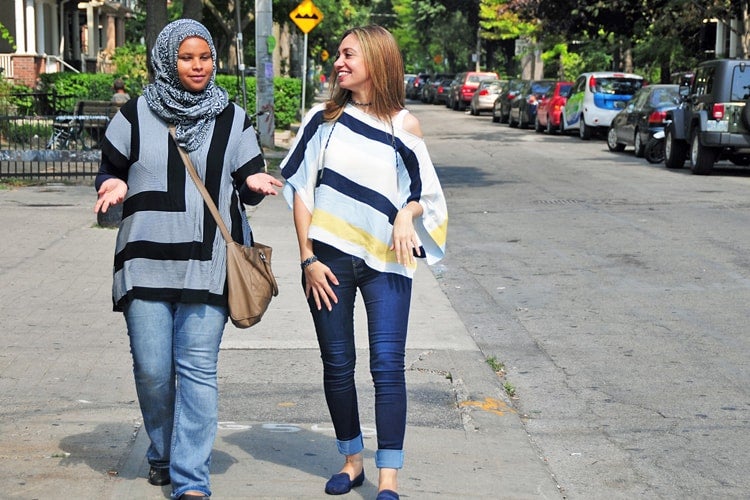 U of T alumni Karimah Gheddai and Shaimaa Atef are city builders to watch. (Photo by Romi Levine)
In the 6ix
Toronto Life came to U of T experts when they wanted to envision what the city would look like in 50 years. Denser and more diverse was the answer.
U of T's mapping experts told incredible stories about Toronto's waterways, highways, schools, access to food and jobs.
A new generation of city builders was hard at work ensuring that Toronto stays liveable as it continues to grow at warp speed.
And a group of U of T ethnographers watched the city change through the eyes of shop owners and residents in Kensington Market while a group of U of T students was busy making sure Syrian newcomers felt at home.
All three campuses kept a local focus with a new social procurement policy while cooking up some gourmet, locally-sourced food to satisfy U of T foodies. 
At U of T's downtown Toronto campus, Convocation Hall played host as 500 new citizens were sworn in. Convocation ceremonies brought stars like Dick Pound, the international face of the fight against doping, and Degrassi's Linda Schuyler to U of T.
We also had several visits by elected officials from all three levels of government such as federal Finance Minister Bill Morneau, Premier Kathleen Wynne, Mayor John Tory and Science Minister Kirsty Duncan.
At U of T Scarborough, The Environmental Science and Chemistry Building has been recognized as the gold standard for sustainable building design.
And, after much public consulation, the university chose a winning team to transform the downtown Toronto campus. Get ready, Toronto, for a more pedestrian-friendly campus with parking headed underground at King's College Circle. 
Do you have a favourite moment of 2016? We'd love to hear about it!