U of T has one of the world's best graduate employability outcomes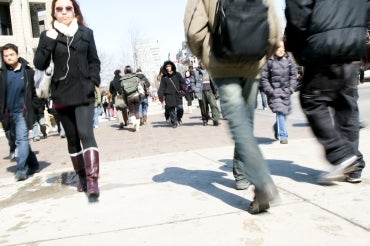 Students who graduate from the University of Toronto not only learn from some of the top minds in the world, they also have one of the best graduate employability outcomes in the world, says the QS Graduate Employability Rankings.
U of T was the top-ranked Canadian university and placed 19th globally out of 300 top universities surveyed. Among public universities, it ranked third in North America and 13th globally.
"We're pleased to see our ranking results continue to demonstrate U of T's excellent track record for graduate outcomes and employment," said Cheryl Regehr, U of T's vice-president and provost.
QS said that the ranking incorporates the views of employers through a global survey, as well as alumni outcomes, employment rates, industry partnerships and student-employer connections.
"The ranking aims to help prospective students identify institutions with a strong commitment to and outstanding outcomes on graduate employability," QS said.
There was also a notably strong performance for STEM-focused institutions in the rankings, QS found. American universities fared well with Stanford University and the Massachusetts Institute of Technology (MIT) in the top two positions. England, China, France and Australia also had institutions in the top 10.
Other Canadian universities in the top 50 included: Waterloo (22nd), McGill (28th), and UBC (41st).
The QS findings mirror the results of the Times Higher Education (THE) – Global Employability University Ranking that placed U of T first among Canadian universities, 14th in the world and sixth among North American public universities. The THE ranking combines the results of two online survey panels with approximately 6,000 respondents in total.