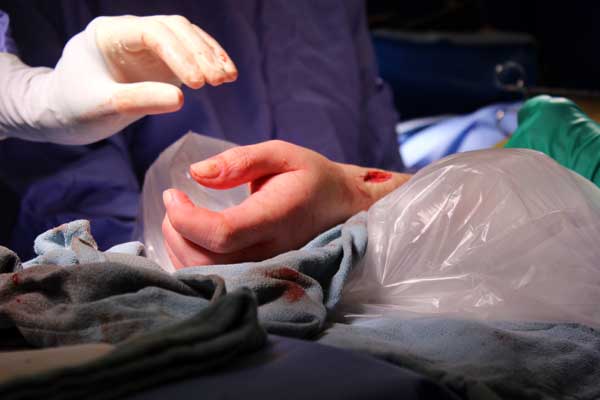 Canada's first hand, forearm transplant takes 18 U of T surgeons and five years of planning
University Health Network team included surgeons, ethicists, lawyers, psychologists, social workers and physical therapists
It was a 14-hour marathon and a Canadian first: 18 surgeons from the University of Toronto – aided by a multidisciplinary UHN team that included anesthesiologists, psychiatrists, pharmacists, nurses and other health care professionals – attached the upper limb from a donor to a suitable recipient. 
The 49-year-old woman, who lost her arm below the elbow in an accident several years ago, is doing well and recovering from the procedure. She expressed interest in this surgery after seeing a 2014 Toronto Star article on preparations to perform Canada's first hand transplant.
Professor Steven McCabe, director of U of T's Hand Program and director of UHN's Hand and Upper Extremity Transplant Program at Toronto Western Hospital, led the team. 
"We are very proud to have successfully performed this forearm and hand transplant procedure," said McCabe (pictured below). "This is a tremendous accomplishment, and we are excited to be able to provide this procedure to patients who would benefit from it."
Planning for this surgery began more than five years ago under the direction of Dr. Ron Zuker, a professor in U of T's division of plastic and reconstructive surgery and a surgeon at SickKids. Seeing the possibility of this type of surgery on the horizon, Zuker established a committee of Toronto surgeons and transplant specialists to start the planning process.
To be a candidate for leading-edge transplant procedures, a patient must follow a strict protocol before they are accepted, including comprehensive psychological screening. A team of surgeons, ethicists, lawyers, psychologists, social workers and physical therapists works on each case. After surgery, the patient will undergo an intensive program of physical and occupational therapy for at least a year and live near the hospital so they can get there quickly in case their body starts to reject the transplant.
A wide range of experts are required to successfully complete the pre-transplant, transplant and post-transplant phases. This procedure was made possible by the knowledge of immune suppression and the prevention of rejection in UHN's Multi-Organ Transplant Program (MOTP), Toronto Western Hospital's Hand and Upper Extremity Transplant Program, and the Trillium Gift of Life Network (TGLN) that oversees the organ donation process.
"You need to have a large transplant centre to make this happen, and we're fortunate at UHN to have the fifth-largest transplant centre in North America; the largest in Canada," said McCabe. UHN's MOTP performs more than 500 transplants annually and provides follow-up care to more than 5,000 recipients.

 
McCabe was part of the surgical team in Louisville, Kentucky that performed the world's first successful hand transplant in 1999. To date, over 110 hand transplants have taken place worldwide in more than 12 countries.
This procedure would not have been possible without a generous family who made the choice to give the gift of life in the midst of their grief. All Ontarians can give hope to those waiting for transplantation by registering consent to organ and tissue donation at www.BeADonor.ca. 
The patient's rehabilitation will begin right away with a custom made splint and motion of the joints to avoid stiffness. To protect the privacy and confidentiality of the patient, the donor and their families, the hospital will not be releasing the date of the surgery or any possible identifying details.