#UofTGrad16: Degrassi co-creator Linda Schuyler
Acclaimed Canadian TV producer Linda Schuyler could slow down, if she wanted to.
There are literally thousands of hours of the teenage touchstone Degrassi in the can, prestigious awards line her office (a Peabody, multiple Emmys and Geminis and so on) and now the franchise — in its fifth iteration — has made the jump from traditional TV to the binge-watching mecca of Netflix.
But no, the woman who gave superstar Drake his first big break has decided to take up music herself.
"I'm loving it," says the former school teacher, who says her piano teacher – U of T music grad Charleen Beard – is planning to do a PhD in music focused on adult learners and "I'm her star pupil!" she says with tongue firmly planted in cheek.
Today, the University of Toronto is recognizing Schuyler with a Doctor of Laws, honoris causa at the convocation ceremony for her alma mater Innis College, where she graduated with a BA more than four decades ago.
"You think I had the option to say no?" she says with a laugh when asked why she decided to accept the degree. "Obviously, just getting the honorary doctorate itself is definitely very exciting" but the fact it's with fellow Innis students makes it super special, she added.
It was Innis that drew her to U of T in the 1970s because it was one of the few places that offered students the chance to take classes in film studies.
"It was very of its time. It was a very alternative college," where students would relax on the carpeted floor covered in throw cushions and watch films on a 16mm projector. "There were great discussions."
Her time at Innis, fused with her time in the classroom, ultimately led to Degrassi, which is an unusual success story — and not just for Canadian television.
It's 36-years-old this year but somehow still passes convincingly as 14 as it explores the trials and tribulations of teenagers that continue to resound with generations of young people around the world.
Perhaps, it could only have started here. It's very Canadianess — the fact it isn't glossy and Hollywood, that it uses real kids playing their real ages and controversial issues aren't shied away from or tidily dealt with — could be the key. It's the anti-Saved by the Bell.
"It's absolutely a mystery, eh?" Schuyler jokes when asked for the secret to the Degrassi longevity. "I think when you say frank storytelling; it's not just frank it's also as authentic as possible to the teenage experience."
In 2011, when Degrassi won the prestigious Peabody Award, Schuyler and her team were lauded for an episode arc about a transgender teen that "neither trivializes nor over dramatizes its subject."
"I was really touched by that," she says, adding the stories and issues they explore are never "a ratings grab" or talk down to young people as "you're just going through a phase."
And how they approach an issue has changed over time to reflect societal changes. "Our stories should reflect the times," she says. An example is how the Degrassi universe has evolved when it comes to LGBTQ characters.
In 1986, Snake's older brother confides in him that he's gay and Snake doesn't know how to deal with it, explains Schuyler. The parents even reject their son. Fast forward to 2003, this time viewers watched as a main character named Marco learns to accept, embrace and explore his sexuality over time. "It was a process for him." But in 2015, three or four main characters start their first day in Grade 9 on the show "totally out and totally cool" about it.
But along with the heavier issues was a lot of fun. Clerks director Kevin Smith is a self-confessed super fan of the shows, as is Girls creator and star Lena Dunham and celebrity gossip maven Perez Hilton. Degrassi is so well-known, it even gets name-dropped on The Tonight Show starring Jimmy Fallon.
And when Drake drops in an interview with W that he was "kicked off" Degrassi because of his music, well, people sit up and take notice.
"He graduated. His character graduated!" says Schuyler when teasingly asked about it. "I don't know how that story started."
But things are cool with Drake — he'll always be Aubrey Graham to me, she says, adding the last time she saw him he gave her a big bear hug.
Schuyler certainly knows how to spot talent.
When they first auditioned Drake... er, Aubrey... for the role of Degrassi basketball player Jimmy Brooks, his charisma was just overwhelming. His acting chops, well not so much because he didn't really have any at the time, she says.
"But the camera loved him. He was just so charismatic."
And mention the name Joey Jeremiah, Snake or Wheels and women (and men) of a certain age will still swoon to this day even though Degrassi High ended its run in 1991.
"We auditioned so many kids for that role," says Schuyler about the fedora-wearing jokester and wannabe musician Joey. "Pat Mastroianni was the first one — and we just looked at each other and knew."
Linda Schuyler addressed the 10 a.m. ceremony for graduands from Innis College and Trinity College. A video of Schuyler's speech will be available on U of T's YouTube channel following the event.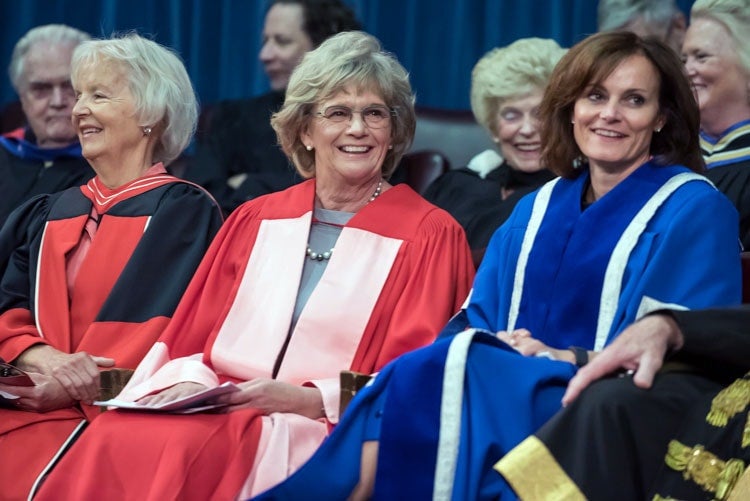 (Above: Professor Janet Paterson, Schuyler and Governing Council Chair Judy Goldring/ photo by Steve Frost)