#UofTGrad16: Anti-doping crusader Dick Pound
"It's a great honour. One that I would never have expected."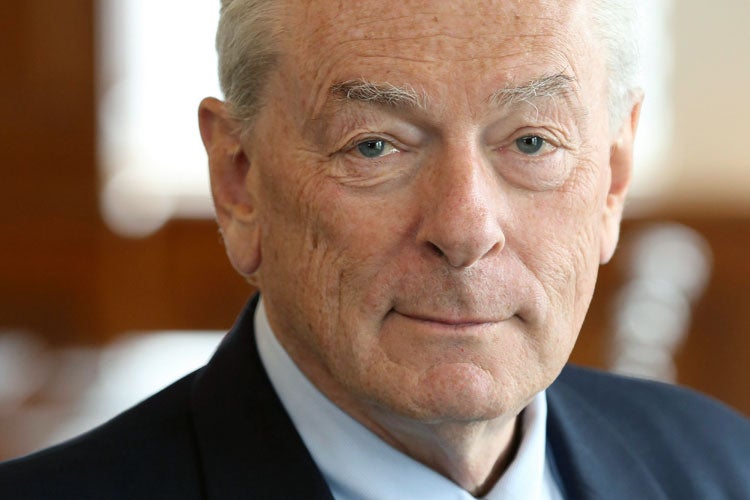 (photo courtesy Dick Pound)
He started out as an Olympic swimmer and he's been fighting against the current ever since.
Best known as an outspoken advocate for competing clean, Richard (Dick) Pound has been the international face of the fight against doping in elite sport, particularly at the Olympic Games, for almost two decades through his work with the Montreal-headquartered World Anti-Doping Agency (WADA).
Tonight, the University of Toronto will honour him with a Doctor of Laws, honoris causa.
Pound "is a giant of Canadian sport and I've been wanting to honour him for some time," explains Professor Bruce Kidd, a fellow Olympian, vice-president of U of T and principal of U of T Scarborough. "I'm very proud that he's accepted this. He'll bring great honour to us at U of T."
In an Olympic year — the Rio Games start August 5 — and with the campus stepping up its contribution to student and national athletes as host of the TORONTO 2015 Pan Am/Parapan Am Games last summer, the time seemed right to honour one of Canada's most-recognized figures in international sport.
With a laugh, Kidd says a quote by U.S. President John F. Kennedy came to mind when he called Pound to ask if he would "step down to take a degree" from U of T. After all, Pound is a proud alumnus and chancellor emeritus of McGill University.
As Kennedy said in 1962: "It might be said now that I have the best of both worlds, a Harvard education and a Yale degree."
"It's a great honour. One that I would never have expected," says Pound, the longest serving active member of the International Olympic Committee (IOC). "I do a lot of guest lectures that are part of courses but convocation is special with all the moms and dads in the audience."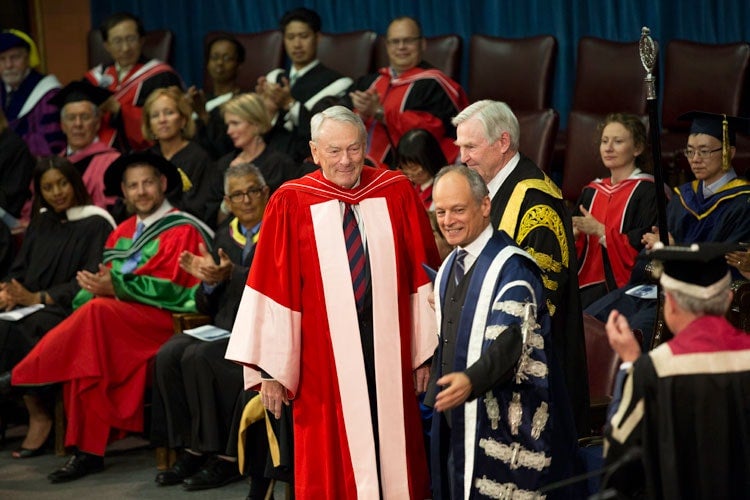 The ceremony will mark his 12th honorary degree — "the dirty dozen," he jokingly calls them. When asked if he has a special wall where they're all displayed, he demurely says he's always thought of such displays as "showing off."
The two former athletes have known each other since 1962 when both won gold medals in their respective sports (Pound, swimming; Kidd, track and field) at the Commonwealth Games in Perth, Australia. It wasn't a very deep encounter, Kidd recalls, but their paths have kept crossing ever since.
"He's been an insider from the word go in Canadian sport," Kidd says. "But on the big issues, he's stood up and said 'This isn't good enough. This is outrageous.' He's really talked the talk and walked the walk. He's shown more courage than anyone else in international sport."
Over the years, that conviction has led Pound to tackle some of the greatest challenges in the history of the international Olympic Movement, including leading an IOC corruption investigation related to the 2002 Salt Lake bribery scandal. As a result, several IOC members were expelled or resigned.
Recently, he chaired an investigation into allegations of systemic doping in Russian track and field, leading to the suspension of the country from international athletics competitions — and possibly the Rio 2016 Olympic Games.
A decision on whether the Russian team will be reinstated in time for Rio is expected to be made by the International Association of Athletics Federations (IAAF) on June 17.
In a few weeks, he'll jet off to Brazil for the Rio 2016 Olympic Games where he's working as chairman of Olympic Broadcasting Services SA, which produces the international television programming of the Olympic Games.
Sales of TV rights have been terrific for Rio, with the fantastic backdrop of the famous sands of Copacabana beach and Sugarloaf Mountain, and the "Games are going to look visually superb," he says, adding: "The organizational aspects will be somewhat less."
But Pound is sanguine about the negative media attention Rio has been inundated with almost since its bid was selected to host the Games.
"One is always moderately worried," he says when the Games are hosted by cities known for doing things at the last minute like Athens and Barcelona. "But media become largely irrelevant once the Games start."
And, he says, people have largely forgotten that the infamous smog of Los Angeles was seen as a potential athlete killer when the City of Angels hosted the Olympic Games in 1984. A fear that proved unwarranted.
Along with the wisdom he's gleaned from his career, Kidd says he hopes Pound inspires graduands to maintain their integrity. "Wherever you are, find ways to stay consistent with what you believe."
Below: Richard Pound addresses graduands from the University of Toronto Scarborough: