Pikachu sightings, rumours of Jigglypuff: Pokémon GO at the University of Toronto
Red, Blue or Yellow team? Come for class, stay to hunt pocket monsters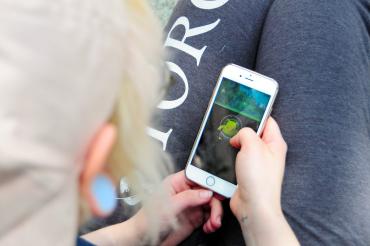 It's hard to avoid getting caught up in Pokémon GO mania – whether you jumped on the bandwagon after (or even before) the app's official Canadian launch on Sunday, or passed by countless groups of people glued to their phones, flicking at strange cartoon monsters on their screen. 
"It's kind of like Fitbit for geeks," says Vicky McArthur, assistant professor at University of Toronto Mississauga Institute of Communication, Culture, Information and Technology.
"It gets you out the door to try to find new Pokémon and gets you exploring your own neighbourhood in ways you wouldn't otherwise have done."
She says the longstanding Pokémon brand is what gets people to download the game, but the clever augmented reality interface is what keeps people hooked.
Don Boyes, associate professor, teaching stream, in U of T's department of geography and planning, is an expert on geographic information systems (GIS). Boyes tweeted: "PokemonGo is a great example of a #GPS-based location service – I'll be covering this in my fall #GIS classes!"
The game has been a huge success for app maker Niantic Inc., and for part-owner Nintendo – whose stock has gone through the roof since its debut. And this month, Nintendo is set to bring in even more cash with the release of Pokémon GO Plus  – a $35 device that makes it easier to catch those pesky Pokémon.
Almost everyone on their phones at the downtown Toronto campus of U of T seems to be playing Pokémon GO – often huddled around PokéStops – locations where players can download items that'll help them on their quest – and lures, a stop that attracts Pokémon, and in turn, those hunting them. 
"It's a lot of fun. My whole family is playing with the exception of my mom. It's a lot of fun to play with your friends and battle," says Justin Alzamora, who starts his first year at U of T in the fall. 
"The augmented reality is good – you feel like you're in the game. And it's fun because everyone has a phone and everyone can play it."
Alzamora (pictured below) came to campus for his Victoria College orientation, but stayed to hunt Pokémon – at least until his phone runs out of battery.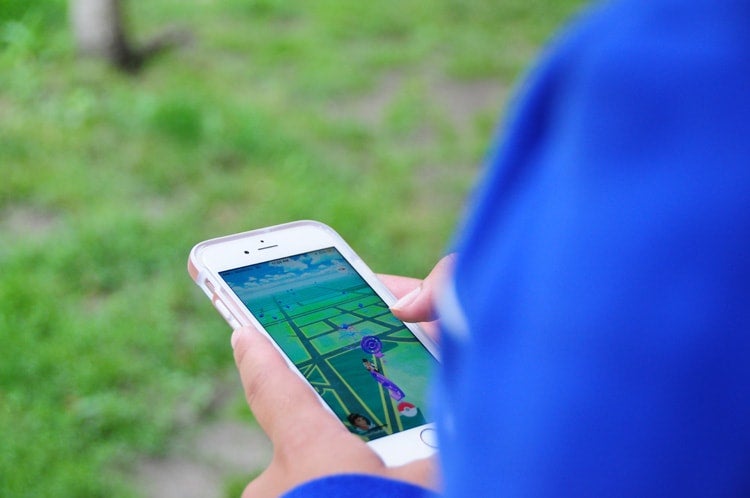 Contrary to the app's naysayers who say it's antisocial, many students around campus praise Pokémon GO for being a great way to meet people.
"I've definitely met people that I wouldn't have otherwise met or come across – going to parks, going to the next PokéStop – there's always somebody there on their phone," says Faith Wyatt, a student at the Faculty of Applied Science & Engineering's DEEP summer academy. 
She says there's even a rumour mill – people whispering about rare Pokémon sightings. 
"I've heard rumours of a Jigglypuff in our last class and apparently there was a Pikachu," she says. 
U of T students have even banded together to create a Pokémon GO club – and it's officially recognized by ULife, says the club's founding member, Peter Zhou.
At University of Toronto Scarborough, students were gathering IRL (in real life) on Wednesday for a meet up to lure and catch Pokémon. And lots of U of T Scarborough students have taken to Twitter to tweet about their hunts for the elusive digital creatures. 
"The real reason why I chose utsc was bc I predicted that there would be lots of pokestops there," tweeted a UTSC student who goes by @chibiisenpai on Twitter.
Pokémon are also popping up at University of Toronto, Mississauga where Doug Lu, career development officer, marketing and communications and media at the UTM career centre, has been enthusiastically trying to catch 'em all. 
"We are going out and we're meeting a lot of fun people and we're all experiencing the game," he says. "[the campus] is lit up with PokéStops. I actually came on the weekend – it's embarrassing."
Lu says the app could be a handy tool to get students to come to campus events.
"If this game is still going on in September, we were joking that we're going to put up a lure module outside of one of our career fairs," he says. 
And he doesn't see players losing interest any time soon. 
"I don't know if this game is going to run dry any time soon. It's red hot," says Lu.