Finding home: U of T students carve space for Syrian newcomers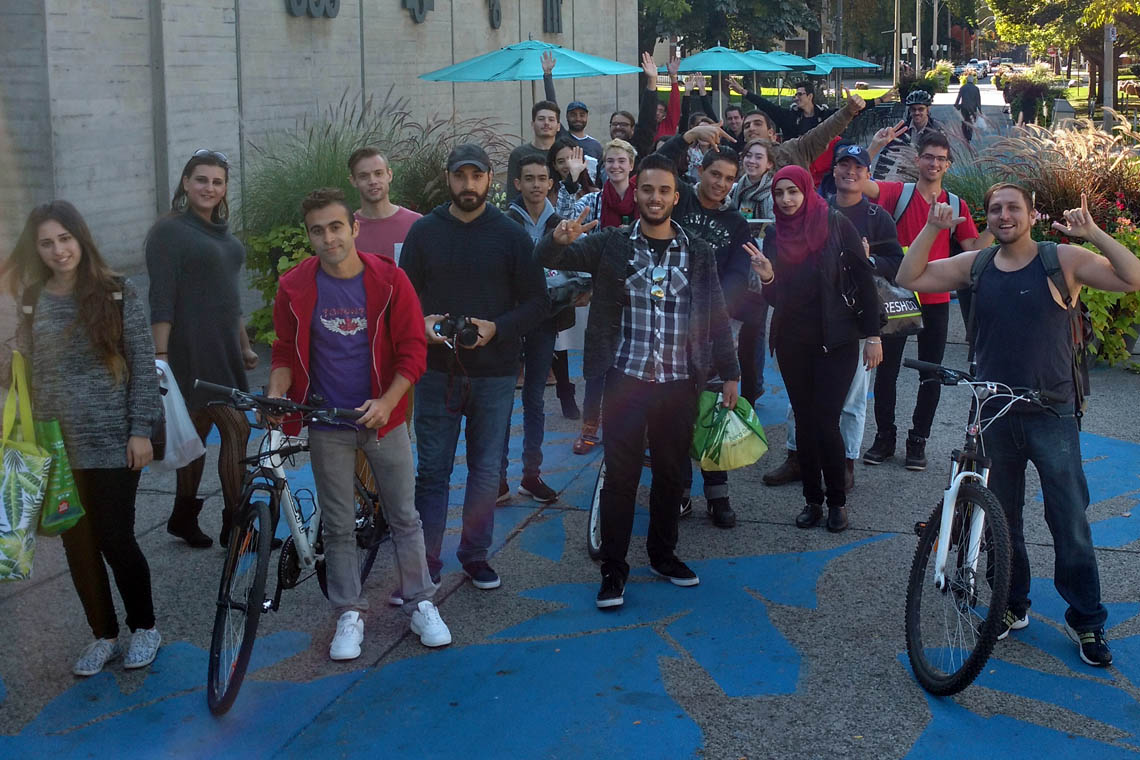 On an otherwise quiet Saturday afternoon, laughter erupts and carries down the hall at the department of Near and Middle Eastern civilizations.
The source? A group of about 30 young Syrians, who recently came to Canada as refugees from the war-torn country.
They gather every Saturday for workshops led by U of T students to practice English, eat home-cooked Syrian food and develop the foundations to start their new lives in Canada. Sometimes, participants stay indoors, working in groups. Other times, they head outdoors for picnics and sports. 
"The best day is the day when I am at the workshops," says Yazan, a 21-year-old who came to Canada in February. Like many students in the group, Yazan asked to be identified by a first name only – to protect family back home.
The workshops are organized by the Near and Middle Eastern Civilizations-Cultural Exchange and Support Initiative (NMC-CESI), which is a volunteer effort started by a group of students and faculty at the Near and Middle Eastern civilizations department of the Faculty of Arts & Science. The workshops are meant to raise awareness about the ongoing issues in Syria and the Middle East, and to help Syrian newcomers settle into their new country.
Yazan moved here with his mother and brother after spending three years as a refugee in Jordan, where he says he worked gruelling, 14-hour days in a restaurant. Going to school was out of the question.
He speaks in English and sometimes in Arabic, translated by U of T PhD student Ian Costa, one of a number of graduate students who began the NMC-CESI.
"Because of the war, I couldn't continue living in Syria," he says. "Before the war, there was a stable life."
Yazan says that since he began to attend the NMC-CESI workshops, organizers such as Costa, PhD student Rasha Elendari, Robert Martin and other Syrian-Canadians have provided a place where the newcomers and U of T students can learn from each other, together.
"When I came to Canada, I met Rasha and everyone here, and they told me not to worry," he says, recalling his fears about moving to a new place and how little he knew about Toronto or Canada when he arrived.
Karam, a 24-year-old who arrived in Toronto via Lebanon, is keen on building his future, despite the difficulties of the past. 
In 2011, he had tried to enroll at the University of Aleppo but to study in a Syrian university he would have needed a certificate that showed that he was enrolled in the army.
"It was a complicated and very difficult life," he says.
Karam arrived in Canada in April after spending five years in Lebanon. But even in a refugee camp in Lebanon, he was not free from danger, Karam says.
"Hezbollah kidnapped me four times, and I survived," he says.  "They left me in forests. The last time I escaped, they told me that they would take me to hell."
The purpose of the kidnappings, he says, was to get Syrian civilians back into Syria to serve in the Syrian army.
"Every night when I go to sleep, I think, 'Wow, I am safe. But other people, lots of Syrian people are stuck in Lebanon,'" Karam says. "They can't move everywhere. That's really bad." 
It's also been difficult for him to be away from family. Karam lives in Toronto by himself.
"I heard about the language exchange between Arabic and English, and I thought that sounds amazing," he says. "We have fun every Saturday."
He wants to apply to study business administration in Toronto after he finishes his high school certificate – he could not bring his certifications from Syria here.  In the meantime, he is working on his computer programming and guitar playing skills.
"I'm working part-time and have a small income from the government but next year I will take a full-time job at night," he says. "In the daytime, I will study."
The path to a new future is one many of the attendees are embarking on, supported by the NMC-CESI volunteers. Organizers for NMC-CESI were able to secure a scholarship for Yazan to attend the Study English in Canada program for six months.
The NMC-CESI workshops also create a social network that can be invaluable.
"I met so many people through [the workshops], I have all of these friends now," Yazan says.  
Heba, an 18-year-old, moved to Toronto more than a year ago, also via Lebanon. She is the oldest of four kids in her family.
In an interview translated by Costa, Heba says that her father had special medical needs, and that her family was accepted to Canada a year after applying for asylum through the United Nations.
"When I first came to Canada, I didn't know the language, but that has gotten easier when I started to go to school and make friends," she says. "When you know the language, life becomes a lot easier".
Heba says she would like to become a doctor.
"The workshops helped me meet friends in a new, different country, and helped me to communicate with Canadian people," she says.
And the volunteers have gained something too.
"It's like coming every Saturday to see your friends," says Costa.