#UofTBTS16: Dig into this year's delish food choices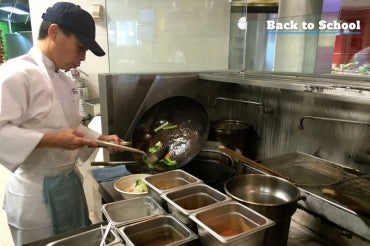 There's nothing like a scrumptious meal to ease those back-to-school butterflies. 
That's why we've rounded up U of T's top foodies to share their favourite campus bites, neighbourhood eateries and guilty pleasures. 
Chef Jaco Lokker, U of T's director of culinary operations, can't wait to introduce students to this year's new food options, including his current fave Sambal. 
The Asian fusion eatery, which just opened in the Medical Sciences Building, will also open next week at Sidney Smith Hall. It features mouthwatering dishes like the Southern BBQ Pork Banh Mi sandwich and hand-cut fries with your choice of sauce – peanut sauce, curry ketchup, wasabi mayo or tandoori mayo.
U of T's executive chef says there's something for everyone on the St. George campus.
"There are multiple price points so that if folks are on a budget, there's still opportunity for them to eat well," Lokker says. 

                                               Read more about Chef Jaco Lokker
When he's not busy cooking up a spicy Mongolian pasta, Lokker heads west on Bloor Street for some Korean cuisine. 
"Culturally, the food is fun," he says.   
With food services on the St. George campus now operated by U of T, expect new menu items from soup to pizza, made from scratch, says Anne Macdonald, director of ancillary services. 
"I think it's a wonderful way to have fresher food – everything really tastes fresh because it is fresh," she says. "It also supports the local economy – the agricultural economy in Ontario. We try and do a lot of buying from local farmers and producers."
Macdonald's favourite lunch spot is The Cube at Bahen Centre. 
"It has fresh salad every day, different ingredients that rotate all the time – healthy tasty food," she says.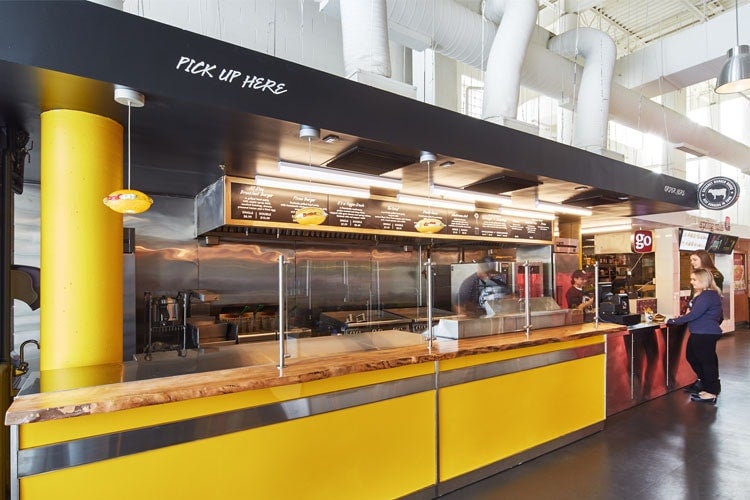 David Jenkins is one of U of T's top nutrition experts and author of the Glycemic Index, which ranks food based on their effect on blood sugar. A fan of the vegetarian fare in Kensington Market, his favourite places to eat are just a short walk from the St. George campus. 
"What a fantastic area of town for those who want to eat well in a humanitarian way that saves the planet," says Jenkins. "You don't have to give up a thing."
His favourites spots in Kensington are Buddha's, Greens Vegetarian, Cosmic Treats and Hibiscus Café. For similar options on campus, try the Green Beet and Harvest Noon. 
At U of T Mississauga, registered dietitian Kimberly Green offers some healthy and tasty food recommendations.
"My favourite place to eat on campus is actually Colman Commons at Oscar Peterson Hall. A lot of students think it's just for those who live in residence, but there is so much variety, something for everyone," she says. "There is a salad bar, veggie options, comfort food, anything you want."
For more tips on healthy eating, UTM students can book an appointment with Green for free. 
If you head east to Scarborough, you'll find great local options close to the UTSC campus.  
In fact, U of T President Meric Gertler's favourite restaurants are in Scarborough: Kub Khao Thai Eatery and Shawarma Empire.
Chemistry professor Bernie Kraatz is mad about Canbe Foods. 
"It's one of my favourite take-outs," he says.  "And the Egg Roti is fantastic. A meal for a little over $2? You cannot beat that!"
For adventurous foodies, take a culinary tour of Scarborough using "Scarborough, A Little Taste" – a website and mobile app developed by the UTSC Culinaria Research Centre where you can find everything from Caribbean to Vietnamese cuisine.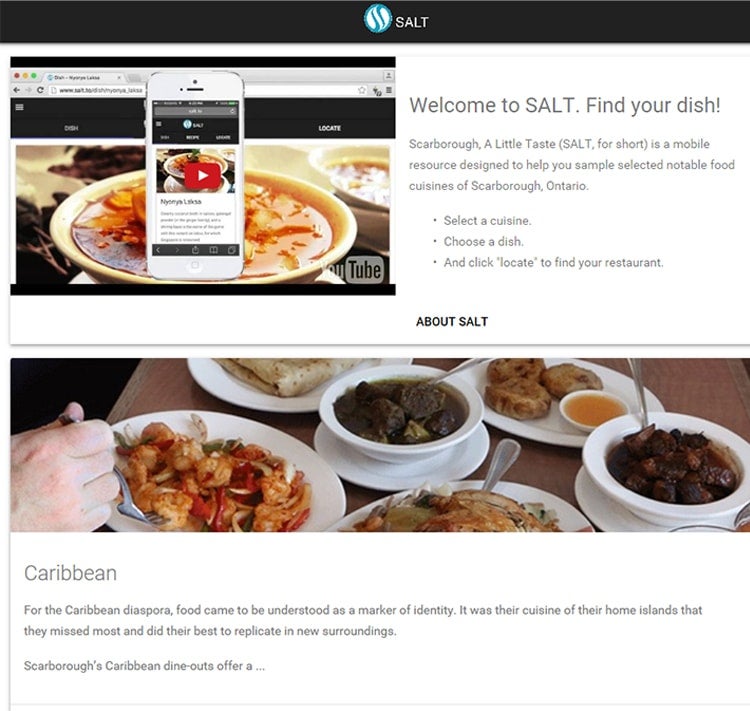 UTSC student Katie Konstantopoulos is a content developer for SALT. 
For the perfect on-campus curry, she heads to Bhoj in the Marketplace. 
"One of your best bang-for-your-buck options at UTSC in terms of flavour and quality," says Konstantopoulos. 
In a hurry? There's always Nasir the hot dog guy.
"(He's a) UTSC legend and stand-up guy. He makes his home outside the student centre and will brave the coldest days of winter with a smile, a riddle, and a heater as you wait for your lunch," says Konstantopoulos. 
Though a healthy diet is important, we all have our guilty pleasures. For Green, it's the butter chicken tandoori. Macdonald goes for the pizza in the Medical Sciences Building. 
"Oh the tomato sauce is fantastic. It has this lovely crispy, thin crust," she says.
Chef Lokker, on the other hand, likes to satisfy his sweet tooth.
"Chocolate. Good chocolate though like Lindt," he says.