U of T athletes make big impression at #Rio2016
"It's been thrilling to watch U of T students and alumni compete so brilliantly, courageously," says Bruce Kidd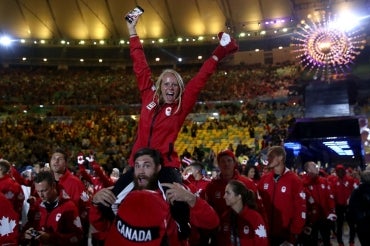 It was a wild ride in Rio at this year's Summer Olympic Games.
Team Canada's stellar performance earned us 22 medals – including four gold medals – showcasing the country's more established athletes and rising stars like swimmer Penny Olesiak and sprinter Andre De Grasse.
University of Toronto's league of Olympians made a big impression in Rio with 12 students and alumni competing for Canada.
Rosie MacLennan made a triumphant return to the Games, winning gold in trampoline. The Rio flag bearer is a U of T alumna and student of the Faculty of Kinesiology and Physical Education (KPE). She was also Canada's only gold medalist at the 2012 Olympic Games in London.
In the pool, U of T KPE student and Varsity Blues swimmer Kylie Masse won bronze in the women's 100-metre backstroke race.
"Kylie has that wonderful combination of talent, drive and dedication to go along with a sunny disposition that makes her a joy to coach," Byron MacDonald, head coach of the Varsity Blues swimming program and a former Olympian, told U of T News.
Vice-President and Principal of U of T Scarborough, Bruce Kidd, who is former Olympian himself, says he's incredibly proud of the athletes continuing the university's Olympic legacy.
"It's been thrilling to watch U of T students and alumni compete so brilliantly, courageously," he says. "U of T has always had a proud tradition of Olympic excellence, going back to Canada's very first participation in the Games when Canada's very first Olympic gold medal in 1900 was won by alumnus George Orton. Rio showed that our commitment to Olympic excellence is as strong as ever."
U of T alumni and staff are also playing an important role in Rio as volunteers on Canada's Health Services Team and on the tennis court.
Rio was also the stage for U of T experts weighing in on everything Olympics.
Greg Wells, assistant professor of kinesiology and physical education, gave insight into what makes track star Andre De Grasse so fast.
Director of the Martin Prosperity Institute at U of T, Richard Florida, argues that if we take into account additional factors like population and economy size, Canada's Olympic ranking would be much lower.
Alternatively, professor of engineering Timothy Chan says if you look at Canada's performance based on population per capita, we're doing better than top ranked nations like China and the US. 
While athletic achievement was the clear focus of the games, Rio can't seem to escape controversy – from the mysteriously green diving pool to whether or not American swimmer Ryan Lochte and fellow Team USA athletes were robbed at gunpoint.
U of T Urban Studies assistant professor, teaching stream, David Roberts says the pushback from Brazilian authorities who claimed the Lochte incident was fabricated was likely an attempt to save the Games from a public relations nightmare.
"High profile street crime is never a good thing for a city trying to solidify itself as a global tourist destination," he says.
Though international media has fixated on the hiccups surrounding the games, the social and political climate in Brazil is largely ignored, says Roberts.
"What I have not seen in the mainstream press is much focus on the tens of thousands of people who were displaced to build Olympic infrastructure or much about the social impacts of the new policing techniques that have been adopted for the games and their long term implications among the various other ways that hosting the Olympic Games is likely to exacerbate social injustices in Rio," he says.
But long after the Olympic torch is extinguished, the people of Rio will endure the Games' lasting legacy.
"Hosting the Olympics will leave Rio with some shiny new sports infrastructure and some new hotels, but also a lot of debt and some serious questions about whether the money may have been better spent on other things to improve the lives of average Brazilians," says Roberts.