U of T experts imagine the city in 50 years for Toronto Life anniversary issue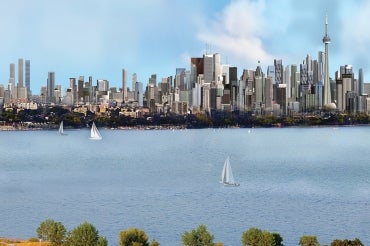 For the editors of Toronto Life magazine, their 50th anniversary issue was a chance to look back at how the city has grown and evolved over the last half-century – and an opportunity to look forward.
Where does one go for that kind of knowledge and insight? University of Toronto city-building experts.
"Fifty years ago, the city was pretty uniform," says Emily Landau, U of T alumna and senior editor at Toronto Life, which began publishing in 1966. "It wasn't very diverse. It was very quiet. It was very low – there weren't a lot of skyscrapers. There weren't a lot of people living in the downtown. 
"Since then, everything's changed. We're a very diverse city. We have a swagger and confidence, an identity, and a place on the world landscape."
For its anniversary issue, the magazine partnered with U of T's Martin Prosperity Institute (MPI) to explore what Toronto will look like in 50 years for an 11-page feature  that imagines the Toronto of 2066.
And what will the city look like 50 years from now?
Toronto Life and MPI paint a picture of Toronto in 2066 as a region that becomes even more dense and diverse.
The piece predicts that the population of the GTA will reach 13.1 million and almost half – 47 per cent of residents – will be from somewhere else. Their numbers will hit about 6.6 million, triple the current level. Most of the newcomers will be from Africa and the Middle East, followed by Asia and Australia.
"[MPI experts] hooked us up with a lot of great professors and faculty who were able to help us dream up what the city might look like," says Landau. 
"There were a lot of great conversations where we just riffed and talked, and imagined as well as looked at research and reports and forecasts and projections."
Toronto Life consulted numerous city building experts at U of T including President Meric Gertler; Shauna Brail, urban affairs adviser to the president and director of the urban studies program and an associate professor in the teaching stream; Gabriel Eidelman, assistant professor at the School of Public Policy & Governance; and Enid Slack, director of the Institute on Municipal Finance and Governance.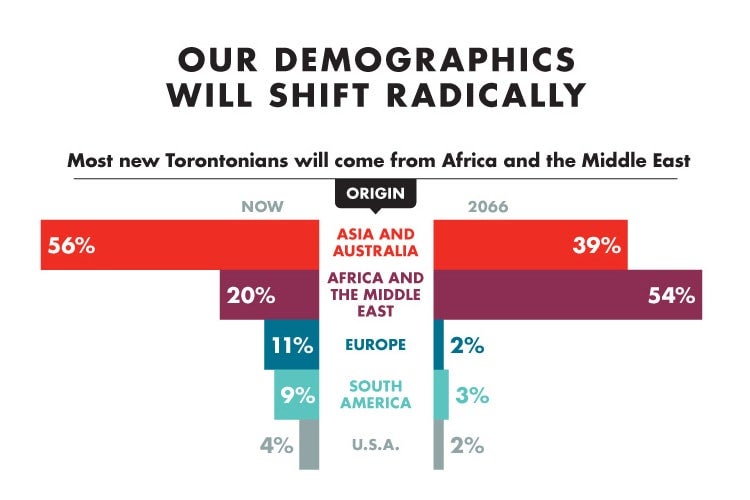 (Graphic courtesy of Toronto Life)
Vass Bednar, associate director, cities at MPI, says researchers used existing data to forecast Toronto's future. 
"For each indicator they were looking for, we averaged the rate of change over time for the last 50 years and we smoothed out all those changes," she says. 
As one might imagine, one of the indicators they paid close attention to was the future price of real estate.
Hold on to your seats for this one: the article predicts that the price of a house in Toronto rises to a whopping $4.4 million (in 2016 dollars) in 50 years.
"Obviously we don't have a crystal ball," Landau says. "We can't know how things are going to go. We can't know what kind of corrections are going to be made, but based historically on how housing prices have been rising, that's where we're headed." 
"One of the things that could create is the idea that owning property becomes something that's restricted to very wealthy people – the plutocratic class – and most people will be renters."
Mark Fox, U of T distinguished professor in the Faculty of Applied Science and Engineering, also contributed his expertise to the article. Fox says he expects dwellings, especially condos and skyscrapers, will likely be more self-sustainable in the future, thanks to concerns about density and the environment.
"I think cities have to be creative in terms of how they think about scaling their infrastructure up in order to deal with the influx of people," he says. 
(In the clip below, Fox talks with cities reporter Romi Levine about the importance of planning ahead when it comes to cities. Note: we reached Professor Fox by phone. Some of the audio is uneven.)
What else did the Toronto Life piece foresee for the city's future?
Women will outearn men by 29 per cent.
Self-driving cars will have saturated the Toronto automobile market by 2035, with 709,000 autonomous vehicles on the road – that's according to a study by U of T's Transportation Research Institute. 
Landau said U of T experts helped give the magazine the big picture.
"They're able to rise 30,000 feet in the air and look at the way systems interact, the way systems work, and the way populations grow, shrink and diversify," says Landau.
"They also have really incredible imaginations and optimism. They were very open to being whimsical and dreaming, and getting a sense of what they want to see as well as what they'll think they'll see."
The article also features U of T students who are planning careers in fields such as renewable energy and robotics. 
"There are few places more diverse in terms of what people are studying and what people are doing than U of T," Landau says. 
Landau looks forward to seeing how it all plays out.
"I'm really grateful to the Martin Prosperity Institute and the team over there as well as all of the students and faculty for helping us execute this project. It was quite an undertaking and we'll see if we're right," she says.