U of T's Shelley Gautier wins bronze at Rio 2016 Paralympic Games
Cyclist and U of T alumna Shelley Gautier has scored a bronze medal for Canada at the Rio 2016 Paralympic Games.
Gautier, who was a practicing physiotherapist and avid cyclist until a mountain bike accident left the right side of her body paralyzed, chronicled her journey to the podium in her blog titled, "Road to Rio 2016."
"I am going there to do my best," she wrote on the blog last month. "I have to keep my focus and ride, training hard…Thinking about what I need to do, diet, weight training, gym, speed, cadence. I want to do well."
Gautier captured the bronze in the tricycle category September 14. She participates in the Road Race September 16.
A 12-time tricycling world champion, she has won silver twice at the Parapan Am Games: in Toronto last year and in Guadalajara in 2011. She also competed at the 2012 Paralympic Games in London.
Through her Shelley Gautier Para-Sport Foundation, she has also helped others find happiness through sports. The foundation has organized recreational paracycling programs in Hamilton, Niagra and Brantford where people with disabilities have been introduced to paracycling through hand cycles and tandem bikes. The foundation hopes to take similar program into schools for other sports like sailing and sledge hockey. Gautier is also working with a foundation in Kenya to start a tandem riding program at a school for the blind. 
"I want people with disabilities to be involved in their community," she said in a recent interview. "They can do something good for other people. And we can get people with disabilities employed so we can do good for them as well."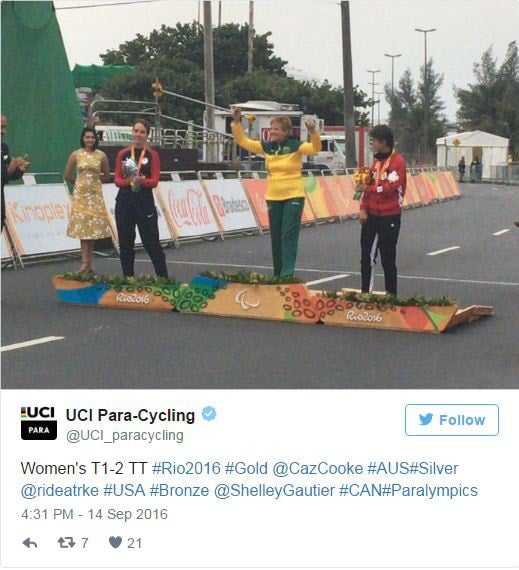 Her 2001 biking accident left Gautier with a head injury that initially had her in a coma for six weeks, then eight months of intensive rehabilitation. She has hemiplegia, which is paralysis on one side of the body.
At first, Gautier took up disabled sailing, then switched to cycling. She competes in the T1 tricycle class with the extra wheel providing assistance with balance. 
Gautier, who has a physiotherapy degree from U of T, has stayed involved with the university community. She taught anatomy as a teaching assistant for the department of occupational science and occupational therapy. Last year, she received the 2015 University of Toronto, Physical Therapy and Occupational Therapy Alumni Association Above & Beyond Award and spoke to Governing Council last fall, following the Toronto 2015 Pan Am/Parapan Am Games.