U of T's Deborah Cowen receives Trudeau Fellowship for boundary-busting research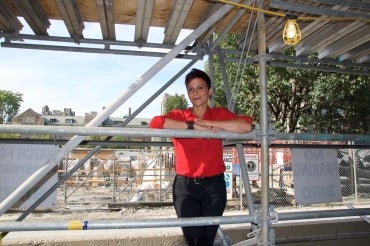 Deborah Cowen, a University of Toronto scholar whose work spans urban planning and politics, citizenship, contested spaces and social justice, has been selected for a prestigious Trudeau Fellowship.
The $225,000 fellowships, awarded by The Pierre Elliot Trudeau Foundation to up to five individuals each year, recognizes and supports the work of humanists and social scientists who venture beyond the boundaries of their disciplines to find new solutions to complex issues of major importance to Canadians.  
An associate professor in the department of geography & planning in the Faculty of Arts & Science, Cowen looks at how conflicts over infrastructure have come to define our political landscape. She will use the fellowship to pursue an ambitious three-year project entitled Reassembling the Infrastructures of Citizenship.
"Infrastructure is arguably at the centre of political life today," says Cowen.
"When they work, infrastructures bring us food, water, power, resources, consumer goods, information, security, and connections to loved ones. But the same structures and systems that enable greater mobility for some also often disconnect and dispossess others."
One clear example is the Alberta tar sands. Industry pressure to get bitumen to transnational markets has provoked controversial pipeline construction with social, environmental and Indigenous groups fighting the projects. At the centre of these struggles are questions of competing sovereignties on lands that remain unceded or contested.
With an ultimate goal of finding ways toward a more just and sustainable future, Cowen's project aims to rethink policy and political community from precisely the points of conflict, injury, and difference that lie at the heart of infrastructure crises in Canada. Central to her approach is engagement and learning from the communities whose lives are profoundly affected by infrastructure decisions but who are often at the margins of contemporary political life.
Through four case studies in energy, transportation and security, Cowen will work with social movements and communities who contest the injustice of infrastructure and identify alternatives.
Pipelines and Power will explore how contemporary Indigenous sovereignty and histories of settler colonialism might be negotiated in the context of energy pipeline projects and investigate how energy infrastructures may be re-imagined to cultivate just and sustainable social and ecological futures.
Bordering Belonging will ask how to rethink national borders in an era of global migration and crises of asylum and whether border infrastructures could be recast to sustain rather than contain citizenship.
Policed People will look at how the social infrastructures of the city could undermine rather than intensify experiences of racial and gendered inequity.
Carrying Cargo will investigate how infrastructures of transnational trade could be governed so they may also support local livelihoods and how the connectivity they foster could also enrich collective deliberation
"Deborah Cowen is a brilliant young scholar of the first rank, and it is wonderful to see her work being recognized in this way by the Pierre Elliott Trudeau Foundation," said U of T president Meric Gertler. "As she analyses and rethinks the infrastructures that underpin local and national communities, she is at the same time critically theorizing a much-needed new vision of how these infrastructures can undermine or enhance citizenship. Her new project promises to be pathbreaking."
Cowen's most recent book, The Deadly Life of Logistics: Mapping Violence in Global Trade, received the 2016 International Political Sociology Book Award.  She also has worked with the National Film Board of Canada, to co-create the international award-winning Universe Within, a digital documentary that reveals the hidden digital lives of highrise residents around the world.  Cowen's research and policy recommendations have had a concrete impact in Canada: both the City of Toronto and the United Way have used her work on social infrastructure in their redesign of urban social policy.
Cowen is the seventh Trudeau fellow from the University of Toronto.  Previous recipients include: George Elliott Clarke, Sujit Choudhry, Joseph Heath, Kent Roach, Janice Stein and Rosemary Sullivan.
Read more about this year's Trudeau Fellows