There is always a buzz at U of T and it's no wonder. One university, three campuses, 88,000+ enrolled students from 160+ countries, 14,000+ faculty, 6,000+ staff, over 800+ student clubs, and the 3rd largest library system in North America.
Beyond the lecture hall
Does the thought of sitting in a classroom for hours make you restless? Us too. Take advantage of the amazing experiential opportunities available to all our students, and take your learning to the next level.
U of T's ecosystem of accelerators, programs and networks helps student entrepreneurs turn their ideas into viable ventures.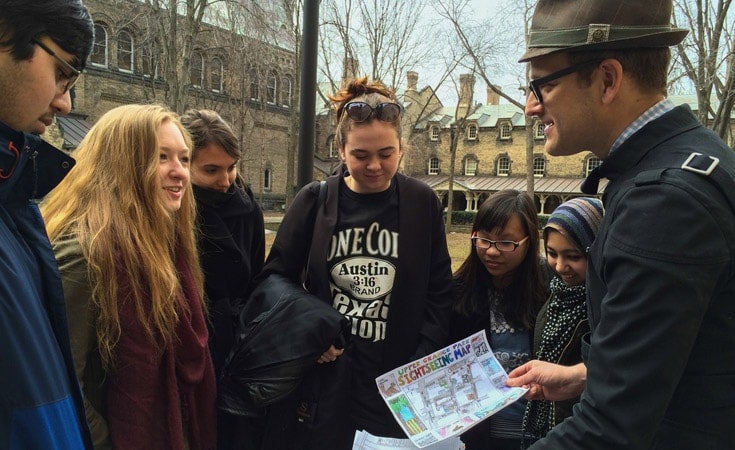 What are you doing after class?
From social activism to film appreciation, sports teams to research opportunities, U of T offers thousands of ways to get involved!
Spaces and places
Enjoy a coffee in a historic building over 100 years old, use the same world-class athletic facilities used in the 2015 Pan Am/Parapan Am Games, lose track of time in our beautiful library collections. We have some amazing spaces across all three campuses and invite everyone in the community to enjoy.
Community impact
Toronto and the surrounding region is consistently ranked as one of the most diverse urban centres in North America. Toronto attracts great businesses, restaurants, entertainment and community events are everywhere you turn – and that's what makes it a fantastic region in which to live and learn. U of T is connected to its local and global communities through a number of initiatives that link our students, staff and faculty with those around us.
U of T's Centre for Community Partnerships (CCP)
"As clichéd as this may sound, I sometimes wonder how differently my life would have turned out if I had never participated in service learning. There is no lecture or textbook that could have given me the skills and insight that I gained through my service learning experience." — Alison Chan, Urban Studies and CCP alumna