25 top U of T scholars named Canada Research Chairs
Majority of the new chairs are women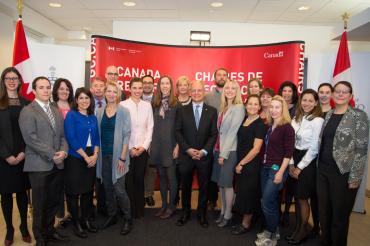 Two researchers who are leading efforts to transform the Canadian social work landscape for children and youth are among 25 new Canada Research Chairs awarded today to the University of Toronto.
Worth a total of $19.7 million, the positions were announced today by federal Science Minister Kirsty Duncan at a national news conference held at U of T's Factor-Inwentash Faculty of Social Work. The government is also providing $1.4 million in infrastructure funding to support the chairs.
Holding the announcement at U of T makes sense, Duncan said, because of the university's reputation as the home of many talented researchers across a broad range of disciplines, as well as the fact it holds 255 Canada Research Chairs in total – the largest number of any university in the country.
She also praised U of T for the fact the majority of its new chairs – 16 in total – are women. This shows the work that is underway with universities and government to increase diversity, the minister said.
"Yes it does deserve a hand!" Duncan said as the crowd, which included many of the researchers named as chairs, broke out into applause. "Science needs women. Science needs diversity. And science needs to reflective of Canada."
Her remarks were echoed by U of T President Meric Gertler who told the crowd: "It is wonderful to see their excellence more fully represented among our Canada Research Chairs, and I have no doubt that this is a harbinger of further progress in the years to come."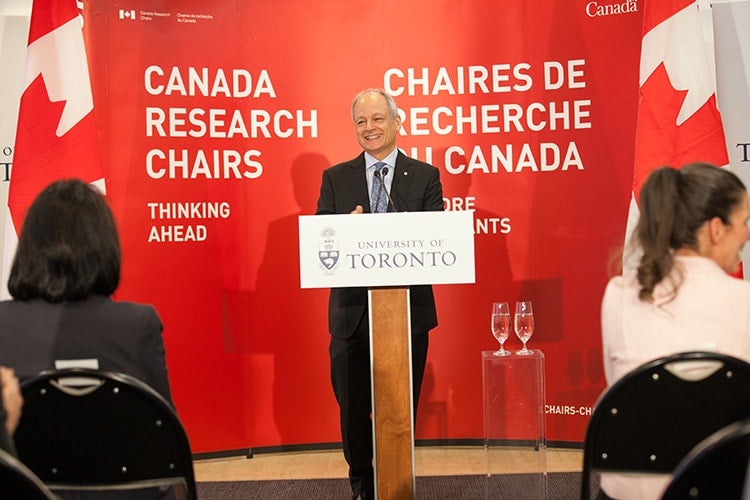 President Meric Gertler acknowledged the 16 women chosen as Canada Research Chairs this year (photo by Johnny Guatto)
All 25 of the U of T recipients are conducting globally important research in a number of fields with the potential to profoundly change our health and interactions with the world – from memory research to spatial ecology, mood disorders, transportation, air quality and ancient philosophy.
They are among 203 new and renewed chairs at 48 postsecondary institutions across the country, representing a $173-million investment in cutting-edge research and infrastructure from coast-to-coast, Duncan said.
"I am profoundly grateful and honoured to be a Canada Research Chair in Child Welfare," said Barbara Fallon, associate professor in U of T's Factor-Inwentash Faculty of Social Work, who collects and analyzes data to aid policymakers make decisions based on evidence not perception for children in care.
"I often think about the first client I visited as a young, inexperienced social worker who remarked 'This is who they sent to help? What do you know about my life?'" explained Fallon.
"I judge the value of my research by my ability to be accountable, nearly 25 years later, to her and her fundamental question," she said. "I hope my research will help provide insight and direction to a system whose mandate is to serve the most vulnerable in our society."
Created in 2000, the Canada Research Chairs program is "a crucial asset in our country's ability to attract and retain the world's best and most promising researchers," said Gertler as he thanked the minister.
"The program has transformed research and scholarship in Canada and increased our global competitiveness," added Vivek Goel, U of T's vice-president of research and innovation. "At U of T, our Canada Research Chairs are doing cutting-edge research in an amazing range of subjects that is improving quality of life not only here at home but around the world."
For example, we often think of the online world as one rife with abuse for teenagers. But for Canada's sexual and gender minority youth communicating with others online about their struggles is often safer than meeting in person, said Shelley Craig, an associate professor in the Factor-Inwentash Faculty of Social Work.
As the new Canada Research Chair in Sexual and Gender Minority Youth, Craig is working on digitizing and pilot testing smartphone-enabled coping skills to improve the resiliency of the country's estimated half a million sexual and gender minority youth and help them thrive.
Research has shown sexual and gender minority youth in crisis, who often experience an array of discrimination and stressors at home, at school and in their community, turn to their phones and social media for information and help instead of reaching out to social services. This makes technology an important avenue to create and provide new, innovative and widely available interventions to help them cope and thrive.
Craig, who has worked with sexual and gender minority youth for more than two decades, said she often wonders if her research is helping the young people she studies but personal feedback from them helps make its impact real.
"Some mornings, I hear about a trans youth that has been kicked out of their home and I think – research – really? Can it make a difference? And then I get an email like this one: 'As a gay youth, I feel as if my community is neglected in these important mental health studies. Thank you for changing that. You are truly making a difference just by asking these questions.'"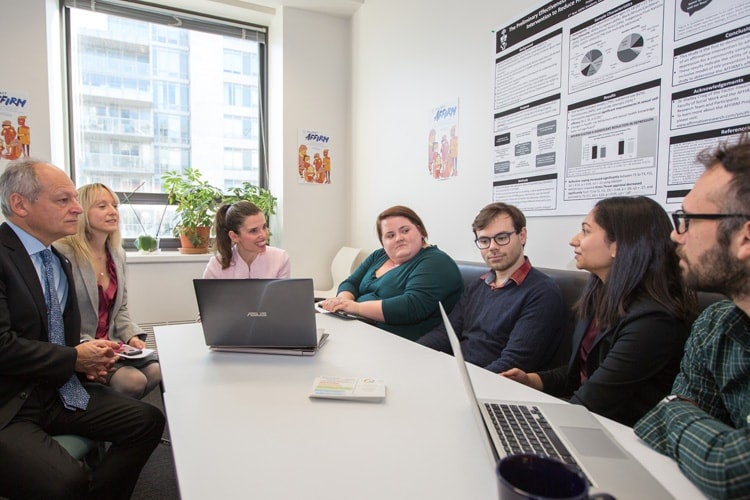 From left to right, President Meric Gertler, Associate Professor Shelley Craig and Minister Kirsty Duncan speak to students Lauren McInroy, Andrew Eaton, Sandra D'Souza and Gio Iacono about their research (photo by Johnny Guatto)
Earlier in the morning, Duncan met with Fallon, Craig and students to discuss their research in person. One of the students working with Craig, PhD candidate Lauren McInroy, also used to take classes from Duncan when she taught at U of T.
"I am so proud of you!" Duncan said, hugging her.
The 25 researchers announced today are joining U of T and its affiliated hospitals' total contingent of 255 Canada Research Chairs. The funding from the federal government not only supports important research but also helps the university attract and retain the best and most promising researchers from around the world.
In addition to conducting research that improves our depth of knowledge and quality of life, the chairs also train the next generation of leaders in their fields through student supervision and teaching.