From research to front-line care: U of T and hospital partners work to address global COVID-19 pandemic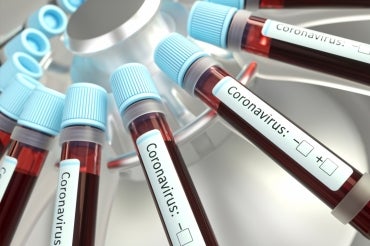 University of Toronto researchers, clinicians, students and alumni, in collaboration with partner hospitals, are helping lead the global effort to address the historic challenge presented by the COVID-19 pandemic, working together on many fronts and across diverse disciplines.
"Across so many fields and in so many different ways, the University of Toronto community is applying its expertise and experience to help Canada and the world resolve this unprecedented global crisis," said University of Toronto President Meric Gertler.
U of T researchers based at Sunnybrook Health Sciences Centre, together with a McMaster University researcher, were the among the first to isolate the novel coronavirus, and the university's public health researchers have developed an online tool to help hospitals manage their capacity to treat new cases.
At the same time, U of T physicians and clinicians are working at the front lines of care as the university provides material support to hospitals and a safe place to stay for medical trainees. The university is also supporting students facing extraordinary circumstances as they strive to complete their terms, and students themselves are working to create tools to track the virus' progression. In addition, U of T has launched a new podcast to keep Canadians informed on the latest COVID-19 developments.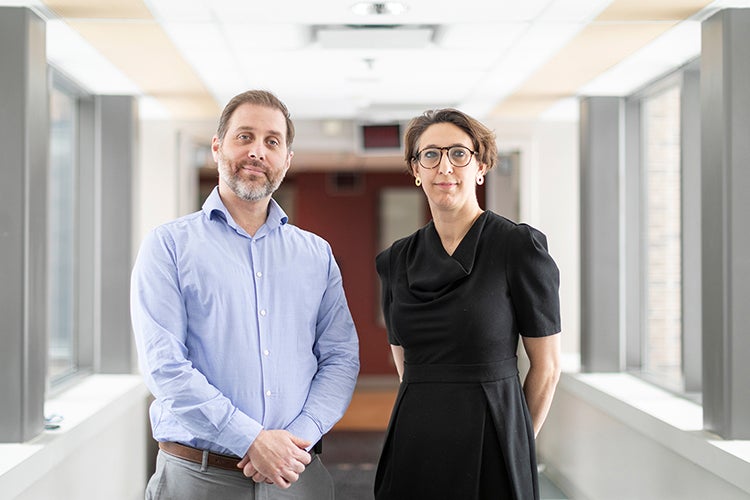 Robert Kozak and Samira Mubareka, both in U of T's department of laboratory medicine and pathobiology and at Sunnybrook Health Sciences Centre, cultured the novel coronavirus behind COVID-19 from clinical specimens (photo by Nick Iwanyshyn)
Alumni are also working around the clock in critical roles in the health system and public health agencies. They are regularly featured at official press conferences and on media outlets across Canada and around the world. 
Elsewhere, U of T engineers are helping to model the pandemic while our epidemiologists regularly advise governments and the public on the likely course of the virus and our best chances to mitigate its spread.
U of T psychologists and mental health experts are providing advice on how best to cope with the ongoing and evolving crisis, and a U of T anthropologist is drawing critical lessons from the 1918 Spanish flu pandemic. Our financial and economic experts are also offering perspectives and strategies on the economic fallout of the ongoing social distancing measures in Canada and around the world.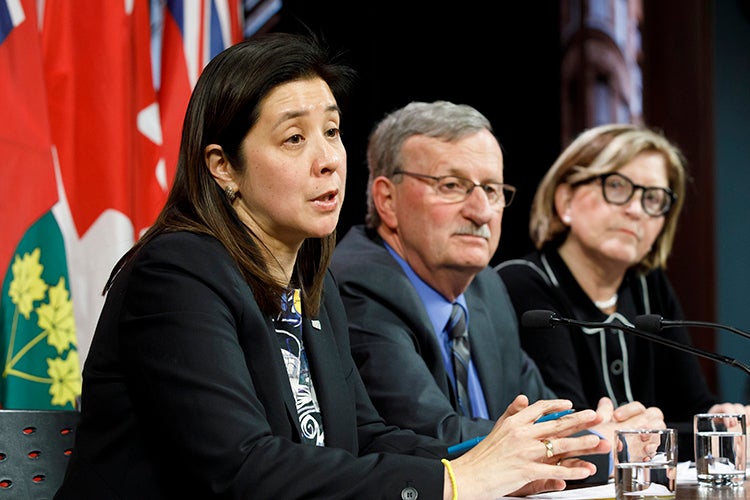 Eileen de Villa, Toronto's medical officer of health and an adjunct professor at U of T's Dalla Lana School of Public Health, delivers an update on COVID-19 as David Williams, the chief medical officer of Ontario, and Barbara Yaffe, Ontario's associate chief medical officer of health, look on during a press briefing (photo by Cole Burston via Getty Images
Startups linked to U of T are playing an integral role, too. BlueDot is using artificial intelligence to predict the scope of the pandemic and evaluate the effectiveness of social distancing measures, and Spartan Bioscience, a company led by a U of T alumnus, has created a handheld coronavirus test kit that will provide results in 30 minutes. Thornhill Medical, a firm founded by U of T researchers, is working on manufacturing portable ventilators to help Canadian patients with the disease.
These are just some of the U of T initiatives that are helping to lessen the impact of the virus and bring this pandemic to an end. To support this extraordinary mobilization of resources, U of T has launched an action fund to enable research that will make near-term contributions to the fight against the virus. The university and its hospital partners have already invested $6 million in the new Toronto COVID-19 Action Fund and are aiming to match that amount with a call for donations.
U of T's Kamran Khan (left) is the CEO of Bluedot while alumnus Paul Lem (right) is the CEO of Spartan Bioscience (photos by Jacklyn Atlas and Alex Collier)
"The projects supported by the Toronto COVID-19 Action Fund will have an immediate and tangible impact on the health of individuals and communities and on the front lines of care," said David Palmer, U of T's vice-president, advancement. "One hundred per cent of every dollar committed will go to one of these potentially life-saving initiatives."
"U of T researchers are at the forefront of our efforts to understand this new illness and develop tools to combat it," added Vivek Goel, U of T's vice-president, research and innovation, and strategic initiatives, and a professor at the Dalla Lana School of Public Health. "With the university's strength across an array of disciplines and links to world-class hospitals, we are uniquely positioned to make an immediate and significant difference when it comes to halting the spread of this disease."
Brand hub