Through new partnership, U of T medical trainees given safe place to stay, self-isolate during COVID-19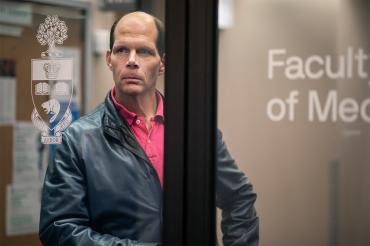 As the COVID-19 outbreak unfolds in Toronto, medical trainees working on the frontlines often need somewhere to stay away from their families to prevent others from exposure to the disease.  
 
That's why the University of Toronto's Faculty of Medicine is working with StayWell, a charity with suites in the city's downtown that are usually used for patients who are visiting the city to receive complex medical care. The units are now being repurposed so that medical residents and other trainees can live in the suites while they are working in hospitals and treating patients, particularly if they need to self-isolate.  

Dr. Glen Bandiera, the faculty's associate dean of post-graduate medical education, says U of T will be sharing costs with trainees so they have somewhere safe to stay. 
 
"Health-care workers – including the residents and fellows – are under a lot of stress, and I think they're demonstrating very solid altruism by wanting to isolate away from their family and other people in their life," says Bandiera, an associate professor at U of T who is also a staff emergency physician at St. Michael's Hospital, part of Unity Health Toronto.  
 
"This resource benefits not only the persons in isolation, but also the people they're living with. The more health-care workers we can keep healthy, the better the system can respond." 
There are approximately 3,600 Faculty of Medicine post-graduate residents and fellows who train and provide health-care services across a network of almost 30 health care institutions across the province. 

Bandiera says that, in other jurisdictions, at the peak of the pandemic, up to 20 per cent of health-care providers were not at work – some because they needed to isolate from others after being exposed to COVID-19.    

Bandiera says part of practising physical distancing and providing support to those helping battle the pandemic is making sure health-care providers in training have somewhere safe to go. 
 
"We realize that not only do health-care workers have an obligation to society to distance themselves from other people, they are at a greater risk of contracting and carrying the virus," he says. "So, we want to make sure that we have resources for them to be able to self-isolate appropriately away from other people, and not spread the virus to friends or family, or other health-care workers.
"It's really important for us to be able to step up and provide some sort of alternative accommodation."  

The resource became available to residents and fellows this week. Each resident or fellow who decides to access the resource will share the cost with the university at a "heavily discounted" rate from StayWell.    
"Their units are highly applicable and very appropriate for short-term use for residents and fellows who are providing care in our hospitals, who have to be isolated for periods of time, either because they are being investigated for COVID-19 or because they are recovering from the disease," says Bandiera. 
 
"They may not want to do that in the place where they normally live for fear of putting others at risk, especially vulnerable relatives or friends." 
Medicine