U of T students create dashboard to monitor COVID-19 case trajectory in Canada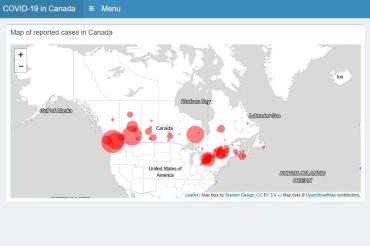 Two PhD students at the University of Toronto's Dalla Lana School of Public Health have developed a dashboard that tracks COVID-19 cases in Canada – a tool that is proving essential for researchers and news reporters across the country.
At any given moment, the dashboard – available here – receives hundreds of views and dozens of inquiries into the data that underpins it. 
"When we have this nice figure that shows the cumulative total, we will be able to see whether the measures we are taking to 'flatten the curve' are actually succeeding," says Jean-Paul Soucy, an epidemiology student and the dashboard's co-developer.
"Flattening the curve" means spreading infection cases over a longer period of time to avoid overwhelming hospitals all at once.
The project originated with PhD student Isha Berry, who had been collecting Canadian data through an open spreadsheet that was being fed into a global dashboard. But as Canadian cases began to increase, she saw the need for a nationally focused tool.
"We were getting a lot of cases, but we were not getting a good idea of the national picture," says Berry, an epidemiology PhD student. "Jean-Paul Soucy came on board as the dashboard development lead."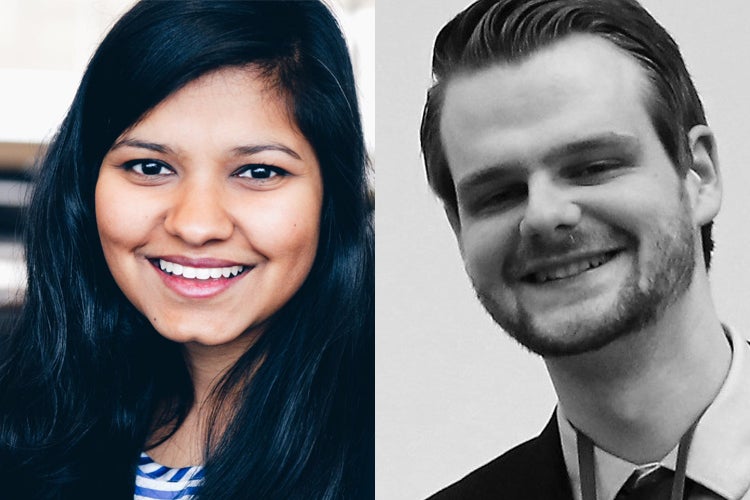 Isha Berry (left) and Jean-Paul Soucy (right) developed a dashboard tool to track COVID-19 cases in Canada.
Reporters and researchers began looking for a dashboard on the March 14 weekend after stricter physical distancing measures were put in place. The following Monday, the duo released the dashboard and were lauded on Twitter for their contribution. They will be presenting the dashboard during a COVID-19 webinar scheduled to take place on Tuesday. 
Now, a University of Guelph research team is also supporting data entry, curation and providing manual assistance as the number of Canadian COVID-19 cases continues to rise. Berry says the next step is to streamline the data entry process and ensure that the dashboard's visualizations provide a clear picture of the unfolding outbreak.
Both students are still working on their theses, but the pandemic has become a real-life epidemiology lesson and a way to contribute during a public health crisis. In fact, the COVID-19 virus is an exact match for Berry's thesis research: She studies emerging infectious disease transmission from animals to humans. Her work is centered around the concept of "One Health" – the understanding that the health of people, animals and the environment are all interrelated.
"We're seeing an increase in contact between humans and animals," says Berry. "There's been a number of emerging diseases in the last 13 years and we can expect it to increase. We hope that One Health will be a broader discussion and part of public health."
Soucy's PhD thesis, meanwhile, looks at antibiotic resistance in humans. "There's a tremendous amount of antibiotics used for agriculture and the resistance that develops in bacteria because of antibiotics through [agricultural] use also affects resistance in human infectious diseases," he says. "There's a developing focus on this notion of 'One Health' that we have to be careful of antibiotic use –not only in humans, but also agriculture settings."
Soucy and Berry would like outbreak epidemiology to become a larger focus in public health academic programs.
"It may be time for all public health schools to rethink the curriculum," says Soucy. "It's certainly going to be different going forward when you tell someone that you are studying epidemiology."
Dalla Lana