U of T launches action fund to support high-impact research in battle against COVID-19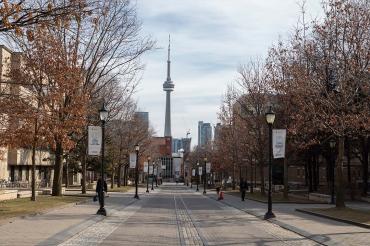 As the world's health-care systems bend under the weight of the COVID-19 pandemic, the University of Toronto community – researchers, clinicians, students and alumni – are marshalling their expertise to combat the spread of the virus and find solutions to the global crisis.
U of T researchers have isolated and reproduced the novel coronavirus in a lab to accelerate the search for diagnostics, treatments and vaccines. Others are working to scale up testing and production of critical materials and equipment. Still others have built computer models to estimate the disease's spread, while U of T experts across the academic spectrum are sharing advice with government and the public as the country takes unprecedented measures to mitigate the virus's impact and save lives.
Given the urgency and scope of the COVID-19 pandemic, U of T is launching an action fund to support research at the university and its hospital partners that will make near-term contributions to the fight against the virus. The university has already invested $6 million in the new Toronto COVID-19 Action Fund and is aiming to match that amount with a call for donations.
U of T has also issued a call to faculty for research proposals by March 30. 
"U of T researchers are at the forefront of our efforts to understand this new illness and develop tools to combat it," said Vivek Goel, U of T's vice-president, research and innovation, and strategic initiatives, and a professor at the Dalla Lana School of Public Health.
"With the university's strength across an array of disciplines and links to world-class hospitals, we are uniquely positioned to make an immediate and significant difference when it comes to halting the spread of this disease."
The message was echoed by David Palmer, U of T's vice-president, advancement, who said that the university's researchers, entrepreneurs and global network of alumni have "an urgent and necessary role to play" in the COVID-19 battle and that it was imperative they receive the necessary support.
"The projects supported by the Toronto COVID-19 Action Fund will have an immediate and tangible impact on the health of individuals and communities and on the front lines of care," Palmer said. "One hundred per cent of every dollar committed will go to one of these potentially life-saving initiatives. We hope to deploy these grants in the next five to 10 days, so time is of the essence."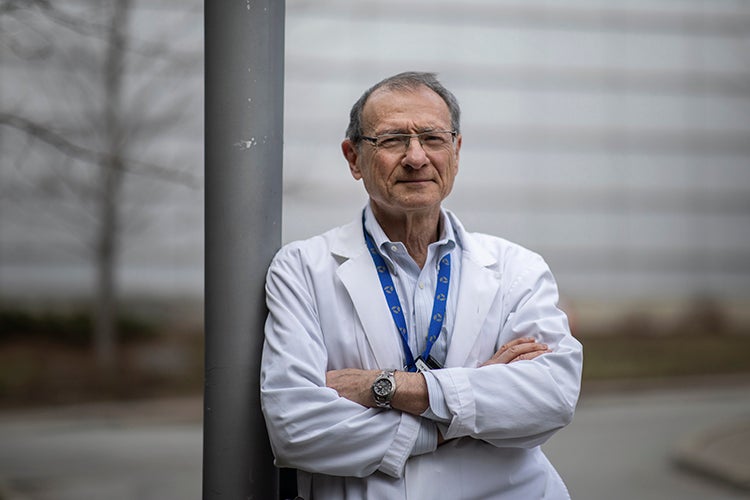 Joe Fisher, a professor in the department of anesthesiology and pain medicine who is also a staff anesthesiologist at Toronto General Hospital, is involved with a company that's manufacturing portable ventilators (photo by Nick Iwanyshyn)
Already, U of T faculty, staff and students have risen to the occasion by drawing on expertise in everything from epidemiology to engineering in an effort to respond to the pandemic, which, as of Sunday, was responsible for over 350,000 cases worldwide, including nearly 1,500 in Canada. 
With hospitals in the hardest hit regions running low on ventilators, a company co-founded by U of T's Joe Fisher, a professor in the department of anesthesiology and pain medicine, is ramping up production of a portable, compact intensive care unit that integrates the functions of a ventilator, weighs just 40 pounds and operates on battery power.
"It's completely self-contained," Fisher, who is also a staff anesthesiologist at Toronto General Hospital, part of the University Health Network, said in a story published by U of T News.
"What you have in that little box is everything that there is in an intensive care unit – all the monitors, the ventilator and the oxygen. But in this case the oxygen doesn't come from a tank but from the air."
Kamran Behdinan in the Faculty of Applied Science & Engineering is similarly working to address the critical need for ventilators in Canada and beyond. The professor of mechanical engineering put together a team that has developed a working prototype of an assisted bag ventilator device at the department of mechanical and industrial engineering's machine shop. They plan to use "test lungs" to evaluate their work before making the necessary improvements prior to clinical evaluation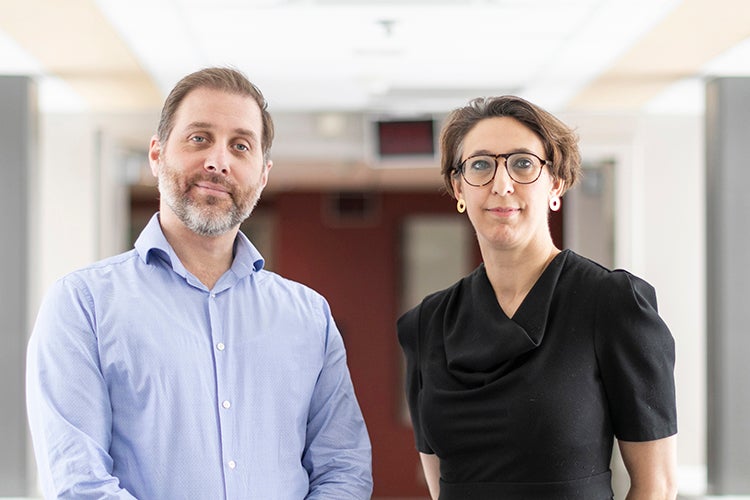 Robert Kozak and Samira Mubareka are part of a local working group of scientists researching the COVID-19 coronavirus outbreak and developing a suite of tools to control it (photo by Nick Iwanyshyn)
From the beginning of the fight against COVID-19, virologists Samira Mubareka and Robert Kozak – both of U of T's department of laboratory medicine and pathobiology in the Faculty of Medicine – were at the forefront of efforts to understand the virus in microscopic detail. They are both scientists at Sunnybrook Health Science Centre, where the first lab-confirmed case of COVID-19 was treated. Working with McMaster University's Arinjay Banerjee, they isolated the virus from two patients and reproduced it safely in a lab, a step expected to aid vaccine development. Now, Mubareka and Kozak are developing "just-in-time" tools for COVID-19 that will shed light on the genetic diversity among isolates of the virus and improve surveillance. The goal is to publish genomic data within three months and share it with national and international partners.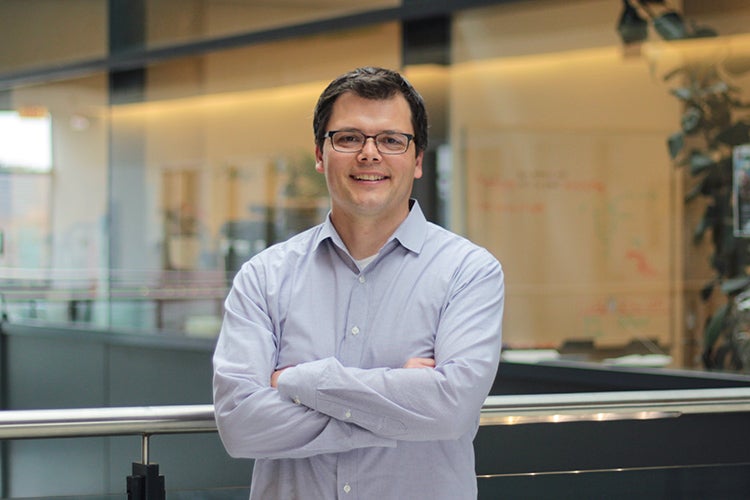 Keith Pardee, an assistant professor in the Leslie Dan Faculty of Pharmacy, is looking to make it faster and cheaper to carry out widespread tests for COVID-19 (photo by Jef Ekins)
To capture a big-picture view of the pandemic, epidemiologists Isaac Bogoch, David Fisman and Ashleigh Tuite have developed mathematical models that forecast the spread of the disease. Their work has helped drive home the need to "flatten the curve" to prevent a spike in COVID-19 patients that overwhelms the health-care system, thereby helping to avoid the crisis that has enveloped Italy and is now threatening regions in the United States.
Amid the World Health Organization's calls for countries to ramp up COVID-19 testing efforts, Keith Pardee, an assistant professor in the Leslie Dan Faculty of Pharmacy, is looking to make it faster and cheaper to carry out widespread tests for COVID-19, particularly in remote parts of the world. His lab has developed a platform that includes a SARS-CoV-2 RNA sensor and a freeze-dried, cell-free system. The researchers previously tested the technology on the Zika virus with accurate results. The team hopes to adapt the technology so it can test at a scale of tens of thousands while simultaneously lowering the cost. Current reagent costs for tests are about $2 each whereas their technology could bring it down to 25 cents per test.
U of T alumnus Paul Lem is also looking to enhance testing capacity for COVID-19. His Ottawa-based company, Spartan Bioscience, is said to be weeks away from producing a mobile, hand-held testing kit. In a recent interview with CTV News, he called the cube-shaped testing kit "the world's smallest DNA analyzer."
The device could yield results for COVID-19 in as little as 30 minutes, Lem told CTV, adding that his company is in discussions with the federal government to produce kits.
UTC