U of T infectious disease expert's AI firm now part of Canada's COVID-19 arsenal
"A smoke detector and a fire extinguisher"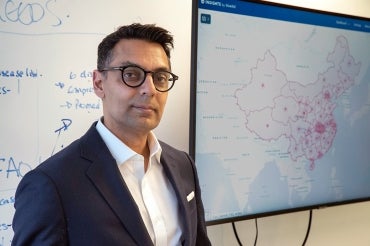 On New Year's Eve, the software company BlueDot pushed out a notification to its customers about a mysterious illness that appeared in Wuhan, China. 
The start-up, which grew out of Dr. Kamran Khan's research at the University of Toronto, combines natural language processing and machine learning to gather insights on the emergence and spread of infectious diseases around the globe. BlueDot was the first to warn the world of a potentially dangerous new illness – now known as COVID-19 – ringing the alarm before the U.S. Centers for Disease Control and Prevention did on Jan. 6 and before the World Health Organization followed suit three days later. 
What's more, BlueDot's big data analytics platform was able to predict the next 11 cities where the novel coronavirus would hit.
In the months since BlueDot spotted the anomaly, the novel coronavirus has spread to six continents, infected more than half a million people and crippled the world economy. 
"We didn't necessarily know it would be of this size," Khan, a faculty member in the Faculty of Medicine and at the Institute of Health Policy, Management and Evaluation at the Dalla Lana School of Public Health, tells U of T News about the outbreak-turned-global pandemic. "But what we did know is that it had the ingredients."
This week, the Canadian government announced it would use BlueDot's disease analytics platform to support modelling and monitoring of COVID-19, as well as to guide government decision-making. 
Khan, who's also a scientist and infectious disease specialist at St. Michael's Hospital, says BlueDot will provide the federal government with insights and intelligence to help combat the virus – in part by using anonymous location data from hundreds of millions of mobile devices to see how the public health response is working.
BlueDot is starting to produce metrics that allow the government to understand where social distancing has been effective, if people are following public health advice and where to deploy valuable resources. 
When the number of local cases eventually drops and Canada faces the threat of re-introduction of the virus through travellers, BlueDot can scan flight schedules and anonymous ticket sales data to pinpoint global COVID-19 hotspots and predict the risks of the disease being re-imported to the country. 
"I describe this like a smoke detector and a fire extinguisher," Khan says. The smoke alarm went off early when it detected the illness in Wuhan, and now authorities are turning to the fire extinguisher to put out the outbreak at home.
In interviews, Khan has explained that the idea for BlueDot came out of his experience working on the front lines of the SARS crisis in Toronto that killed 44 people, infected hundreds and took a multi-billion-dollar toll on the economy. (The company's name is inspired by Carl Sagan's observation that the Earth resembles "a pale blue dot" in a picture taken by Voyager 1).
Khan saw the consequences of SARS up close at St. Michael's and thought there had to be a better way to mitigate epidemics before they spiral out of control. 
BlueDot grew out of his research program at St. Michael's and has raised $9.4 million in venture capital funding to date.
Before becoming the first to wave a red flag after spotting the virus in Wuhan, the BlueDot algorithm accurately predicted that the Zika virus would spread from South America to Florida. 
The company's algorithm depends on the quantity, quality and diversity of its data, Khan says. It scans over 100,000 news articles in 65 languages and uses animal outbreaks and airline data to detect outbreaks involving 150 different diseases and syndromes and anticipate their global spread using data on more than four billion airline ticket sales per year. The algorithm ignores social media because the data is too noisy. It crunches the numbers every 15 minutes, 24 hours a day, churning out reports for expert review. A team of veterinarians, epidemiologists and other doctors then take a look at the algorithm's conclusions to make sure they are sound.
"What we have done is use natural language processing and machine learning to train this engine to recognize whether this is an outbreak of anthrax in Mongolia versus a reunion of the heavy metal band Anthrax," Khan told Wired magazine.
The company has grown to a staff of 40 and is "hiring vigorously" as it looks to build on existing partnerships and expand its scope, Khan says. Already, BlueDot counts Air Canada, the Singapore Ministry of Health and Global Affairs Canada among its clients, according to the startup's website.
In many ways, Khan says, the world has gotten better prepared since the days of SARS to handle massive outbreaks, with big strides being made in smartphone and other digital technology. "But I think our biggest shortcoming is we are still so reactive," he says. 
"We just pounce with incredible vigour when we're dealing with a crisis, but we don't use the time in between crises the way we need to."
The key, he says, is never to get caught flat-footed because, as COVID-19 now demonstrates, the consequences can be dire.
UTC