Seven tips for staying grounded as the world grapples with COVID-19: U of T expert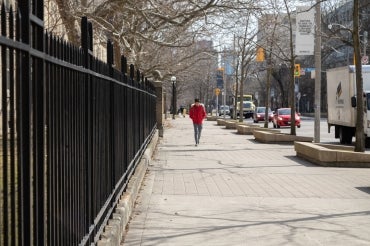 It's not easy being a university student under normal circumstances, let alone during a pandemic. The uncertainty surrounding the COVID-19 outbreak can exacerbate stress and feelings of powerlessness.
But Dr. Suze Berkhout, an assistant professor in the department of psychiatry in the University of Toronto's Faculty of Medicine, says there are ways to manage stress and anxiety in the face of such challenges.
Berkhout, who's also a clinician-investigator at the University Health Network, shared her tips for mentally coping with the challenges caused by the crisis.
For more tips, you can consult the Centre for Addiction and Mental Health's guide on mental health and the COVID-19 pandemic and the U.S. Centers for Disease Control and Prevention's resources on the topic.
---
1. Shift expectations of yourself and take breaks:
Thinking that you have to use this time for projects or research, as well as get through this, can actually make you feel more overwhelmed – doing more harm than good, Berkhout says. "I think we all need to lower our expectations around what we can accomplish and manage to work on, especially in this short term when there are so many uncertainties and unknowns." 
2. Break up big challenges into smaller ones, and keep track of accomplishments:
Writing a 3,000-word term paper may seem impossible under the current circumstances, but Berkhout says you can lower your anxiety and get things done by breaking up challenges into smaller, easier-to-do parts. "Once you get your level of anxiety down you can get back into problem-solving mode," she says. "Take whatever challenges you have and break them into smaller, more manageable pieces … and tackle them one at a time." So instead of writing the paper from start to finish, your goal may be to just choose a topic or write the first few hundred words. 
It may also be helpful to keep track of your achievements, she says – by checking off tasks on a to-do list, for example. Your tasks should be SMART (specific, measurable, achievable, realistic and timely). You can also record your moods, noting activities that make you feel better. "It's important to have a routine and schedule that gives you a sense of accomplishment, and that also includes activities that are soothing, pleasurable and enjoyable," says Berkhout.
3. Parse out your feelings:
The never-ending flow of bad news can leave you thinking about worst-case scenarios. "The first thing to do is recognize that there are real problems," Berkhout says. "It's not to look at things with rose-coloured glasses." But at the same time, she says, our anxieties can become a "big jumble." It's worthwhile to ask yourself what's triggering your stress, and which worries are realistic. "Naming your worries can bring down the level of intensity [of stress]," she says. (Anxiety Canada's website has great, free resources.) 
4. If negative headlines are stressing you out, limit your exposure – but don't necessarily tune out completely:
Amid a quickly changing situation and evolving public health recommendations, it's hard – and maybe even unwise – to unplug completely from the news, according to Berkhout. But if the news is bringing you down, she recommends setting boundaries. "You could choose to go to only this or that website because you know their information is going to be reliable, and not just ramping up panic," she says. You can also set time limits, or look for stories that convey hopefulness or describe building a sense of connectedness.
5. Fend off cabin fever with a routine:
You want to make sure your routine includes not only tasks to accomplish, but also moments for self-care, physical activity or other opportunities to unwind, says Berkhout. "Mindfulness practices that connect you back to your body and out of the spiral of thoughts can be really helpful," she says. It can be useful to remind yourself that you're not alone by connecting with others through social media – and not just with your loved ones. 
Musicians, including the Indigo Girls, have performed live-stream concerts, personal trainers are live-streaming home work-outs and chefs are sharing cooking tips online. 
6. How to deal with uncertainty? Take things day-by-day, or think long term and big picture:
There are many unknowns surrounding the present situation – a significant source of stress in itself. The best way to deal with that stress differs from person to person, Berkhout says. "For some people, it'll be thinking relatively far ahead, telling themselves, 'OK, things are uncertain right now, but at such-and-such a point I'll do X, Y and Z again, and these are the plans I'll make when things have settled down,'" she says. Others might prefer to take things day-by-day. Their approach might be: "'This is what I know right now, and tomorrow is another day and I will cross that bridge when I come to it,'" she says. 
7. Remember, we're making a collective effort:
Experts say social distancing is essential to mitigate the impact of the COVID-19 pandemic in the absence of a vaccine. Berkhout says it's important to remember that your choice to stay in and limit your exposure to others is making a difference. "Reframe your thinking and keep in mind that you're doing these things as a collective effort to benefit the larger community," she says. 
In addition to following public health advice, Berkhout says you can help the particularly vulnerable by offering to fetch groceries or complete other household chores. 
Even just spreading the word about the need for social distancing can help, she says. "A lot of health-care providers I've connected with say they so appreciate it when they see people making the best of a difficult situation, following the public health recommendations and posting about it."  
---
Feeling distressed? Find someone to talk to right now – and if there is an immediate risk, call 911.
Round-the-clock support:

Students can speak to a trained crisis worker at any hour of the day.
U of T My SSP for students: call 1-844-451-9700 or download the app at the Apple App Store or Google Play. Immediate counselling support is available in 35 languages and ongoing support in 146 languages.  
Other 24-7 supports available to students include:
The following services are available to students on all three campuses:
Faculty and staff have access to 24-7 support through:
UTC