Firm led by U of T alumnus joins fight against COVID-19 with portable test kit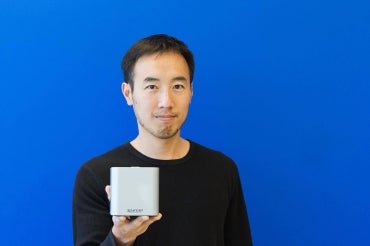 A University of Toronto alumnus is behind a biotech firm that could soon be bringing portable COVID-19 tests to communities across the country — and ultimately around the world. 
Prime Minister Justin Trudeau recently announced the federal government is working with Spartan Bioscience — led by CEO Paul Lem — to adapt the Centers for Disease Control and Prevention's (CDC) COVID-19 DNA test to its own Spartan Cube. Lem predicts the mobile, hand-held diagnostic kit, which provides test results in just 30 minutes, could be ready for this use in as few as eight weeks.
"We think it's a game changer," says Lem, who earned his bachelor's degree in human biology from U of T in 1998 as a member of University College. He received his medical degree from the University of Ottawa in 2002 before returning to U of T's medical microbiology residency program.
"We're seeing headlines about how there's a global shortage in testing," Lem adds. "Canada is no exception; we have a huge shortage across the entire country. We also have remote towns and northern communities where they collect swabs and sometimes can't get results back for nine or 10 days, and the virus is spreading in the meantime. Especially in a country like ours that's so spread out, we're going to need these portable testing devices to control COVID-19."
The cube collects and analyzes DNA without the need to send samples to a traditional lab, making it ideal for in-field diagnostic testing.
Spartan's technology already has regulatory approvals worldwide, including from Health Canada, the U.S. Food and Drug Administration and in Europe. Spartan's customers include leading organizations such as the Mayo Clinic, the CDC and the New York State Department of Health, as well as Fortune 500 companies.
Lem says the pandemic has created an all-hands-on-deck situation, with all of Spartan's 70 staff devoted to adapting the CDC's test to the cube 
"This is our whole reason for existing," explains Lem. "Our mission has always been to bring DNA testing out of the lab and into these portable, personal DNA analyzers. It's like home pregnancy tests or home glucose tests that gave everyone access to their test results. 
"We're seeing in real time how powerful it would be to have portable COVID-19 tests: Imagine every school, community centre, town, small hospital having access to these rapid results. We have a huge responsibility to get these tests in the hands of Canadians as fast as possible." 
In addition to adapting the CDC's test for the disease and getting Health Canada's emergency approval, Spartan Bioscience will have to ramp up production to build what is likely to be hundreds of thousands of devices. 
Spartan got closer to securing the funding it will need when Navdeep Bains, Canada's minister of innovation, science and industry, announced the government is leveraging its purchasing power to ensure Canadian innovations, such as the Spartan Cube, can start saving lives sooner. As confirmed by Trudeau the same day, the federal government has signed a letter of intent with Spartan Bioscience and two other Canadian companies, including one co-founded by U of T's Joe Fisher, to fight the pandemic.  
"We know Canadian companies are among the most innovative and agile in the world, and we are very confident that we're going to be able to work with them to respond to the pressing needs in our health-care system," Trudeau said at a news conference.  
Lem said that announcement was validation for the hard work he and his team put into Spartan Bioscience since its founding 14 years ago. 
"We all felt really honoured," says Lem. "This reminds us why we come into work each day. People's lives are at stake. The work we do is important." 
Arts & Science