U of T and McMaster researchers at Sunnybrook Hospital isolate virus behind COVID-19
"This is how we can help the scientific community fight this virus."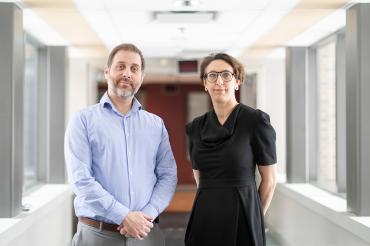 University of Toronto researchers based at Sunnybrook Health Sciences Centre and a McMaster University scientist have isolated the novel coronavirus, an important step in understanding the virus at the centre of the ongoing COVID-19 outbreak. 
Samira Mubareka and Robert Kozak, both in U of T's department of laboratory medicine and pathobiology in the Faculty of Medicine, worked with Arinjay Banerjee of McMaster to culture the virus from two clinical specimens in a level three containment facility, Sunnybrook announced yesterday.
Isolating the virus is important for a number of reasons, Kozak told U of T News on Friday. 
"First, it will make it possible to study pathogenesis and test out antivirals so that we can move towards developing treatments," he said. He added that it will enable researchers to extract nucleic acids from the viral isolate to use as a quality control, ensuring that testing assays are working well.
"From a bigger picture standpoint, having a virus isolate that can be shared with other labs to perform other experiments to better understand the virus and how to stop it is critical," Kozak said. "This is how we can help the scientific community fight this virus."
Mubareka and Kozak are part of a local working group of scientists who are researching the novel coronavirus outbreak and are developing a suite of tools to control it. They are using whole-genome sequencing technology to help hospitals characterize the virus more quickly, and to support efforts to track the virus's spread and evolution.
As of Friday morning, there were 74 confirmed cases of the virus in Ontario, according to government's coronavirus information website.
UTC