Seven transformational things that happened at U of T over the past decade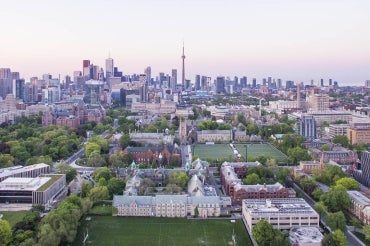 As we prepare to usher in a new decade, U of T News is looking back at some of the defining and impactful things that happened at the University of Toronto over the past 10 years.
The U of T community has left an indelible mark on the 2010s by making groundbreaking achievements in artificial intelligence, taking strides toward Indigenous reconciliation and promoting sustainability throughout its operations – to name just a few. Many of these initiatives have set in motion ideas and actions that will pave the way for the university's success for decades to come.
Here's a list – admittedly a non-exhaustive one – of transformational things that happened at U of T over the past 10 years:
---
Campus Transformation
​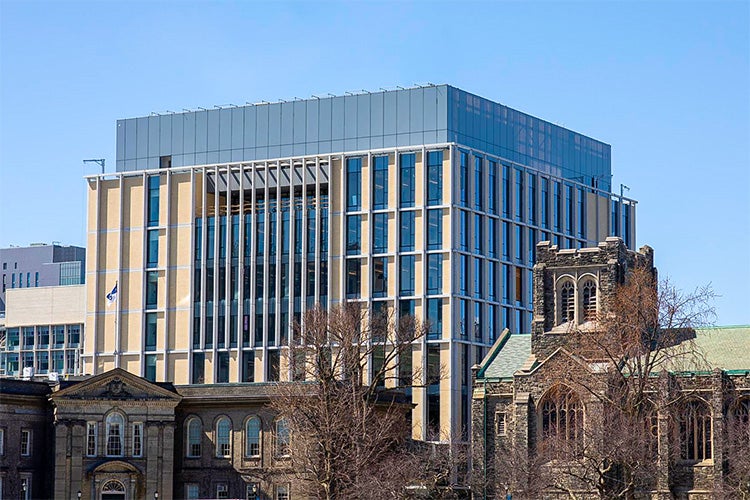 The Myhal Centre for Innovation & Entrepreneurship on the St. George campus (photo by Lisa Sakulensky)
The past decade has seen U of T complete numerous construction and renovation projects as it continues to grow its campuses, expand the facilities available to students, faculty and staff, and lay the groundwork for more ambitious campus-building projects to come.
To take one, high profile example: The Faculty of Applied Science & Engineering last year opened the Myhal Centre for Innovation & Entrepreneurship, a building designed to foster multi-disciplinary partnerships, experiential learning and entrepreneurship opportunities. Named after alumnus George Myhal and his wife Rayla, the building features technology-enhanced active learning rooms, dedicated space for student clubs and state-of-the-art fabrication facilities for design projects.
U of T also laid the groundwork for the Landmark Project, a major initiative to revitalize the historic core of the St. George campus and enhance sustainability and accessibility. The project will feature the expansion of pedestrian-friendly areas around King's College Circle, Hart House Circle and Tower Road, and will replace parking spots for cars with green spaces, granite paths and an underground parking garage.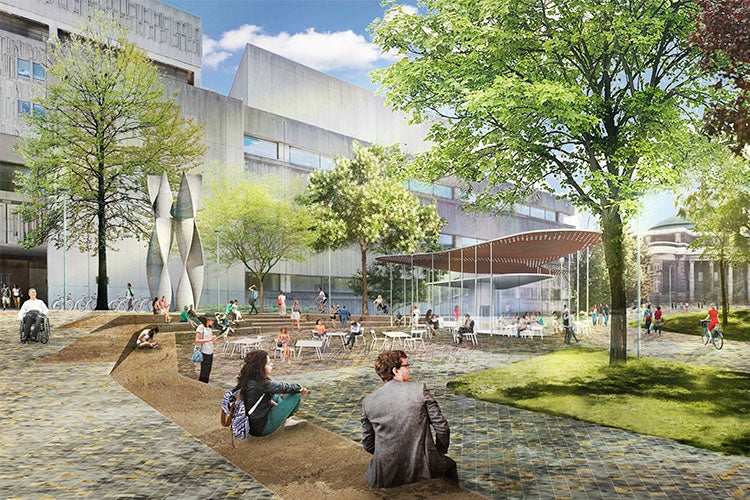 The Landmark Project will make the historic centre of St. George campus more pedestrian-friendly and add new green space (rendering courtesy of Michael Van Valkenburgh Associates Inc.)
The St. George campus is also the proposed site of a 14-storey building constructed from engineered wood, which is prized as an innovative building material due its low carbon footprint, structural integrity, fire-resistant properties and aesthetic appeal. Another landmark building is proposed for 90 Queen's Park Crescent, providing a home to U of T's School of Cities as well as numerous departments from the Faculty of Arts & Science.
At U of T Mississauga, it's been a similarly eventful decade for campus-building. In 2011, the campus unveiled the Terrence Donnelly Health Sciences Complex. In August, U of T Mississauga acknowledged the Indigenous history of the land, the future of the campus and the university's commitment to reconciliation by revealing the name of its newest building: Maanjiwe nendamowinan. Sitting on the site the former North Building, Maanjiwe nendamowinan is home to humanities and social sciences and features a six-storey atrium and event space, as well as 40,000 square feet of new classroom space that's outfitted with cutting-edge technology and hundreds of new study spaces.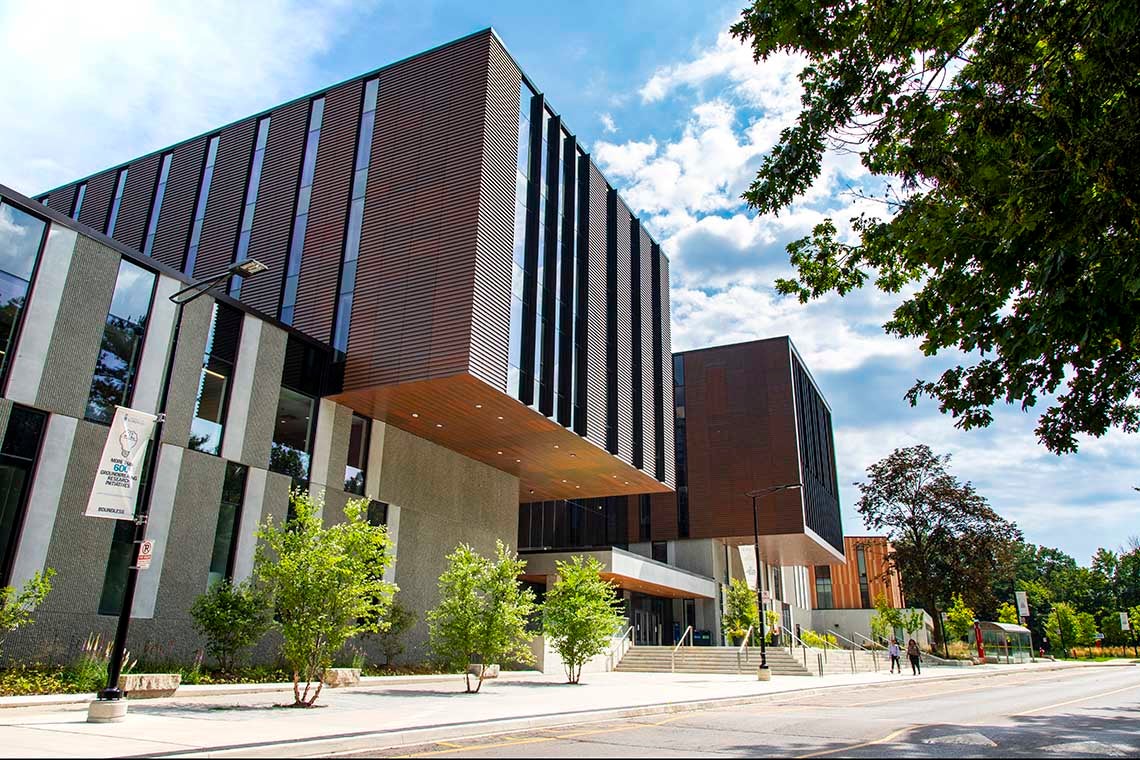 Maanjiwe nendamowinan at U of T Mississauga boasts 40,000 square feet of new classroom space that's outfitted with cutting-edge technology (photo by Drew Lesiuczok)
At U of T Scarborough, national-level athletes, Varsity competitors and intramural sports participants alike can all take advantage of the state-of-the-art facilities on offer at the Toronto Pan Am Sports Centre. After opening to the public in 2014, the facility hosted several competitions during the 2015 Pan Am/Parapan Am Games. It is now home to numerous national sport organizations and high-performance centres, while also offering U of T Scarborough students top-notch fitness and wellness facilities.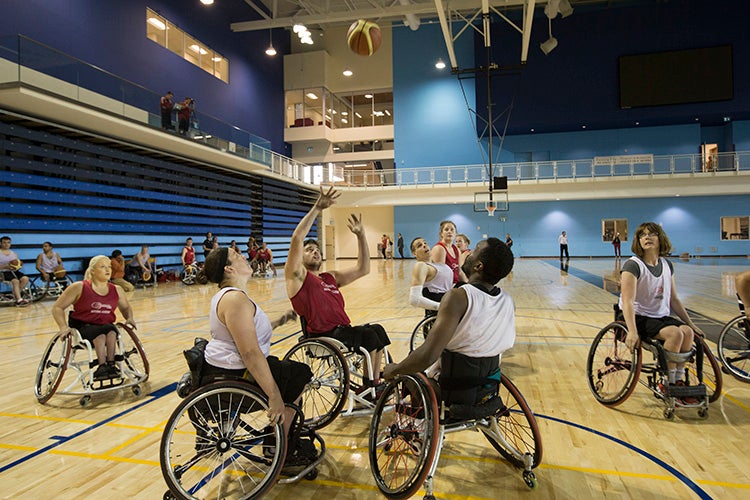 Wheelchair basketball players practise inside the Toronto PanAm Sports Centre (photo by Bernard Weil/Toronto Star via Getty Images)
U of T Scarborough also opened the new Highland Hall building, creating a striking new gateway to the campus in addition to doubling the amount of space dedicated to students and adding faculty and administration space. And it unveiled the 500-metre Valley Land Trail, which was designed to offer accessibility and year-long enjoyment of the ravine abutting the campus.
Finally, the university recently completed comprehensive renovations of research labs across its three campuses. Driven by nearly $190 million in funding from the university, province and federal government, the upgrades increased the amount of space available for research activities, improved electrical and internet connectivity and will create utility savings and reduce greenhouse gas emissions.
---
Sustainability and climate action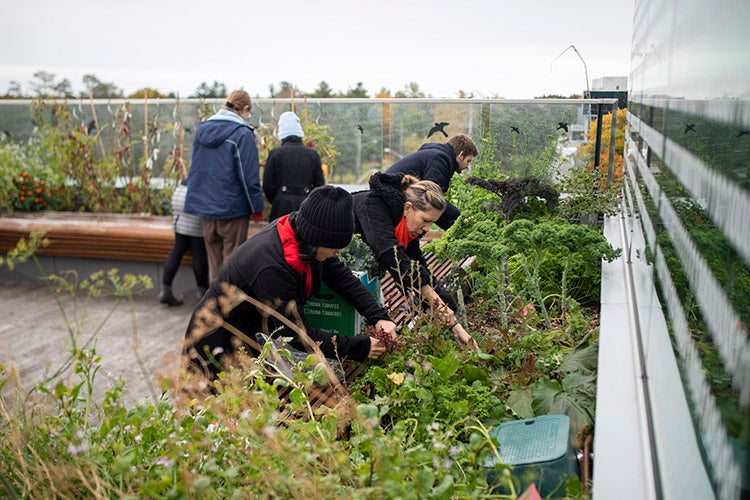 The rooftop garden at U of T Scarborough (photo by Nick Iwanyshyn)
Sustainability has been a central theme of U of T's efforts to revitalize and expand its three campuses.
One of the most ambitious initiatives is the planned installation of a massive geo-exchange field beneath Front Campus. The project, part of U of T's Low Carbon Action Plan, will see boreholes drilled deep into the ground to allow for storage of surplus heat. It is projected to yield annual greenhouse gas reductions of 15,000 tonnes of carbon dioxide equivalent by 2024.
Sustainable design is also a hallmark of U of T Mississauga's Maanjiwe nendamowinan, which has a 20,000-gallon rainwater re-use system, energy-efficient mechanical systems, green roof spaces and a green-cleaning initiative, and U of T Scarborough's Toronto Pan Am Sports Centre, which boasts eco-friendly features including 1,854 rooftop solar panels and underground cisterns to collect rainwater.
Physical projects aside, the university has also taken steps to incorporate sustainability into all levels of academia including working on developing curriculum pathways for sustainability-minded undergraduate students across the university.
At an institutional level, U of T has played a leadership role by engaging with the challenges posed by climate change on the world stage. In 2018, U of T joined 12 other leading research universities in North America to form the University Climate Change Coalition, which aims to mobilize resources, expand research partnerships and leverage expertise to help businesses, cities and regions implement research-driven climate solutions.
This year, President Meric Gertler attended the inaugural U7+ Alliance in Paris, where he briefed French President Emmanuel Macron on the alliance's commitment to sustainability. U of T has also hosted numerous speeches, conferences and symposia to further dialogue on climate change.
---
Artificial intelligence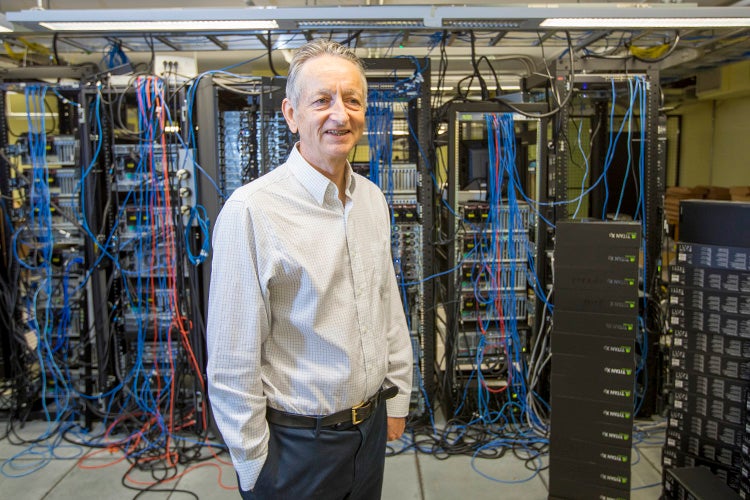 U of T University Professor Emeritus Geoffrey Hinton has been described as the "godfather of deep learning" (photo by Johnny Guatto)
Many predict that artificial intelligence is poised to revolutionize everything from transportation to medicine – and some of the most exciting work is taking place at U of T thanks to pioneers like University Professor Emeritus Geoffrey Hinton, a Turing Award-winner who is known as the "godfather of deep learning."
In bid to build upon its early lead in the field, U of T partnered with government and industry to launch the Vector Institute for Artificial Intelligence in 2017 and is now attracting several of the most promising AI researchers from around world. Toronto, in turn, is benefiting from the arrival of global tech companies keen to establish an AI footprint in the city. For example, Google, Uber, Samsung and NVIDIA have all established or expanded AI labs in Toronto that are headed by U of T researchers.
U of T is also addressing AI through a multi-disciplinary lens following the launch of the Schwartz Reisman Institute for Technology and Society. Set to be housed in the new Schwartz Reisman Innovation Centre, the institute leverages U of T's unique strengths across a wide range of fields to explore the role of humanities, social sciences, public policy and law in a rapidly changing technology landscape. 
---
---
A global, inclusive student experience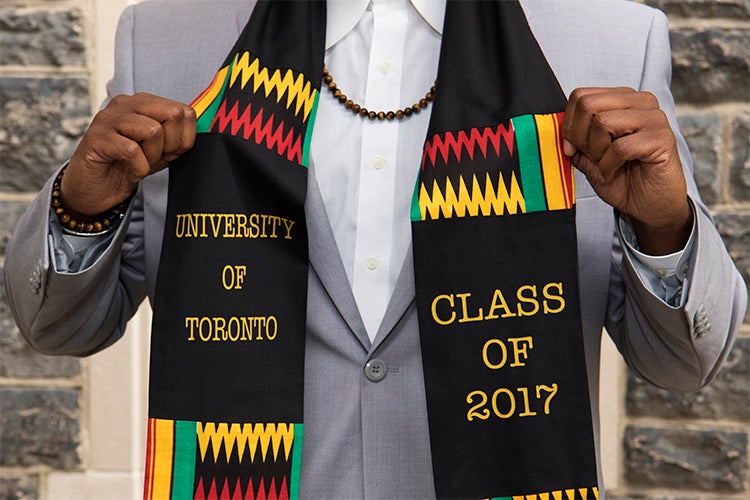 Students at U of T were the first in Canada to organize a Black Grad event in 2017 (photo by Geoffrey Vendeville)
By embracing diversity and expanding its international presence, U of T over the past decade has continued to further its reputation as an inclusive institution with a truly global outlook.
U of T's student body has played a proactive role in this regard. For example, in 2017, U of T students organized Black Grad, Canada's first ever graduation celebration for Black students. Black Grad has since gone on to become one of the most highly anticipated convocation-related events on the calendar. After two years of being held at Hart House on the St. George campus, Black Grad 2019 was hosted at U of T Mississauga in June and organizers say the first Black Grad of the new decade could be held at U of T Scarborough.
The year 2017 also saw the launch of the Lester B. Pearson International Student Scholarship, which brings some of the most talented and driven students from around the world to U of T. The 2019 cohort comprised 36 students drawn from 27 countries.
U of T has also continued to expand its international footprint by way of research agreements with academic and industry partners around the world. Meanwhile, the university's commitment to equity and diversity has also been formalized in the Institutional Strategic Research Plan, which aims to ensure an inclusive environment and increase the presence of marginalized groups such as Indigenous Peoples, racialized persons, LGBTQ individuals and persons with disabilities.
---
Truth and Reconciliation
Skahendowaneh Swamp, a chair of Indigenous knowledge at the Chanie Wenjack School for Indigenous Studies at Trent University, is flanked by U of T President Meric Gertler (right) and Kelly Hannah-Moffat, vice-president of human resources and equity (photo by Lisa Lightbourn)
In early 2016, U of T President Gertler and Vice-President and Provost Cheryl Regehr established U of T's Truth and Reconciliation Steering Committee in response to the federal Truth and Reconciliation Commission of Canada's call to Canadians to engage in ongoing reconciliation with Indigenous Peoples.
The report produced 34 calls to action focusing on the following areas: Indigenous spaces; curriculum; students and co-curricular education; faculty and staff; research ethics and community relationships; and institutional leadership and implementation.
Since then, U of T has moved forward with a range of initiatives including the creation of the Master in Social Work, Indigenous Trauma and Resiliency program at the Factor-Inwentash Faculty of Social Work; organizing an Indigenous Mentoring Day to match Indigenous job-seekers with employers at the university; and the appointment of academic advisers for Indigenous research and Indigenous curriculum and education.
The university is also launching an Indigenous Landscape project, to be installed on 4,500 square metres of Hart House Green, in response to the Truth and Reconciliation Committee's call for a "prominent, visible space at the very centre of the St. George campus be dedicated as an Indigenous space."
"Indigenous students will be able to walk through campus and see an outdoor space and know it was created for them, with them and with their needs in mind," said Shannon Simpson, U of T's new director of Indigenous initiatives and co-chair of the Indigenous Landscape project.
The project is being planned on the basis of in-depth consultations with Indigenous groups at U of T and First Nations communities with historic ties to the area.
---
Innovation and entrepreneurship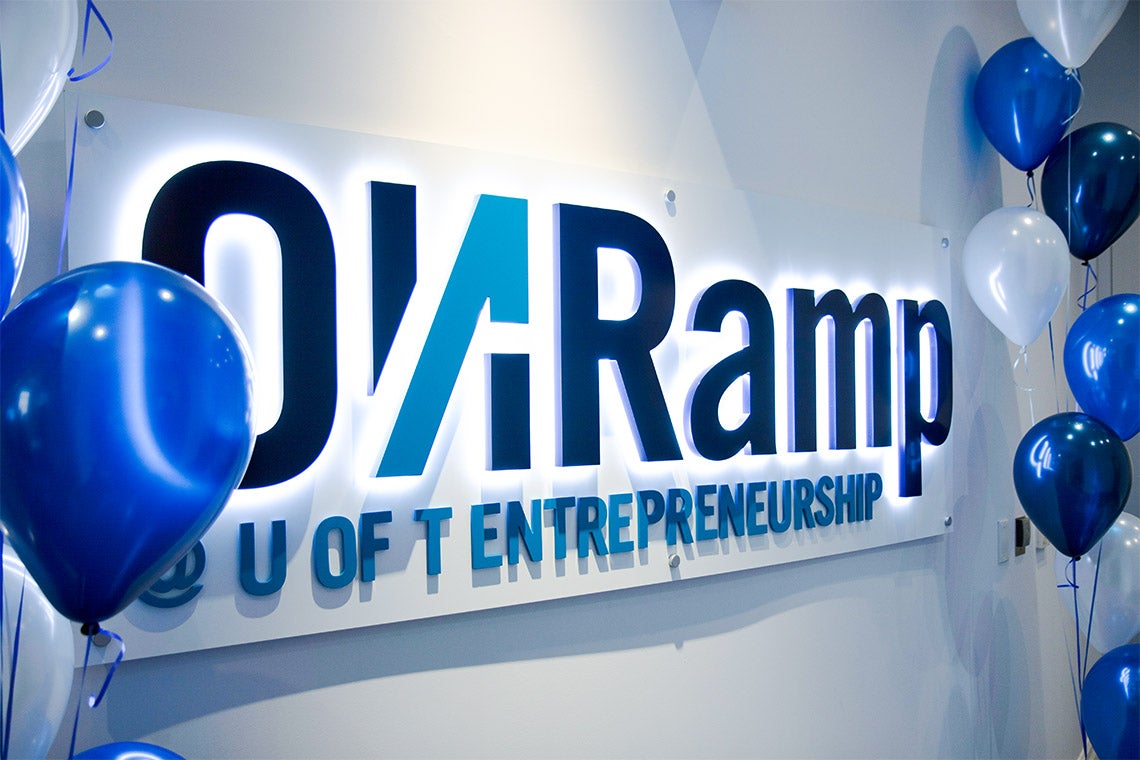 U of T's ONRamp co-working and collaboration space opened to entrepreneurs in 2017 (photo by Kenneth Cheung)
Over the past decade, U of T entrepreneurs have created more than 500 startup companies that have secured over $1.5 billion in investment and helped establish the university as an engine of Toronto's thriving innovation scene.
U of T alone is home to more than 10 campus-linked accelerators that cater to startups at various stages of development. They include the Creative Destruction Lab, which was founded at the Rotman School of Management and has since expanded to seven other locations in Canada, the U.S. and the U.K.; the Entrepreneurship Hatchery, which serves entrepreneurs in the Faculty of Applied Science & Engineering; ICUBE, based in the Institute for Management and Innovation at U of T Mississauga; and U of T Scarborough's The Hub. Others include: UTEST, DCSIL (Department of Computer Science Innovation Lab), H2i (Health Innovation Hub), Impact Centre and InnovED. 
Many entrepreneurs from U of T and partner universities work out of U of T's ONRamp, a 15,000-square-foot space that opened in 2017 and offers co-working and collaboration spaces – not to mention ready access to downtown Toronto's vibrant business community.
---
Unprecedented community support
The soon-to-be-built Schwartz Reisman Innovation Centre will accelerate innovation in Toronto and Canada by creating the country's largest university-based innovation node (rendering by WEISS/MANFREDI)
In March, U of T received $100 million from Gerald Schwartz and Heather Reisman – the largest single donation in its history. The funds are being used to support construction of the new Schwartz Reisman Innovation Centre that will anchor U of T's growing cluster of AI scientists, biomedical experts and entrepreneurs. 
But that was only the tip of the iceberg when it came to supporting the university over the past decade.
Spanning a period of seven years, U of T's Boundless campaign raised $2.6-billion from more than 104,000 donors in nearly 100 countries. The generous contributions from individuals, families, corporations and charitable organizations will go towards an array of initiatives aimed at accelerating research and educational opportunities, enriching the student experience and transforming the university's three campuses to leave a lasting legacy for generations to come.
What's more, the campaign saw endowments for student aid and student support cross the $1-billion mark for the first time in the university's history.
In an interview with U of T News this past summer, David Palmer, U of T's vice-president, advancement, said the Boundless campaign's success suggests the best is yet to come.
"People ask me all the time: 'Have we exhausted the capacity of our donors and the time and efforts of our volunteers?' And I have to say we all feel we've barely begun to scratch the surface of what we are capable of together, and what our donors and volunteers are so generously willing to do for us," Palmer said.
"We think there's a very, very exciting future ahead of us right now."
UTC