#UofTGrad17: U of T's Black Graduation is the first of its kind in Canada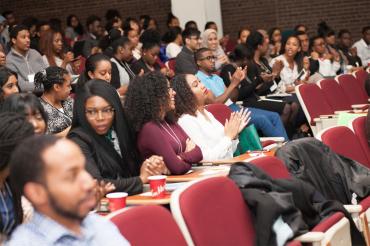 Close to 200 people, including 70 students, are expected to attend Canada's first-ever Black Graduation celebration at the University of Toronto this month – an important moment for Black students across the three campuses. 
For decades, Black Graduation ceremonies have been an American tradition – institutions such as Stanford University and Columbia University host pre-commencement or post-commencement events, honouring African and African American students for overcoming obstacles to higher education. Some organize ceremonies reflective of Black heritage and culture, presenting grads with kente stoles. Harvard University held its first Black Graduation this year.
The celebration on June 22 at Hart House will include speakers from the Black academic community, awards presentations, a DJ and artists who will perform live painting during the event. It takes place on the final day of convocation at U of T. Grads will already have received their parchments at one of the 27 ceremonies in Convocation Hall taking place from June 6 through June 22.
Funded by the University of Toronto, the event is open to all Black-identifying Class of 2017 students in undergraduate, master's degree and PhD programs from U of T Mississauga, U of T Scarborough and the downtown Toronto campus.
Anthony Briggs, who identifies himself as Black Caribbean (Grenadian), is graduating with his PhD from U of T's OISE this year. Briggs, the first of his family to attend university, says he plans to attend Black Graduation. He says he disagrees with critics who question the idea of Black Graduation. For Briggs, it's about making people aware of the presence of Black students at the university.
Jessica Kirk agrees. Kirk, who is graduating with a bachelor's degree in psychology and entering a master's program in social justice education at OISE this fall, co-organized the Black Graduation celebration with fellow U of T Scarborough student Nasma Ahmed, who conceived the idea.
"We wanted to make sure there was a space to show how proud the community is of their accomplishments and have a space to celebrate the unique challenges they have overcome and continue to overcome," Kirk said.
"There's also an important question around why the numbers of Black graduates are so low, and this kind of presents a great opportunity for the university to meaningfully address the ways in which Black students can be supported throughout their time at the University of Toronto." 
Leading scholars such as Rinaldo Walcott, Cassandra Lord and Alissa Trotz are expected to attend, Kirk said. Canadian Parliamentary Poet Laureate George Elliott Clarke, who is a professor of Canadian literature at U of T, sent a personal message to the Black grads:
"As an African-Canadian faculty member from historic Africadia (African-Nova Scotia), a descendant of slaves and those who fled slavery and struggled against it, and as a son of working-class
parents in Halifax, Nova Scotia, I think I may guess at – and not be incorrect – about some of the challenges that some of you have faced, and the obstacles you have overcome, to be where you are at today. I congratulate you on your historic achievement."
(See the complete text by clicking on the image below.)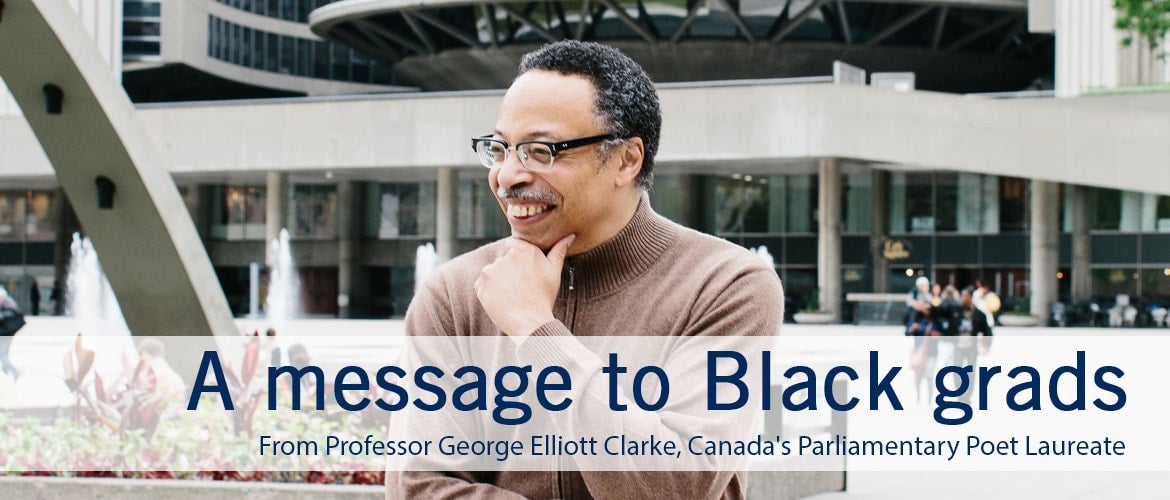 A recent New York Times article cited a growing trend among American universities to celebrate diversity with additional commencements. 
"Black graduation, a celebration of Black students graduating across all campuses at the University of Toronto, highlights student diversity and our commitment to equity and inclusion," said Kelly Hannah-Moffat, U of T's vice-president, human resources and equity.
"It is important to our Black community and consistent with our efforts to promote Black students' excellence, accomplishments and academic success."
Dr. Lisa Robinson, chief diversity officer and professor in the Faculty of Medicine, says she's excited to present the Community Service Award at Black Graduation.
"Traditionally groups that are underrepresented at universities don't have those same opportunities for professional networking, but this is exactly the type of event that creates those opportunities," says Robinson. "These events are critical for that."
Keynote speakers are Huda Hassan, a Women and Gender Studies Institute PhD student who has been active in supporting black women apply to graduate school, and Akua Benjamin, an activist, a professor at Ryerson University School of Social Work and co-founder of the Anti-Black Racism Network.
Other speakers will include Vice-President and Principal, U of T Scarborough Bruce Kidd and Sandra Carnegie-Douglas, U of T's anti-racism & cultural diversity officer, as well as representatives from First Nations House.
Awards for community leadership, excellence in research, liberal arts and athletic achievements will be presented to Black grads at the party.
Kirk says a lot of the work in universities supporting Black students is a result of the Black Liberation Collective – a group of Black students whose vision is the creation of a world where Black people have access to higher education in supportive, safe spaces.
"We definitely have a lot of work to do, but we definitely want to celebrate those who have made it through," Kirk says.
UTC