U of T releases new Strategic Research Plan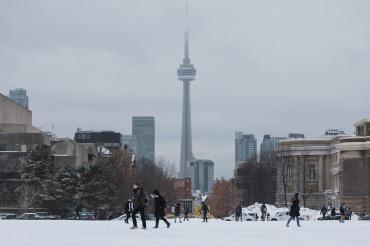 The University of Toronto has released its new Strategic Research Plan, following months of consultations across the university and with affiliated organizations.
"The Strategic Research Plan highlights the environment and approach that will allow our researchers to continue to do their outstanding work to advance understanding and apply new knowledge," said Vivek Goel, vice-president of research and innovation.
The plan, which will be in effect from 2018 to 2023, outlines seven broad research themes that reflect the breadth of U of T research within a flexible framework and express its core commitment to research excellence.
The plan also identifies five strategic objectives – informed by key societal challenges – to enable U of T to continue to increase its research excellence:
demonstrate national and global leadership in research and innovation
foster collaborations, partnerships and engagement 
advance equity, diversity and inclusion
support integration of research into student curricular and co-curricular experiences
strengthen the institutional supports that foster research and innovation excellence
In addition to providing guidance and vision for the university's research programs, the Strategic Research Plan is also required by external funding programs such as the Canada Research Chairs program and the Canada Foundation for Innovation, in order for U of T to propose projects for funding. It provides support and direction but is not meant to limit individual faculty members or divisional research priorities.
UTC