A space for startups: U of T's ONRamp to connect Ontario entrepreneurs
One of the biggest challenges Albert Tai faced when launching a startup was finding the space to do it.
The co-founder of Hypercare, a communication and collaboration app for doctors, recalls bouncing from classroom to coffee shop at the University of Toronto as he and his team looked for places to hold meetings and work on their idea.
But that's all about to change with Wednesday's official launch of U of T Entrepreneurship's new ONRamp facility, a 15,000-square-foot collaboration and co-working space catering to entrepreneurs and their startups.
Located in the Banting building, ONRamp will not only connect entrepreneurs and startups from across U of T's extensive network of entrepreneurship hubs, but throughout southern Ontario via partnerships with Hamilton's McMaster University and London's Western University.
"I wish I had this space when we were in our early stages," says Tai, who completed a Master of Information at U of T and did an undergrad at Western in medical science and computer science.
"When I came here, I felt so supported."
Spanning three floors, ONRamp boasts several flexible shared workspaces, meeting rooms, board rooms and event spaces, including the RBC Innovation Hub. The facility is supported by U of T and RBC as part of a $4 million commitment by Canada's largest bank to support U of T's innovation and entrepreneurship ecosystem.
The new facility will function as a focal point for U of T's diverse entrepreneurship community, which consists of numerous startup accelerators, incubators and entrepreneurship-oriented courses – many of which specialize in turning the university's cutting-edge research into game-changing companies in fields that range from medicine to computer science.
"We're excited to officially open ONRamp, which is open to everyone in U of T's entrepreneurship ecosystem, as well as to entrepreneurs from our partner universities," says Vivek Goel, U of T's vice-president of research and innovation.
"We'd also like to thank RBC for helping make this collaborative workspace possible, and for recognizing the importance of U of T as one of Canada's most dynamic engines of entrepreneurship and innovation."
ONRamp will function as a home-away-from-home for entrepreneurs from other Ontario universities, starting with McMaster, which operates a campus accelerator called Forge, and Western, which operates one called Propel.
"Having a presence in Toronto is paramount to the long-term success of any Canadian business, and will allow our startup companies at Propel to take advantage of the amazing programs and resources available through the University of Toronto," says Ian Haase, Western's director of entrepreneurship.
"Propel will also leverage the space to engage and stay in touch with our alumni entrepreneurs, many of whom are working in Toronto after graduation."
Similarly, Gay Yuyitung, the executive director of McMaster's Industry Liaison Office, says the university is looking forward to capitalizing on the benefits ONRamp will provide. 
"We're always looking for new opportunities to advance the work of our entrepreneurs and our staff who support entrepreneurship," Yuyitung says.  "This venue and partnership with other Ontario universities will provide McMaster start-ups with additional exposure and access to mentors, investors and companies, on a much broader scale."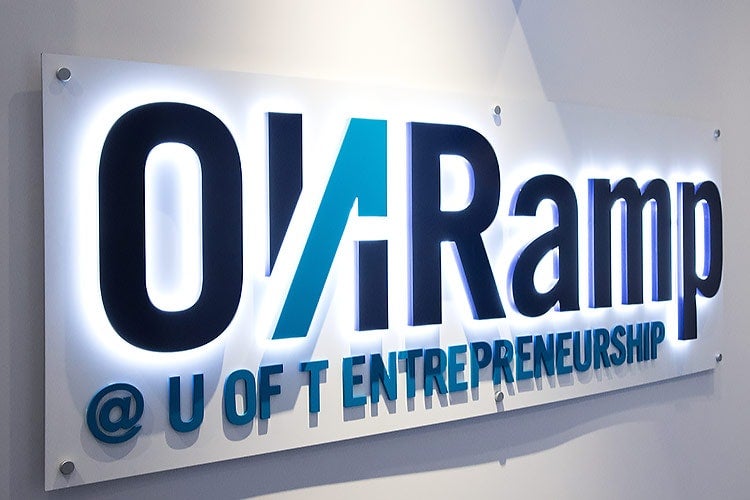 ONRamp has already been used for events hosted by U of T's Impact Centre, the Entrepreneurship Hatchery and the Creative Destruction Lab (CDL), which will soon use the space to house startups associated with its novel quantum machine learning program.
Startups associated with U of T's UTEST accelerator are also settling into ONRamp's flexible workspaces.
They include Structura Biotechnology, which uses machine learning algorithms to develop 3D models of proteins to aid the development of new drug therapies.
Saara Punjani, a York University law school grad who is Structura's chief operating officer, says having access to ONRamp means the startup can spend more time solving business problems as opposed to logistical ones.
 "If we didn't have this space," she says, "we would have been hopping from classroom to classroom."
Alhassan Khedr of Shield Crypto Systems, which aims to supply banks and credit card companies with a more secure form of encryption, says he and fellow co-founder Glenn Gulak, a professor in U of T's Faculty of Applied Science & Engineering, were saved from spending thousands of dollars on lease payments – money that can instead be spent on building their business.
"Before finding this space we were thinking of renting something," Khedr says. "But at this stage of a company's evolution, it's such an expensive proposition."
In addition to offering a convenient place to work and hold meetings, ONRamp is also facilitating the free flow of ideas between entrepreneurs.
Tai, for one, spent a recent a recent afternoon picking the brains of Structura's team about the medical space.
"It's fantastic to be surrounded by such motivated people," he says. "When you're surrounded by people who say, 'I want to be the next Facebook,' you're more likely to think, 'Yeah, I want to be the next Facebook, too.'"
UTC