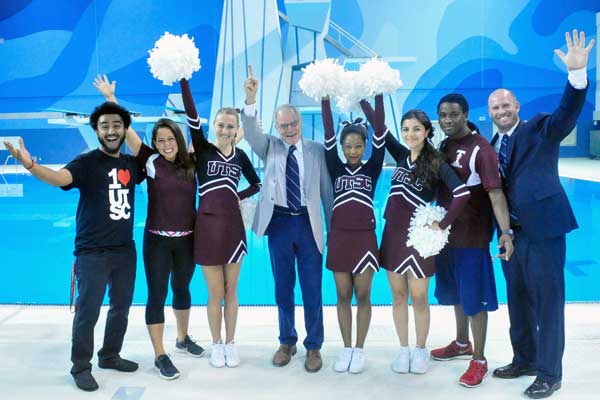 Welcome to the Toronto Pan Am Sports Centre
The opening of the Toronto Pan Am Sports Centre (TPASC) marks a watershed moment in the history of the University of Toronto Scarborough, said Interim UTSC Principal Bruce Kidd.
"Not only will this world-class facility provide a wealth of new athletics, health and wellness programs for UTSC students, faculty and staff, it will create boundless opportunities for Toronto residents and for Canada's top amateur athletes," Kidd said."We are thrilled to have such a world-class facility here at UTSC. TPASC is a real game-changer that puts ours among the best university athletics facilities in Canada."
TPASC is funded in part by a student levy passed in 2010 that covers 17 per cent of the overall cost of the building, with the University's total contribution covering 22 per cent of the building cost. The facility is jointly owned and operated through a unique partnership between UTSC and the City of Toronto.
"This facility would not have been possible without the support of our students. The partnership formed to make this facility possible is a shining example of what can be achieved through teamwork," said Kidd.
The new facility, which was built on time and on budget at $205 million, also highlights the dynamic growth taking place at UTSC – growth that will be complemented by the opening of the state-of-the-art Environmental Sciences and Chemistry Building in Fall 2015. 
As the new home of UTSC's Department of Athletics and Recreation, TPASC builds on UTSC's legacy of providing an inclusive environment that promotes physical activity, Kidd said. UTSC's athletics and recreation program is home to house and non-competitive sports leagues and is a gathering place for those pursuing a healthy active lifestyle. UTSC also had a rich history within U of T's intramural sport program, which is one of the largest in North America.
In 2015, TPASC will host the aquatics, fencing and modern pentathlon components of the 2015 Pan Am/Parapan Am Games, being held in Ontario for the first time.
"When the Games are over and the international spotlight has dimmed, this world-class complex will create a powerful legacy of inspiration, recreation, education and transformation for the UTSC community and the entire eastern Greater Toronto Area," Kidd said.
Facility highlights
Covers 365,000 square feet (34,000-square metres) or about five football fields
The two pools double the number of Olympic-size pools in the GTA
The aquatics centre also features a five-metre deep diving tank, a training facility and seating capacity for about 6,000 during the 2015 Games
The field house features an indoor recreational track, flexible gymnasium space for training and competition, a rock climbing wall and Games seating capacity of approximately 3,000
The Canadian Sport Institute Ontario is an anchor tenant
Wheelchair Basketball Canada's National Academy makes its home at TPASC; Diving Plongeon Canada, Swimming Canada, Synchro Canada and Water Polo Canada are moving components of their high performance teams and training programs to TPASC
Designed by NORR Ltd with aquatic engineers Counsilman Hunsaker; Construction by PCL Constructors Canada
Sustainable design
TPASC is aiming for LEED Gold status, placing TPASC in elite company among the greenest buildings in North America.  Among its sustainable features:
A geothermal field under the north parking lot will provide 30 per cent of TPASC's heating and cooling
LED lights installed throughout the building consume 80 per cent less energy than incandescent lights, and about 35 per cent less than fluorescent
A green roof covers 30 per cent of the roof area, approximately 60,000 square feet
Three underground cisterns collect rainwater, which is used to irrigate the landscaping around the building
1,854 solar panels installed on the TPASC roofs can generate up to 593 kW of power per hour, reducing energy consumption of the building by up to 10 to 15 per cent
An inclusive environment
U of T, the City of Toronto and Toronto 2015 developed a set of accessibility standards for the building, keeping in mind International Paralympic Committee guidelines.  The building features:
Height adjustable change tables, accessible seating in the viewing areas and accessible ramp and lifts in the pools
Spacing of equipment in the fitness area and the type of equipment promote accessibility
Emergency provisions include areas of refuge and an evacuation chair; medical and treatment rooms include height adjustable tables
Tethering and space for service animals
The design and scheduling of the pools, gyms and teaching studios will allow for women-only workouts