U of T Engineering opens the Myhal Centre for Engineering Innovation & Entrepreneurship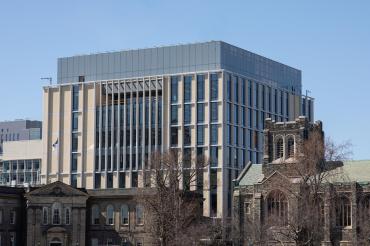 The University of Toronto's Faculty of Applied Science & Engineering officially opened the Myhal Centre for Innovation & Entrepreneurship on Friday.
Named in honour of the Myhal family – including George Myhal and his wife Rayla, two of Engineering's most ardent supporters – the building will allow for collaboration across disciplines, and experiential learning, leadership and entrepreneurship opportunities. It includes flexible, technology enhanced active learning spaces, fabrication facilities to support both curricular and co-curricular design projects, and dedicated space for student clubs and teams.
"The Myhal Centre is where tomorrow's solutions, technologies and industries will be born," said Cristina Amon, dean of the Faculty of Applied Science & Engineering. "Its state-of-the-art facilities will spark new multidisciplinary collaborations, foster rich learning experiences and create further opportunities to enhance how we develop the next generation of global engineering leaders."
On Friday, Michael Wilson, chancellor of the University of Toronto, and more than 200 donors, alumni and friends joined Claire Kennedy, chair of the Governing Council, President Meric Gertler and Dean Amon for the official opening event.
"Ever since Dean Amon first identified the need for a building dedicated to engineering innovation and entrepreneurship, the U of T community has rallied to the cause," President Gertler said. "The opening of the Myhal Centre heralds an incredibly exciting future for U of T's Faculty of Applied Science & Engineering as a key driver of prosperity in the Toronto region, across Ontario and Canada, and around the world. On behalf of the university, I congratulate all those whose generosity and commitment has made it possible, including George and Rayla Myhal, the Province of Ontario, the Engineering Society and so many faculty, staff, students, alumni and friends."
The Myhal Centre provides a new home to many of the faculty's multidisciplinary research institutes and centres, including the Centre for Global Engineering, the Institute for Sustainable Energy and the Institute for Water Innovation, as well as innovative educational initiatives such as The Entrepreneurship Hatchery, the Institute for Multidisciplinary Design & Innovation and the Institute for Leadership Education in Engineering.
"The spaces where we meet, study and create together have a powerful impact on the engineering student experience," said Shivani Nathoo, president of U of T's Engineering Society. "The Myhal Centre is the ideal environment to stimulate our imaginations, enabling us to reach new heights, both inside and outside the classroom."
George and Rayla Myhal are passionate volunteers and advocates for Engineering and the University of Toronto. George Myhal served for more than a decade on Governing Council, and continues to advise Engineering through the dean's strategic council. Last June, George Myhal was named a member of the Order of Canada for his achievements as an investment and finance leader, and for his philanthropic contributions, notably in support of innovation in engineering. This fall, he will be recognized with an honorary degree from the University of Toronto.
Engineering