David Palmer, vice-president of advancement, on how U of T harnessed the generosity of donors to raise $2.6 billion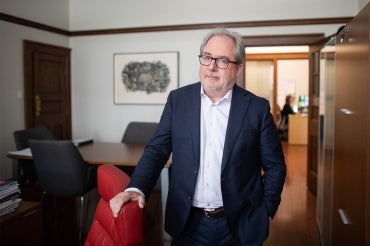 At this year's spring convocation, nearly 15,000 grads joined a 600,000-strong network of University of Toronto alumni around the world – many of whom maintain strong ties with the university through the alumni relations departments across U of T's advancement offices.
But most students feel the impact of U of T Advancement long before they graduate. Many would have entered a building or a lab funded in part by a donor. Some might have received a scholarship. Others may have taken advantage of a donor-supported research opportunity or been mentored by an alumni leader in their field.
As the vice-president of advancement, David Palmer has led U of T's fundraising and alumni relations efforts since 2007. He was recently re-appointed to the position for a fourth term that begins in January 2020.
Under Palmer's leadership, U of T set a new standard for philanthropy in Canada through its successful Boundless campaign. The campaign, publicly launched in 2011, harnessed the generosity of 104,000 unique donors to raise $2.6 billion by its conclusion last December – far surpassing its original $2 billion goal.
Another achievement: U of T's endowments for student support and student aid surpassed the $1 billion-mark for the first time in the university's history.
Yet, according to Palmer, "We've barely begun to scratch the surface of what we are capable of with the help of our alumni, friends, and donors."
U of T News recently spoke with Palmer about the Boundless campaign and what's next for university advancement.
Looking back at the incredibly successful Boundless campaign – what have been some of your highlights?
The work we've done on large scale, complex, collaborative initiatives brought together multiple strengths at the university across faculties and departments. We also made connections with institutions outside the university.
For example, the Rogers family's extraordinary gift of $130 million to create the Ted Rogers Centre for Heart Research, brought together the University of Toronto, SickKids hospital and the University Health Network (UHN)/Toronto General to tackle the challenge of heart failure across the life span. That was a tremendously exciting project that drew on the strengths within medicine and engineering at U of T, primarily through the Institute of Biomaterials and Biomedical Engineering, and on strengths within SickKids and UHN. We were able to look at the entire span of research from genetics, stem cells and biomarkers of disease to regenerative tissue engineering, new therapies, technologies and innovative product development.
More recently, the Labatt family gift of $20 million to create the Labatt Family Network for Research on the Biology of Depression has a foothold at CAMH (Centre for Addiction and Mental Health) and at SickKids hospital. That was a wonderful example of funding that supports basic research into something that we know very little about: the actual biology of depression.
These types of highly interdisciplinary and collaborative projects can have a deeply meaningful impact on some of today's most pressing global or societal challenges. We've seen institutions across Canada and the U.S. take note of our ability to frame such exciting visions and mount them across departments, faculties, and institutions. There's something in the water here, I think, that allows us to dream big like this.
I think the immense variety and the number of donors – and where they come from and what they represent – is also something that's been a highlight for me. We had more than 104,000 unique donors to the (Boundless) campaign from 99 countries around the world. We also had over 16,000 donors under the age of 40 give to the campaign, which, I think, is an extraordinarily generous thing for people to prioritize at that stage of their lives. It shows how important the university is to them.
Another highlight for me would be the fact that our endowments for student support and student aid have now passed the $1 billion threshold for the first time in our history. That is just a tremendous reflection of our fundamental values of excellence and accessibility for our students. 
Receiving a $100 million donation from Gerald Schwartz and Heather Reisman was a record-breaking milestone for the university. What did it feel like to work on this donation and what went into it?
We were all inspired by the enormous generosity of Heather Reisman and Gerry Schwartz and the very strategic and thoughtful way they went about their consideration of this enormous gift. It's just astoundingly generous and it is a real game-changer for the university and for Canada.
Pulling the various threads of this ambitious project together was very much a collaborative initiative between my colleagues Scott Mabury, the vice-president of university operations and real estate partnerships, and Vivek Goel, the vice-president of research and innovation, working with U of T President Meric Gertler and me on every aspect of the development of the project, the proposal, the solicitation and the conversations with Heather and Gerry.
There were also a number of leading scholars brought into the conversation whose work connected with the themes of this initiative, and a small group of deans who were consulted at pivotal moments in the project's development.
For me, it was exciting to see this extraordinary group of leaders come together with a common vision and drive it forward so quickly and effectively. I think it was done at a scale and at a sophistication that was inspiring to all of us who were involved, and that clearly made an impression on the donors. It enabled the gift discussion to move ahead at an unusually fast pace. It was wonderful to see how a conversation that began with an October story in the newspaper led to a gift announcement in March.
I hear you carry a little black book with you. What's the significance of it?
These books are my short-term memory. I have such a huge volume of interactions with people that I feel it's important to ensure that there is prompt and accurate follow-up to those encounters.
These little books, for me, ensure there is integrity and consistency in follow up to that vast amount of interaction. I do anywhere from 140 to 160 personal interactions per year with donors, volunteers and alumni – and many times that in terms of phone and email and other types of meetings. That's the kind of volume of activity we all have to do in this advancement business, across all of front-line fundraising roles in all of our faculties, colleges and campuses.
Going into the next advancement campaign – what are some of your goals?
The agenda for the university going forward is perhaps more exciting than it's ever been. I see that no matter where I go – no matter what department or faculty I encounter. The ideas that animate this place are extraordinary. In service to those ideas, I think we have to envision an even more ambitious plan.
People ask me all the time: "Have we exhausted the capacity of our donors and the time and efforts of our volunteers?" And I have to say we all feel we've barely begun to scratch the surface of what we are capable of together, and what our donors and volunteers are so generously willing to do for us.
We think there's a very, very exciting future ahead of us right now.
You've said that most of the money raised at U of T comes from meeting people face to face. What makes that kind of fundraising so important?
When people are considering a gift, whether investing time or resources, they want to get to know what they're investing in. Fundamentally, the process of getting to know somebody across the table, face to face, is a process of forming a relationship. It is through understanding that person and what their goals and aims are, and how they might align with the goals and aims of your institution, that you find that kind of special connection that will cause someone to come forward in a very generous way.
At the heart of every gift is a deeply personal and motivating story. Fundraising is all about narrative. It's about finding the connection and alignments between a donor's individual story – his or her passions, cause, motivations, or focus – and the story behind the initiative that you're bringing to their attention. Donors give to create change and they give generously to create change at scale. That's the business we're in together: making this a better world for current and future generations.
At the end of the day, people will choose to support – give their time, their mentorship or their resources – because they care deeply about the place.
Our job is to look for ways to cause them to care and to care more deeply over time.
You earned an MFA from Princeton in musicology. Is music still a part of your life?
My performing days are long behind me, but I did enjoy teaching music history as an adjunct professor at Western University for many years. Those days are long behind me as well. But yes, music is still a very big part of our family's life. We enjoy attending concerts of every imaginable type of music, from ultra-contemporary Canadian composition to opera, to jazz and popular music and world music.
One of the greatest, fondest memories I have is being a player-coach for my daughter as she was growing up, seeing her blossom as a singer, and now seeing her develop into a brilliant young professional.
UTC