U of T accelerates emissions reduction efforts with new Low-Carbon Action Plan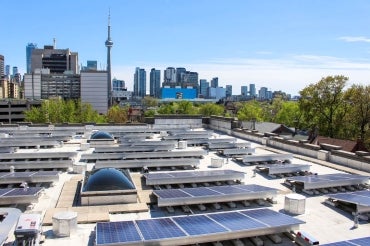 The University of Toronto has unveiled an ambitious Low-Carbon Action Plan that will propel it towards its goal of cutting greenhouse gas emissions by 37 per cent from 1990 levels by the year 2030 and put it on a path to becoming a "net-zero" institution.
From energy-efficient buildings and carbon-capture schemes to forest management strategies and collaborations to test green technologies, the five-year plan aims to bring U of T 80 per cent closer to its 2030 target by the year 2024.
The Low-Carbon Action Plan follows U of T's 2018 decision to join the University Climate Change Coalition and is predicted to curb emissions, measured using a carbon dioxide equivalency, by 44,567 tonnes.
"Operating one of the world's largest research-intensive universities in an urban setting while reducing energy consumption and fostering sustainability is a daunting task," said President Meric Gertler. "At the same time, we are uniquely well-equipped to tackle the challenge of climate change, precisely because of the size and breadth of our research footprint and institutional partnerships.
"The Low-Carbon Action Plan will accelerate our efforts as we work towards our 2030 target, an important stepping stone towards realizing our vision of achieving a net-zero GHG footprint."
The action plan notes that U of T emitted nearly 117,000 tonnes of carbon dioxide equivalent in 1990. To achieve a 37 per cent reduction from that figure by 2030, annual emissions would need to be lowered to below 73,684 tonnes.
Such a drastic drop in emissions would represent no small feat given that U of T's three campuses comprise 266 buildings, with many buildings on the St. George campus over 80 years old and requiring more energy to run than newer structures. Indeed, the St. George campus represents 83 per cent of the university's emissions.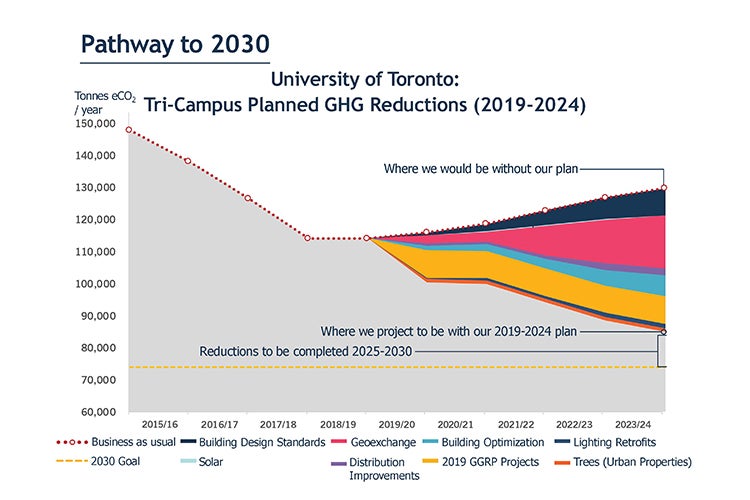 U of T's Low-Carbon Action Plan combines a range of initiatives to reduce greenhouse gas emissions by 2024 (image via Low-Carbon Action Plan)
Other factors influencing the university's energy needs include world-class research facilities, which require additional power, and Toronto's cold, windy winters and hot, humid summers, which place heavy loads on heating and cooling systems.
U of T has nevertheless managed to reduce greenhouse gas emissions since 1990 – despite the fact that the university has more than doubled in size over that period.
"Sustainability and energy efficiency are interwoven with the university's daily operations," said Kenneth Corts, U of T's acting vice-president, operations and acting vice-provost, academic operations.
"The university has lowered its carbon and energy intensity over the last two decades, and we look forward to building on that foundation to reach our emissions reduction goals."
To that end, the action plan lays out a multi-pronged approach that tackles energy from three angles –consuming less energy, producing cleaner energy and distributing that energy more efficiently.
Leveraging U of T's breadth of research expertise is crucial to the process. That's why operations staff are working closely with groups like Carbon Electrocatalytic Recycling Toronto (CERT), a multidisciplinary research team that's developing technology to recycle greenhouse gases into useful chemical compounds using solar-powered electricity. CERT, led by University Professor Ted Sargent and Professor David Sinton from the Faculty of Applied Science & Engineering, is one of five finalists vying for the NRG COSIA Carbon XPRIZE, which challenges teams to capture carbon emissions from power plants and efficiently convert them into valuable products.
"Once the Carbon XPRIZE competition is over, we plan on bringing CERT's technology to campus," said Ron Saporta, chief operating officer of property services and sustainability.
Other clean energy production efforts underway include the proposed installation of geoexchange systems – which act as a thermal battery that stores heat under the Earth's surface for use in the winter – on all three campuses. The systems are expected to result in a reduction of 16,465 tonnes of carbon dioxide equivalent per year.
U of T has also moved to ensure that new buildings are held to strict standards of energy efficiency.
At U of T Scarborough, the Environmental Science and Chemistry Building's use of sustainable technologies has earned it the Canada Green Building Council's 2018 Institutional Award. At U of T Mississauga, the Science Building is being modelled to use 65 per cent less energy than a conventional building, and is projected to be one of the most – if not the most – energy-efficient science buildings in the world.
On the St. George campus, a planned 14-storey academic wood tower will feature a low-carbon, high-performance design, and is expected to be the tallest mass timber and concrete hybrid building in North America.
The St. George campus is also poised to benefit from retrofits to the Central Steam Plant that will increase the amount of waste heat that is captured and converted to hot water for heating buildings.
"We consider this a zero-carbon heat source because no additional natural gas is used to heat our buildings," Saporta explained.
The mechanisms and advantages of highly efficient district energy systems were explained in a U of T student-made video that won the 2019 Campus Energy Student Video Contest run by the International District Energy Association.
U of T students will also get hands-on experience in the design and implementation of sustainability projects through the Campus as a Living Lab program, which will see students work with professors, staff and, in some cases, external partners on new and retrofit projects on campus.
Saporta said the plan's multi-pronged approach is necessary given the size and unique demands of U of T.
"We have well over 100,000 people across our three campuses on a daily basis, which places us among the top 35 population centres in Canada – about the size of Waterloo, Ont.," said Saporta. "We also have all the same services as a city, such as police, property services and utilities – so we need to look at sustainability from the perspective of being a 'city within a city.'" 
"That's why we're working on the entire chain of the process, right from how we produce energy to how we distribute and consume it."
Saporta said working toward the 2030 target makes for a "difficult and interesting challenge," but one that U of T is determined to achieve.
"Climate change is one of our society's most pressing challenges, and we believe we have the plan, the people, the expertise and the drive to achieve our low-carbon goal and improve the well-being of our community," he said. 
"Our operations team and their academic counterparts will continue to work together to generate novel solutions that will not only meet U of T's sustainability targets, but also set an example for other campuses and communities to follow."
UTC