In a challenging year, U of T students inspire hope for the future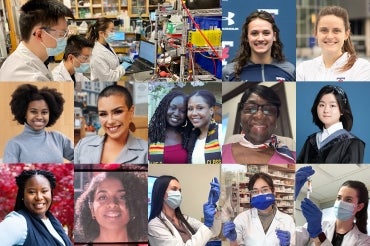 For the second year in a row, University of Toronto students met unforeseen challenges as the world continued to grapple with the ups and downs of the pandemic.
More than 21,000 students earned their degrees and many more marked significant academic and personal milestones. Still others played a part in helping Canada respond to the pandemic and work toward a brighter future.
Among the many accomplisments: scaling Olympic heights in Japan, volunteering at vaccination clinics, advocating for reconciliation with Indigenous Peoples and taking steps to address climate change.
U of T News took a look back at the many students left us feeling inspired this year. 
---
Kylie Masse, who graduated from the Faculty of Kinesiology & Physical Education this year, ascended the Olympic podium three times this summer, capturing silver in the 100-m and 200-m backstroke, and bronze in the 4x100-m team relay. 
Lucia Stafford, who also reached the academic finish line this year by graduating with a degree in civil engineering, joined her sister and fellow U of T alumna Gabriela DeBues-Stafford at the Olympics in the 1,500-metre race. In her Olympic debut, Lucia recorded a personal best of 4:02.12, a fraction off the time needed to join her sister in the final (Gabriela finished fifth with a time of 3:58.93.) 
The Stafford sisters were among more than a dozen U of T students, staff and alumni who represented Canada at the Summer Games. 
Gloria Williams is living proof it's never too late to pursue one's ambitions. 
After a 40-year hiatus from U of T and a career as a nurse, she returned to the university to earn a bachelor's in sociology, with minors in Caribbean studies and political science. 
"It was not the path most people take," said Williams, a member of Woodsworth College. "But I am over the moon to be graduating."
Nicole Mfoafo-M'Carthy, in her second year of medical school, was named one of 11 Canadian Rhodes Scholars this year. 
At U of T, she worked on a qualitative assessment of moral injury – the cognitive and emotional response after events that go against a person's own moral code – in long-term care workers. One aspect of the project is looking at how people working in long-term care experienced the pandemic, and what could have been done to better support them.
At the University of Oxford, she plans to pursue her interest in the intersection of health and policy.
At 16, Vivian (Qiao) Xie is the youngest to graduate from U of T's Faculty of Arts & Science, U of T Scarborough or U of T Mississauga since at least 1979. 
She's already doing her master's degree in applied immunology and hopes to finish her PhD by the time she's 22. Xie credits her grandmother – a retired teacher – for inspiring her love of learning and curiosity when she was a young child in Shanghai. 
Her goals for the future include working in academia or in the biotech industry. 
As a lifelong Toronto Raptors fan, is there anything more exciting than your poem being selected for the team's season-opener ceremony? 
It was a dream come true for Hannah Flores. The spoken-word poet and life sciences and New College student in the Faculty of Arts & Science starred in a video made for the Raptors pre-game ceremony, welcoming fans back to Scotiabank Arena for the first time in 600 days. 
Flores said her poem, "We Back," is about how the Raptors unite people across the country. 
U of T's Leslie Dan Faculty of Pharmacy students played a critical role in the COVID-19 vaccine rollout this year, taking on preparation and injection roles in hospitals and pop-up clinics. 
Beyond administrating vaccines, students Kari Griffore, Hazra Chowdhury and Katarina Pessina, provided support by answering patient questions, offering evidence-based advice and congratulating people on receiving a dose.
Over the past year, U of T students alongside faculty and staff helped run pop-up vaccination clinics in Toronto's COVID-19 hot spots. 
From its humble beginnings within the Greater Toronto Area to having participants join from across North America, the Caribbean and Asia, a Black student-run hackathon made big strides this year. 
In February, the National Society of Black Engineers' (NSBE) U of T chapter hosted a global and virtual hackathon that attracted as many as 300 high school and university students. The participants had 24 hours to code, design, build, network and learn from mentors at the event. 
Founded three years ago by U of T computer science alumni Kyra Stephen and Temisan Iwere, as well as Faculty of Applied Science & Engineering alumna Ayan Gedleh, the yearly event aims to equalize the footing of Black and other racialized students in STEM subjects. 
Alana Bailey, a student in U of T's Faculty of Applied Science & Engineering who is president of the NSBE and one of the hackathon's lead organizers, said Black-facilitated events are important because of the limited opportunities afforded to Black students in STEM. 
A U of T engineering team was among the winners in Elon Musk's student XPRIZE carbon removal competition this year. 
Celine Xiao and Shijie Liu are members of team E-quester, which secured $250,000 in seed funding for developing a strategy to capture and store carbon dioxide directly from the atmosphere. 
The team is now preparing for the next phase of the competition that could see up to 15 teams secure $1 million each. They'll also have a shot at the $50 million grand prize. 
Riley Yesno graduated with a long list of accomplishments that went well beyond the classroom. 
As a U of T student, she delivered a speech in the House of Commons about missing and murdered Indigenous women and girls, participated in 100 panels, workshops and conferences, and began writing a book titled The Reconciliation Generation. 
She became the first Indigenous member of her family to graduate from university in the spring, receiving a bachelor's degree in Indigenous studies and political science. 
Yesno continues to be politically active and there are no signs of her slowing down. She's now a PhD student in the department of political science.
In the spring, packages that included a kente cloth adorned with the words "Black Grad" and "Class of 2021" were sent to students in Toronto and beyond.  
The delivery was part of the festivities related to this year's Black Grad ceremony, which was held online in June and celebrated the accomplishments of more than 60 graduates in subjects ranging from human biology to law.
"The 2021 Black graduating class has overcome racialized adversity in the classroom and more broadly on campus," said Cindy Njoki Kamau, lead organizer of the event and then-president of the Black Students' Association, at the ceremony.
"What is even more astonishing is that, despite these barriers, this set of graduates has also managed to reach an important milestone while navigating the uncertainty of the COVID-19 pandemic, a challenge that cannot be understated."
UTC