With a focus on Indigenous issues, Riley Yesno makes an impact at U of T and beyond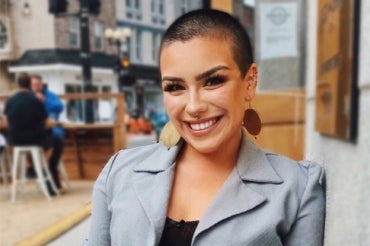 University of Toronto undergraduate student Riley Yesno has participated in more than 100 panels, workshops and conferences, delivered a keynote address at the World Forum on Gender Equality and a TEDx talk on Canadian identity.
And she's just getting started. 
Growing up Anishinaabe as a member of the Eabametoong First Nation living in Thunder Bay, Ont., Yesno belongs to the first generation in Canada to avoid residential school, where so many Indigenous children were sent by the Canadian government to be stripped of their culture until 1996.
In June, she'll be the first Indigenous member of her family to graduate from a university.
"My grandparents did not go to university, but they were residential school survivors. School for them has been a very complicated place and system. I look at intergenerational cycles and see how education was a very violent tool for them," says Yesno, a Faculty of Arts & Science student who will graduate with an honours bachelor of arts in political science and Indigenous studies in June as a member of Victoria College.
"Education is now something that – despite what struggles I might face in university – really does empower me and is something I love."
Yesno recently received the President's Award for Outstanding Indigenous Student of the Year, an award that recognizes her impressive academic record and an almost impossible list of achievements beyond the classroom. The many panels, workshops and conferences she's particpated in also include a young women's panel at the UN Conference on Climate Change's 24th Conference of the Parties in Katowice, Poland, and the Institute on Governance's Nation-to-Nation Dialogue Series. 
"I really embraced very early on the fact that my life as a 20-year-old maybe isn't the stereotypical image of a 20-year-old in other people's minds," she says. "I was always travelling, and I definitely did not sleep as much as I probably should have – but it was all so rewarding."
William Robins, president of Victoria University, met Yesno soon after she arrived at U of T and discussed how the Indigenous practice of smudging could be accommodated on campus. 
"Riley Yesno is one of the most impressive young people I have encountered in my 25 years as a teacher and administrator at the University of Toronto," Robins says. 
"A generous, highly engaged young Anishinaabe woman, able to connect deeply with a wide range of audiences, Riley is emerging as one of Canada's most articulate observers of Indigenous affairs and one of our most compelling new voices calling for understanding and justice."
Yesno almost didn't come to U of T. At 17, she was still considering art school. Her eyes were opened to a different future after being appointed to the Prime Minister's Youth Council in 2017.
"For the first time in my life, I was thrust into the political world and policy-making, and it really lit a fire in me. I realized I could be happy being an artist, but that this is probably where more of my passion lies," she recalls.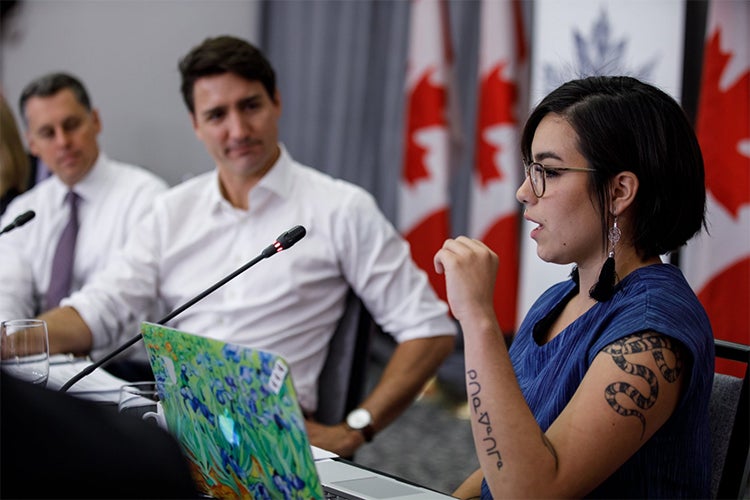 Riley Yesno was appointed to the Prime Minister's Youth Council in 2017 (photo courtesy of Riley Yesno)
Toronto is very different from Thunder Bay and Yesno's transition wasn't seamless. Finding herself and staying connected with her community in a city in which she was no longer surrounded by Indigenous culture was a challenge.
"Coming to Toronto was interesting. I knew I wanted to be here; it was time for me to spread my wings a bit and get out of Thunder Bay, but it was really jarring to leave Thunder Bay where the population is almost 30 per cent Indigenous and very hyper-visible, and then come to Toronto where there's so much diversity that a small population like the Indigenous population can very easily become invisible."
The uncomfortable irony of being a member of Victoria College didn't go unnoticed by Yesno, either. Named after Queen Victoria, it offered a constant reminder of colonization and the roots of the residential school system.
"Big pictures of the queen, colonial castles and pillars – colonization is not just this abstract thing in the back of your mind when you're living in that environment," she says. "It's very present."
It wasn't until her third year that Yesno felt she'd fully re-established her connection to her community and culture, thanks to U of T's First Nations House, which supports academic success, personal growth and leadership development through culturally relevant services to Indigenous students.
"I love First Nations House," she says. "I recommend it to every Indigenous student going into the university. For some reason, I was a little bit stubborn in my first few years and I didn't go. For those first few years, I was struggling to find community, and then finally I went and I never stopped going. Any day of the week, you could easily find me at First Nations House."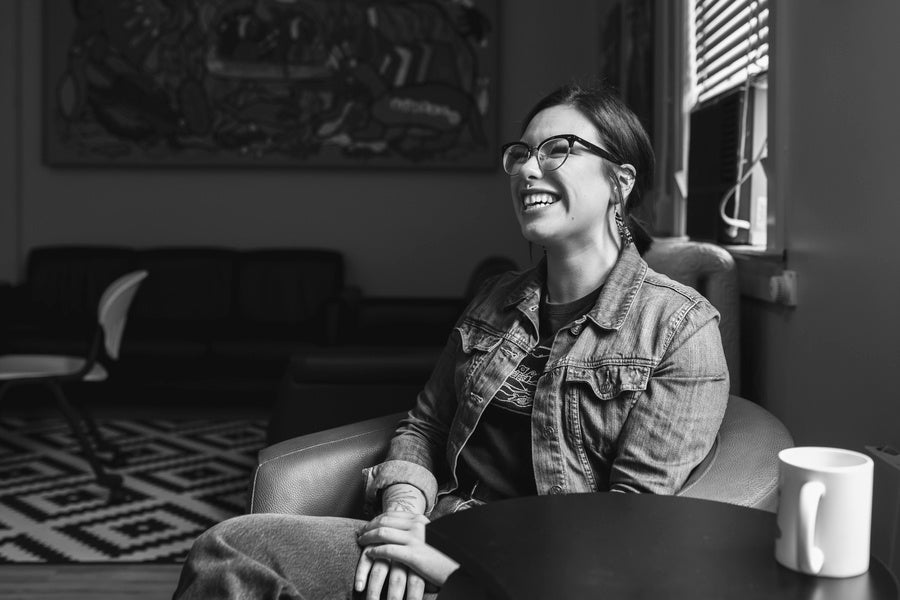 Riley Yesno at U of T's First Nations House (photo by Lisa Macintosh)
Yesno will soon celebrate another education first in her family – pursuing grad school. She starts her PhD in the department of political science in September, with a concentration in Canadian politics. During that time, she'll continue her speaking engagements and work on her book about the reconciliation era in Canada and the role of youth specifically, but her long-term career goals are still unwritten.
"The support I received online was not at all expected: Hundreds of messages; people really cheering me on," Yesno says. "It reminded me how many people I don't even think about are in my corner.
"It reminds me that things like achieving a PhD or just being able to graduate are just as much a collective win as it is an individual one."
Faculty of Arts & Science