'We Back': Poet and U of T student Hannah Flores welcomes fans to Raptors' season opener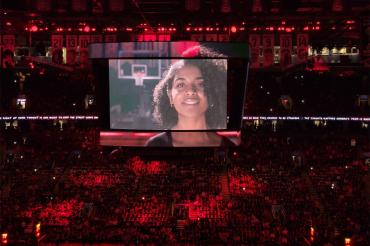 When the University of Toronto's Hannah Flores took her seat in Scotiabank Arena for the Toronto Raptors season-opener, her mind was on more than on how her favourite NBA team would fare against the Washington Wizards.
Flores, a spoken-word poet and first-year life sciences and New College student in the Faculty of Arts & Science, starred in a video made for the pre-game ceremony, welcoming fans back to the stadium for the first time in 600 days. 
"Home is not just a landmark on Bay Street anymore," Flores said in a recorded reading of her poem, We Back.
"It's a feeling folded into our pockets to brave unchartered waters, a new season." 
Footage of Flores reading was spliced with shots of the Raptors roster and aerial footage of the arena. 
"First of all, I'm a Raptors fan, so just seeing everyone in the stadium for a home game, it really touched me," she told U of T News. "But to be part of the opener and to hear the crowd get energized and get louder as certain points of my poem really spoke to them – that filled me with joy and gratitude, knowing that my words could bring people together like that." 
Flores has been writing and performing spoken-word poetry for six years. She's been a Raptors fan even longer, describing herself as a supporter from "day one."
Flores saw the finished video of her performance for the first time when it played on the Jumbotron on Wednesday. For her mom Joanne, sitting beside Flores in the arena, it was the first time even hearing her daughter's poem. After the game, she re-watched the video of the reading on social media to relive the experience.
Flores said her poem was about how the Raptors have an appeal that goes beyond basketball, uniting people across the country. 
"Being a Raptors fan is like being part of a family," she said. "I really wanted everyone to be excited about having the family back under one roof." 
Professor Joseph Wong, who knows Flores from his Munk One seminar class on global innovation and shares her passion for the Raptors, was in the sold-out stadium. 
"She spoke not only to Raptors fans but to the whole nation, right?" he said. "The Raptors are, I think, an exemplary organization in that they are at the forefront of real-world issues around social justice," Wong said, citing the franchise's support for Black Lives Matter and gender equity. 
"They're bigger than just a basketball team and I thought that Hannah's spoken-word art captured that. It's about a basketball team but it's about principles and doing what's right."
Although the Raptors dropped their first game 83-98, results aren't everything for Flores.
"Obviously, we want to get another championship but I think at the same time I really just want to see them put their best foot forward and show the world what Toronto is made of and make us proud – because we already have so much pride for them."
UTC