On your marks, get set ... Students, staff and alumni head to Tokyo Olympics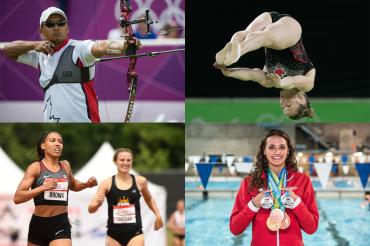 More than a dozen University of Toronto students, alumni and staff will be vying for Olympic glory as the Tokyo Games kick off this week.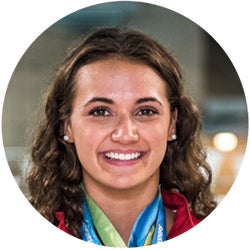 Kylie Masse, who is the reigning world champion in the 100-metre backstroke, a former Varsity Blues star and a graduate of the Faculty of Kinesiology & Physical Education, will look to top her Olympic bronze medal finish in Rio de Janeiro in 2016. She enters this year's Games having recently broken her own Canadian record in the 100m backstroke with a time of 57.70 seconds.
"I just wanted to be the fastest I could possibly be, and I've been trying to break that 58 [second] barrier and that personal-best time from 2017. I was really happy to do that here tonight," she told CBC last month.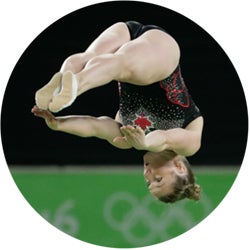 Rosie MacLennan, the first trampolinist to win back-to-back Olympic gold medals and Canada's flag bearer in Rio, will try to make history again by making it three in a row. 
"I go into every competition with the intention to do the best that I can on that day and see where it lands me," said MacLennan, who graduated from U of T with a bachelor's degree in physical education and health and also holds a master's in kinesiology and exercise science, told Canada's national broadcaster last month.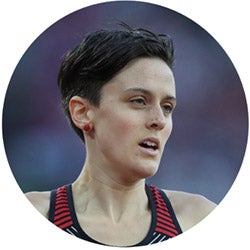 In the women's 1500m, two U of T alumni will be seeking a spot on the podium: sisters Gabriela DeBues-Stafford and Lucia Stafford. 
Going into her second Olympics, DeBues-Stafford ran a personal best of 3:56.12 in the 1500-metre race at the track and field world championships in Doha two years ago – setting a Canadian record.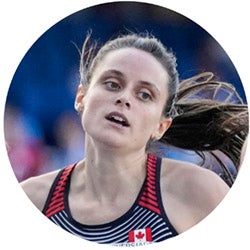 The Tokyo Games will be the first Olympics for DeBues-Stafford's younger sister, who was named U of T's female athlete of the year in 2019-2020 and graduated this spring with a bachelor's degree in civil engineering.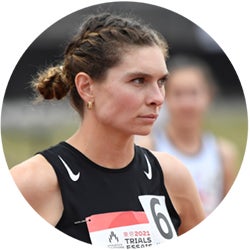 Her friend Madeleine Kelly, an anthropology and English graduate who writes for Canadian Running Magazine, will compete in the 800-metre race. On Instagram, Kelly thanked her U of T track teammates for pushing her to new heights. "I was part of a team of collegiate women who didn't want to just be good – they were committed to being great," she said.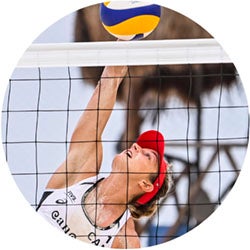 Heather Bansley, an English graduate and former members of the Varsity Blues volleyball team, is heading to her second Olympics after securing a fifth-place finish in Rio. She and her new partner, Brandie Wilkerson, face the Netherlands on July 23 at 11 pm EDT. "Tokyo will be my second Olympics and Brandie's first," Bansley said on Instagram after qualifying. "I feel incredibly grateful and honoured to share this dream with her and help each other realize our Olympic goals."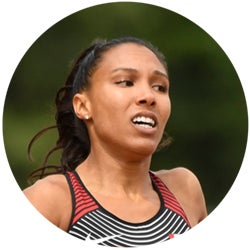 Alicia Brown, a membership sales and service associate at Hart House and a U of T Mississauga graduate in communications, culture, information and technology, will once again represent Canada in the 4x400-metre relay after helping the national team snag fourth place in the relay the last time around, as well as 28th spot in the 400-metre event.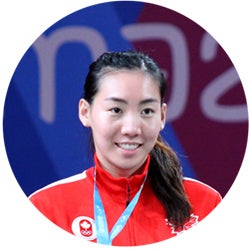 In badminton, two U of T alumni will be competing in Tokyo. Michelle Li, Canada's most successful female badminton player, represented her country in the 2012 and 2016 Games –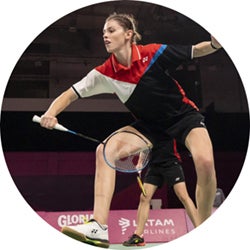 and will now compete in the women's singles in Tokyo beginning on July 24. Rachel Honderich, a kinesiology student on leave, enters her first Olympics following a gold medal performance at the 2021 Pan American Championships in Guatemala alongside her partner Kristen Tsai.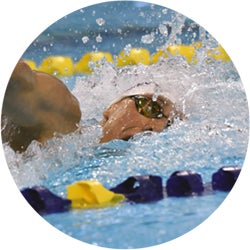 Ruslan Gaziev, an incoming U of T Mississauga student and freestyle swimmer, will be participating in his first Olympics. "I'm really excited about my future and also the future of Canadian swimming," he wrote on Instagram. "I believe we're only scratching the surface of what we're capable of doing."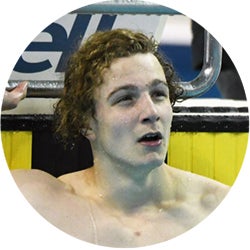 Gabriel Mastromatteo, a Rotman Commerce student and Varsity Blues swimmer, joins Gaziev on Canada's swim team. He holds the third-best Canadian time in the 100-metre breaststroke finishing in 1:00.19 at the latest Olympic trials.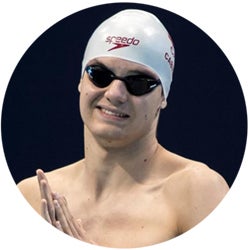 Matthew Cabraja, a math and physical science major who joined the Varsity Blues swim team last fall, will be competing in his first Paralympics in the S11 category for athletes with full visual impairment. 
"I hope that young people with disabilities understand that they can do things, just like I am," he told Swim Ontario. "You just have to find what you enjoy and work hard at being the best you can."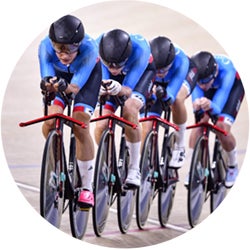 Cyclist Annie Foreman-Mackey, a gold medalist in the team pursuit at the 2019 Pan American Championships, will be racing in the track event at Tokyo. A graduate of the Dalla Lana School of Public Health with a master's degree in public health, social and behavioural sciences, Foreman-Mackey qualified for the Games during her first year of medical school at the University of British Columbia.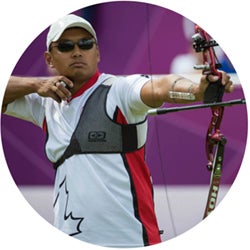 Archer Crispin Duenas, who holds a degree in physics from U of T and another from the Ontario Institute for Studies in Education, is going to his fourth Olympics. While a knowledge of physics doesn't play a direct role in ensuring Duenas hit his targets – credit untold hours of practice and training for that – he told U of T News in 2014 that it helps him in indirect ways.
"Understanding the concepts of physics definitely plays a big role in conceptualizing archery," he said. "It helps a great deal when I'm tuning my equipment and trying to understand the weather conditions that surround me while I'm shooting."
In addition to students and alumni, U of T swim coach staff will be participating in the Olympics as coaches and commentators. George Gross, Jr., the Varsity Blues' women's water polo head coach, is CBC's water polo commentator, while Byron MacDonald, the Varsity Blues' head swim coach, will reprise his role as CBC's swimming commentator. Earlier this month, Varsity Blues assistant head swim coach Linda Kiefer became the sixth member of the coaching staff for the Canadian swim team. Edison Au, a U of T alumnus, Varsity Blues rugby player and former physical therapist at the MacIntosh Sport Medicine Clinic, will be the physiotherapist for the Canadian men's field hockey team.
Bruce Kidd, who ran track for Canada at the 1964 Olympics and currently serves as the university's ombudsperson, wished the U of T community well at the Tokyo Games. 
"You've persisted through some of the most stressful preparations and social conditions anyone could imagine, and you made it to the starting line," he said. "Put that all behind you and enjoy your race."
Photo credits (from top): Martin Bazyl, Team Canada, Claus Andersen/Athletics Canada, Mathieu Belanger, Athletics Canada, FIVB, Athletics Canada, no credit, Team Canada, Scott Grant/Swimming Canada, Scott Grant/Swimming Canada, Swimming Canada,Team Canada and Team Canada.
UTC