U of T student team among 23 winners in Elon Musk's XPRIZE carbon removal competition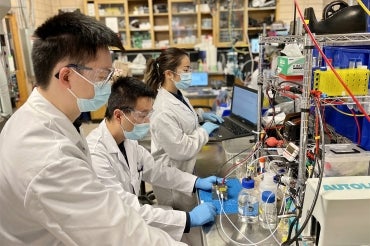 A new strategy for capturing and storing carbon dioxide directly from the atmosphere has earned a team from the University of Toronto's Faculty of Applied Science & Engineering an XPRIZE Carbon Removal Student Award.
The honour comes with US$250,000 in seed funding, which will go toward further development of the team's technology, which involves using an innovative electrochemical process to dramatically lower the energy cost of capturing atmospheric CO2.
Team E-quester will also have a shot at winning the US$50-million grand prize.
"We are beyond excited to be receiving this award," says Celine Xiao, a PhD candidate in the deparment of mechanical and industrial engineering who is co-leading the team along with master's student Shijie Liu.
"We believed that we were a strong contender with our innovative system design, but we also knew there were a lot of people with brilliant ideas competing for this award. It is such an honour to be recognized as one of the top student teams."
A four-year global competition, XPRIZE Carbon Removal is funded by Elon Musk and the Musk Foundation. It invites innovators and teams from anywhere on the planet to create and demonstrate solutions that can pull carbon dioxide directly from the atmosphere or oceans, and sequester it durably and sustainably.
Team E-quester formed earlier in 2021. In addition to Xiao and Liu, it includes project mentor and post-doctoral researcher Yi (Sheldon) Xu, as well as graduate students Rui Kai (Ray) Miao and Colin O'Brien – both PhD candidates.
They are advised by Professor David Sinton and University Professor Ted Sargent, research associate Christine Gabardo, and alumnus Alex Ip, who also serves as the Sargent Group's director of research and partnerships. Gabardo and Ip are co-founders of CERT Systems, a spin-off company that went to the finals of the NRG COSIA Carbon XPRIZE earlier this year. Xiao and Liu were also members of that team.
Scientists and engineers have long known that pumping air through a strongly alkaline solution will cause CO2 to dissolve in the liquid, where it is converted from a gas into dissolved ions known as carbonates. The challenge lies in cost-effectively recovering this dissolved carbon in a form that can be easily sequestered or used as a feedstock for carbon-based chemical products.
Currently, the most common process involves precipitating the carbonates out of solution as a solid salt then applying high temperatures to convert them back into pure CO2 gas. This gas can be injected underground for long-term storage, or used as a feedstock for commodity chemicals such as plastics.
Today, widespread application of this process is limited due to the high economic cost per tonne of carbon captured. This, in turn is due, to high energy requirements – primarily the heat needed to convert the carbonate back into CO2 gas. It's been estimated that the energy required for this step alone accounts for approximately two-thirds of the overall energy cost of the process.
Team E-quester has a solution. Their proprietary process uses an electrolyzer, a device that harnesses electricity to power a chemical reaction. In this case, it's a reaction that converts the dissolved carbonates in the liquid directly into CO2 gas, skipping the intermediate salt step.
"Because we only use electricity in our process, we can be powered entirely by renewables," says Liu. "We can also operate at ambient temperature and pressure, instead of the high temperatures needed today. We estimate that our carbon footprint is about a thousand times lower than that of the current conventional process."
To earn the student award, the team submitted a report demonstrating that their process is feasible on a lab-bench scale. They share the honour with 17 other student teams from around the world. An additional five teams won student awards for measurement, reporting and verification technologies.
To continue in the competition, the U of T team will need to build a prototype and have its carbon capture rate validated by a third party. It will also need to demonstrate a path by which the technology could be scaled up to the level of thousands of tonnes of CO2 per year.
"Over the next few months, we will focus on prototyping our system to optimize our operation parameters," says Liu. "Our main goal is to further reduce the energy requirement of the system through catalyst and system design. Additionally, we will plan for the scale up of our system."
Time is tight. The next step will be the Milestone Prizes, which are to be awarded in the spring of 2022. Up to 15 teams will receive prizes of up to US$1 million each as they continue along the path toward the $50 million grand prize, which will be awarded in 2025.
"The team is off to an amazing start," says Sinton. "This early win is a vote of confidence and some welcome research support – both of which will accelerate the team. I like their chances."
Asked how the team is staying motivated, Xiao says that the ongoing climate crisis provides all the impetus they need.
"We are already experiencing the effects of rising atmospheric CO2 levels," she says. "Direct air capture will allow us to return CO2 to the ground, even if it was emitted decades ago. Should we be successful, our technology could be implemented all around the world to help humanity reach carbon neutrality."
Engineering