'Don't be shy – ask lots of questions': Gloria Williams returned to U of T after 40 years to earn degree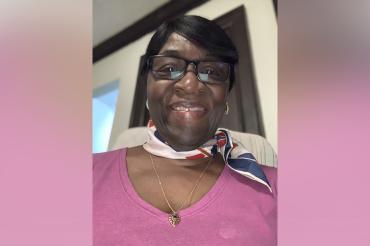 Gloria Williams, who graduates this week from the University of Toronto, is the first to admit she followed a career path that was "not traditional." 
Some 40 years after first being enrolled in nursing at U of T and after a rewarding, decades-long career as a nurse, Williams will be receiving her honours bachelor of arts degree from the Faculty of Arts & Science, with a major in sociology and minors in Caribbean studies and political science.
"It was not the path most people take," says Williams, a member of Woodsworth College. "But I am over the moon to be graduating."
Williams is originally from Jamaica and moved to the United Kingdom as a teenager to join her family. There, she became a registered nurse and worked at the Great Ormond Street Hospital in London, the institution upon which Toronto's Hospital for Sick Children is modelled.
"But I was young and wanted to travel," she says about the next phase of her career. "Canada was looking for nurses, so I applied to the Hospital for Sick Children in Toronto and was accepted. I left the U.K. and came here in 1972."
Williams was surprised at the racism she encountered in her new country – more than she'd experienced in the U.K.. An added difficulty was that she was on her own with no family to provide her with support. Yet, despite such challenges, she continued to dedicate herself to her career.
"My work as a nurse was so important to me," she says. "It was an opportunity to help people. I was a neonatal nurse and was one of the first two nurses in a research program transporting sick, premature infants by helicopter from peripheral hospitals to Sick Children's neonatal unit for care. Without this intensive care the mortality rate was high."
In 1979, while continuing to work at the hospital, Williams enrolled in the nursing program at U of T and went on to complete her degree at what was then Ryerson Polytechnic Institute, becoming a member of the International Honour Society.
But she never let go of her dream of returning to U of T.
"I never gave up on that idea for one moment," she says. So, she made it a reality upon retiring, enrolling in a program that had nothing to do with her career, but instead satisfied her life-long passion for learning.
Among many memories from the past four years, Williams says she'll remember her exceptional instructors.
In particular, she admired Arnold Itwaru, who died earlier this year. Itwaru founded the Caribbean studies program at New College, was its director for 10 years and developed important courses in its curriculum.
"I went to one lecture that Professor Itwaru gave," she says, "and I was so impressed by him that I ended up taking three of his courses."
When she compares being a student in the 1980s and 2020s, Williams applauds the support students receive today. For example, when she was having difficulty in one course and it appeared she couldn't drop it, she sought help from her adviser who consulted with the registrar. They looked at her academic record and determined that she could indeed drop it.
Her advice to students today?
"Come prepared to work," she says. "University is not a continuation of high school. Come prepared to work and don't be shy – ask lots of questions."
Williams also advises students to read voraciously as she did growing up. She recalls the words of author Emilie Poulsson that her mother taught her as a child:
"Books are keys to wisdom's treasure; 
Books are gates to lands of pleasure; 
Books are paths that upward lead; 
Books are friends. Come, let us read." 
"And make friends," she adds. "Because you will meet people at university who will become lifelong friends."
Arts & Science