Triumph and resilience: U of T's Black graduates celebrated at virtual Black Grad event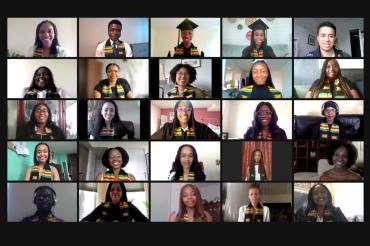 Wearing a stole that read "Black Grad Class of 2021" around his neck, Stephane Martin Demers took a deep breath and put his fingers to the piano keys.
The recent graduate of the University of Toronto's Faculty of Music opened the fifth annual Black Graduation event this week with Sonata in E Minor by Florence Price, the first African American female composer whose work was performed by a major symphony.
Martin Demers says he chose to play the sonata at the student-run celebration, which took place virtually June 26, because it's reminiscent of African American spirituals, with emotional peaks and valleys.
"I think the form that it takes is crucial to the message that the ceremony is trying to convey or deliver," Martin Demers said after the event. "The ceremony is about triumph, overcoming struggles, hardship and resilience in the Black community – all the difficulties that have come our way that we've had to surmount."
Martin Demers, who will be attending law school at York University in the fall, was one of the more than 60 Black undergraduate students in programs ranging from human biology to law whose accomplishments were celebrated at this year's Black Grad.  
Counting friends, family and Black faculty and staff, the online event attracted more than 150 people. Appearing in front of a background of white and gold balloons and streamers, organizer Cindy Njoki Kamau said resilience was an obvious theme for this year's ceremony.
"The 2021 Black graduating class has overcome racialized adversity in the classroom and more broadly on campus," she said.
"What is even more astonishing is that, despite these barriers, this set of graduates has also managed to reach an important milestone while navigating the uncertainty of the COVID-19 pandemic, a challenge that cannot be understated."
In Kamau's case, the closure of international borders due to the pandemic made it impossible to see her family in Kenya. Her mom Muthoni, who tuned into the ceremony from a time zone seven hours ahead, texted her daughter during the event – but Kamau tried not to read her messages to avoid becoming too emotional.
Kamau took the opportunity to thank Black faculty and staff for their advice, mentorship and help with networking.
"Thank you for being a positive representation of Black bodies belonging in academia along with being mentors, friends and, to some, parental figures to our students graduating today," she said.
Marieme Lo, an associate professor of women and gender studies and the director of the African studies program, congratulated students and led a rollcall of graduates from each of U of T's three campuses.
Keynote speaker Randell Adjei, Ontario's first poet laureate, picked up on the theme of resilience in his address. He encouraged graduates to look for the "seed of opportunity" in adversity. "A seed has the potential to turn into just about anything," he said.
He closed with a reading of his piece, "The Dash," which focuses on living life to the fullest in the space between the dates on one's gravestone. "When your time comes and your soul is sent, what will the dash on your tombstone represent?" he said.
Rebecca Barclay Nguinambaye, a graduate of the Faculty of Law who will be articling at a firm in Vancouver, watched the ceremony from B.C. with her parents. Barclay Nguinambaye, the only Black law student in this year's graduating class, was one of the co-founders of Black Future Lawyers, a collaboration between the Faculty of Law, Black Law Students Association, Black alumni and the broader legal profession that aims to support Black undergraduates aspiring to go to law school. "The administration has been good to work with, and they have really been working on it," Barclay Nguinambaye said.
Although representation of Black students is improving in key fields through initiatives like Black Future Lawyers and similar programs at other faculties, Barclay Nguinambaye says it was sometimes easy to forget there were other Black students on U of T's vast campus.
"Sometimes you feel like you're carrying the torch for everyone," she said. "It's just really affirming to see there are Black students in so many faculties and areas of study – even in artificial intelligence.
"We're making our way all over the place and lifting each other up."
UTC