Pharmacy students from U of T play key role in COVID-19 vaccine rollout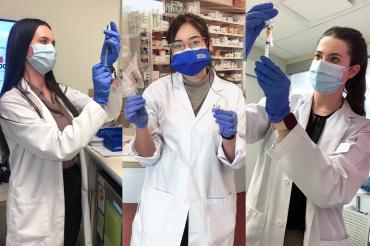 Katarina Pessina began administering COVID-19 vaccines in March this year.
Trained in vaccine administration, the third-year doctor of pharmacy (PharmD) student at the University of Toronto's Leslie Dan Faculty of Pharmacy was able to answer patient questions and provide facts free of medical jargon.
And she offered evidence-based advice when questions or concerns arose from misinformation or unreliable sources.
"In my experience, honesty and clarity are the most important factors in communicating with patients," Pessina says. "I stay up-to-date on all relevant data to ensure my counselling is informed, and I try to answer questions in a clear manner that is easy to understand."
Pharmacists are typically among the most accessible health-care providers in the community, and during the pandemic they have applied their training to offer unique education and support to patients about vaccines. As Ontario emerges from the third wave of COVID-19, U of T pharmacists and PharmD students have proven critical to an effective vaccine rollout, expanding vaccine campaigns to community pharmacies across the province and taking on preparation and injection roles in hospitals and pop-up clinics.
Pessina, for example, says she has been vaccinating about 75 patients a day, although the precise number can vary considerably depending on the time she spends with patients before and after they receive their shot.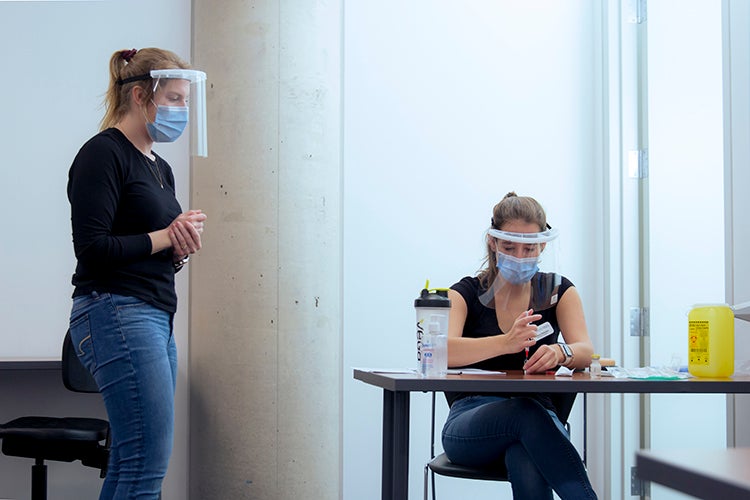 PharmD student Melissa Hubscher (right) was one of many students who opted to take the second-year injection course earlier this year (photo by Steve Southon)
Pessina and other students were able to take part in the province's vaccination drive after administrators at the Leslie Dan Faculty of Pharmacy opened the PharmD injections course early last fall, allowing second-year students to take part earlier than usual.
"Since many of our second- and third-year students were completing a rotation or working in community pharmacy, we anticipated high demand for pharmacy students to support the seasonal flu campaign and the eventual rollout of COVID-19 vaccines," says Natalie Crown, the PharmD program's acting director and an assistant professor, teaching stream.
"Pharmacists are public health advocates and we wanted to support our students to complete this training to ensure they were practice-ready and able to contribute in a timely way." 
More than three quarters of the second-year class registered for the optional course. And, as COVID-19 vaccines began to roll out in January, students joined the effort, with many having gained vaccination experience during the influenza immunization campaign in the fall.
Building Vaccine Trust
During the early weeks of the vaccine rollout in Canada, Pessina says she was initially surprised by the hesitancy some patients expressed – but saw it as an opportunity to help educate.
"People were thinking critically and putting trust in their pharmacist before choosing to get a vaccine," she says.
Crown says she worked with faculty colleagues to create new course content on vaccine hesitancy to better prepare students with the knowledge and skills to encourage vaccine uptake. The content included a video assignment designed to give students experience helping educate patients on vaccine-related concerns, as well as ways to minimize the pain and anxiety associated with needles.
"A big part of our training focused on proper injection technique," says third-year student Hazra Chowdhury. "But we also learned useful coaching skills to help alleviate needle anxiety, like the CARD system."
CARD stands for Comfort Ask Relax Distract, a pain-mitigation system designed by Professor Anna Taddio that empowers patients to choose an approach to vaccination that alleviates anxiety. Taddio recently received funding from the Public Health Agency of Canada to expand this system across the country and increase vaccine uptake.
Chowdhury also takes the time to congratulate each patient on choosing to get vaccinated. "Positive reinforcement can go a long way," she says.
Trading Spaces
Third-year PharmD student Kari Griffore has been supporting vaccine preparation for pop-up clinics in east Toronto since early spring, working at Michael Garron Hospital.
"It's a really impressive operation," says Griffore. "It feels like we are in a new community every week administering vaccines. The amount of planning and how quickly a clinic can be set up is pretty remarkable. I'm proud to be part of the team."
Pop-up clinics are now appearing everywhere from hockey rinks and basketball courts to parking lots and community centres – and many are staffed by pharmacy students.
"A few weeks ago, we hosted a pop-up clinic at a vacant department store. For me, it really put the pandemic into perspective," Griffore says. "Last year this was a place to shop, and now it's where you get a vaccine. No one saw this change coming, but we've adapted and come a long way in a very short time."
Griffore also administers COVID-19 vaccines at a local pharmacy. She says she feels privileged to help with the rollout, both in the store and through the hospital.
"It's a really rewarding experience," she says. "Providing people with this service has left me with moments of gratitude I won't forget."
Pharmacy