Toronto's first student-run Black hackathon goes global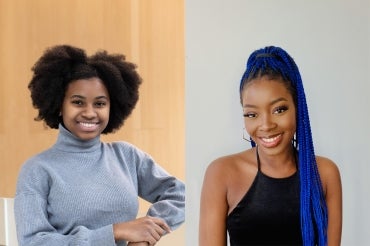 As many as 300 high school and university students will have 24 hours to code, design, build, network and learn from mentors at NSBEHacks 2021 this weekend – an event that aims to equalize the footing of Black and other racialized students within science, technology, engineering and math (STEM) fields.
"Black-facilitated events like these are important because limited opportunities are often afforded specifically to Black students in STEM, as there aren't many of us," says Alana Bailey, a third-year student in the University of Toronto's Faculty of Applied Science & Engineering who is president of the National Society of Black Engineers (NSBE) U of T chapter and one of the hackathon's lead organizers.
Founded by U of T computer science alumni Kyra Stephen and Temisan Iwere, as well as Faculty of Applied Science & Engineering alumna Ayan Gedleh, NSBEHacks was first launched in 2019 and is the first Black student-run hackathon within the Greater Toronto Area.
"It was very important to me to make sure that things are easier for incoming Black students in tech," says Iwere, who continues to be involved with NSBEHacks following graduation. "The technical industry can be very intimidating, especially when you get into certain spaces and realize that you're the only one who looks like you. It can be an alienating experience."
This year, NSBEHacks will go beyond the Toronto region. Because the event is taking place virtually due to COVID-19, participants can join from across North America, the Caribbean and Asia.
In addition to sponsors RBC, Accenture, Google, NVIDIA, TD, Bloomberg, Ecobee, Shopify, FDM and EA, the event has also partnered with Major League Hacking (MLH) this year. MLH is the official student hackathon league in North America and is providing free access to software to participants during and after the hackathon.
Keeping students engaged in coding and designing, even after they've virtually walked away from this weekend, is how the NSBEHacks team will measure the event's success.
"We want to see students feeling confident and a sense of belonging. We want to inspire them to get involved with NSBE after applying to STEM programs at U of T and staying in touch with companies from our career fair," says Bailey. "NSBEHacks is one of the ways to ensure that, going forward, we are building strength in numbers."
Engineering