With new appointments, U of T deepens commitment to sustainability goals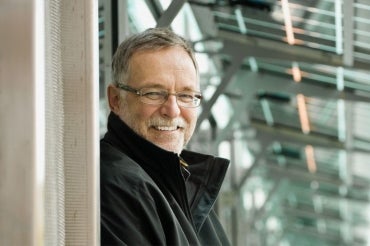 When John Robinson joined the University of Toronto as its first presidential adviser on the environment, climate change and sustainability, he shared a vision of the campus as "living lab" where students help U of T achieve ambitious sustainability initiatives in exchange for priceless hands-on experience.
Four years later, his vision is fast becoming reality.
There is a groundswell of support among students, staff and faculty for any number of sustainability projects, ranging from an inventory of sustainability-related courses at U of T to curbing emissions related to business air travel. Robinson, meanwhile, a professor at the Munk School of Global Affairs & Public Policy and the School of the Environment, was recently asked to continue his important work after being re-appointed as presidential adviser for another three years.
U of T President Meric Gertler praised Robinson's role in engaging students, staff, faculty and alumni in sustainability efforts across the three campuses.
"Through research, teaching and their own operations, universities have a crucial role to play in addressing climate change and other sustainability-related global issues," President Gertler said.
"Professor Robinson has helped to integrate sustainability into U of T's decision-making at all levels and his vision for the campus as a living laboratory has provided students with a range of opportunities to take action for a greener, more sustainable future in line with the United Nations' Sustainable Development Goals."
He added that U of T will continue to play a leading role in the fight against climate change through university networks such as the University Climate Change Coalition (UC3) and U7+ Alliance.
Creating the role of a special adviser on environment, climate change and sustainability is one of many initiatives that President Gertler set into motion following his 2016 report "Beyond Divestment: Taking Decisive Action on Climate Change." Others include the creation of the Committee on the Environment, Climate Change, and Sustainability (CECCS) and setting a mandate for the University of Toronto Asset Management Corp., which manages billions in assets on behalf of the university, to incorporate sustainability goals into its investment practices.
U of T's commitment to sustainability goes as far back as the 1970s, when the university hired its first full-time energy manager. For more than a decade, the university's three sustainability offices – one for each campus – have taken steps to reduce the university's environmental footprint. The university operations team has cut greenhouse gas emissions by an estimated 55,000 tonnes in the last 10 years, and they have put the university on a greener path by formulating the Low-Carbon Action Plan. The plan sets a goal of reducing emissions by 37 per cent by 2030, below the baseline level of 1990.
On the St. George campus, the sustainability office's initiatives include making the Exam Centre on McCaul Street U of T's first LEED gold-certified project. It has also supported a project that reduced energy use at Robarts Library by nearly 34,000 gigajoules per year by using occupancy sensors and a wireless thermostatic control system, among other improvements.
At U of T Scarborough, the local office supported the creation of a Bike Share program, community garden and eco-containers for takeout food. U of T Mississauga's office, meanwhile, has taken numerous steps to conserve water by using rainwater to flush toilets in the Health Sciences Complex and irrigate the green roof of the Instruction Centre. Since 2006, the campus has required that all large academic and research capital projects are built to a minimum LEED silver standard.
Since its founding in 2017, the president's 17-member advisory committee has worked to incorporate sustainability into every facet of campus life. With representatives from each campus, the committee comprises students, staff and faculty and oversees three subcommittees focused on furthering the transformation of campus into a living lab for green projects, positioning the university as an agent of change in the community and around the world, and fostering curricula innovation that incorporates sustainability.
The university recently announced that Ron Saporta, U of T's chief operating officer, property services and sustainability, would take on the role of committee co-chair, recognizing more formally the academic-operational partnership needed to make further progress on reducing U of T's carbon footprint and achieving other sustainability goals.
"It's a really powerful message," Robinson said of Saporta's co-chairmanship. "We've been pushing for an integration of operational and academic sustainability since the beginning, and that is crucial to the institutional culture change that I think universities need to go through if they are going to take sustainability seriously."
Saporta, for his part, said the partnership signifies "a huge opportunity."
"We have three large campuses, a large business and operation side, but what the partnership does is allow us to leverage research and innovation more effectively to engage the student body in living lab opportunities and give them a chance to hone their skills on real-world projects," he said.
A recent report by the committee sums up the many achievements to date – and students are at the forefront of many of the initiatives. 
In Robinson's joint undergraduate-graduate course, The U of T Campus as a Living Lab of Sustainability, students worked with university staff on a number of eco-friendly projects. One group studied the practicality of installing a biodigester – a mechanical stomach to break down waste – in residences to improve composting. Another reviewed event-planning practices on campus through a sustainability lens.
Still others proposed ways to make the environmental benefits of U of T's massive geoexchange project below Front Campus more visible. The project, connected to U of T's historic Landmark Project, involves the construction of Canada's largest urban geoexchange field. Using deep boreholes, surplus heat generated by cooling equipment in the summer can be stored underground and retrieved in the winter, helping to reduce the university's greenhouse gas emissions by an estimated 15,000 metric tons per year.
The project is one element of U of T's strategy to achieve the goals set out in its Low-Carbon Action Plan. The plan calls for cutting greenhouse gas emissions by 37 per cent from 1990 levels by the year 2030 and putting the university on a path to becoming a "net-zero" institution.
"Like many sustainability projects, the exciting part is under ground or behind a wall or in the meeting room," Robinson said. "It's not very visible so you don't have a good sense of what's going on."
Robinson's students partnered with U of T's sustainability office to study the Landmark Project and educate themselves in "eco-revelatory design" and "eco-visualization" to suggest ways to highlight the project's positive environmental impact. Perhaps, the students suggested, the university could install a lighting display at the nearby Medical Sciences building, using energy from the geoexchange? Or maybe a patch of ground could use geoexchange heat to melt patterns in the snow to grab the public's attention?
Saporta said the sustainability office is taking the students' recommendations to heart and is considering building a "subterranean classroom" – a mechanical space with colour-coded pipes and a glass wall where visitors could see the inner workings of the geoexchange in action.
The university's sustainability efforts are also targeting emissions at 30,000 feet. U of T has signed off on a pilot project that will charge a fee for work-related air travel by staff in the president's, vice-presidents' and deans' offices, using the money collected to support greenhouse-gas mitigation efforts on campus. While the COVID-19 pandemic brought most air travel at the university to a screeching halt, Robinson said the measure is set to be introduced as soon as travel resumes.
While addressing a global issue like climate change can be daunting, Robinson stresses that the COVID-19 pandemic has demonstrated that great things can be accomplished quickly if deemed necessary – as evidenced by U of T's effort to move thousands of courses online in the space of a few days.
"The silver lining to this very dark cloud is, it's opened the door to forms of virtualization and it's shown that we can make change when we need to make change," he said.
In the future, Robinson hopes to create even more opportunities for students to be engaged in sustainability efforts on campus through the creation of academic designations that would identify students as sustainability "scholars, citizens or leaders." Work is already underway with approval from several faculties, including the Faculty of Applied Science & Engineering. The designations, on a student's transcript or certificate, would recognize a student's involvement in clubs, other extracurricular activities and courses on campus that have a sustainability aspect.
Some of Robinson's students have done the unglamorous – but critical – work of combing through the thousands of courses offered at U of T to find those with sustainability content, producing a searchable inventory.
"Inventories are crucial because if you don't know what you have, you don't know what you can do," Robinson said.
The university will also continue to offer Adams Sustainability Champion Internships, funded by Wendy Adams, along with other prizes and grants for students and faculty. "That's been a force multiplier for us," Robinson said about the Adams funding. "We were able to do a lot of things we wouldn't have been able to do," including a comparative study of sustainability efforts at other universities such as the Massachusetts Institute of Technology, Utrecht University and Melbourne's Monash University, among others.
In his second term, Robinson wants U of T to explore partnerships with the City of Toronto to help it work toward its climate change goals. And, in response to many students' "eco-anxiety," or a feeling of powerlessness in the face of the climate emergency, Robinson is thinking of creating workshops that would teach students how to become sustainability leaders after they graduate and enter the workforce.
"Wherever students end up – whether it's a bank, consulting firm or energy company – every job has sustainability dimensions," Robinson said.
"We think you can have a bigger impact – one that goes beyond your individual consumption – by effecting change at a large organization."
UTC