'We all have a role': Adams Sustainability Celebration highlights U of T sustainability initiatives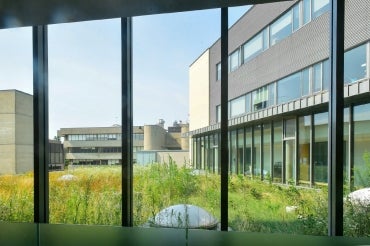 The University of Toronto is hosting a four-month-long celebration to recognize and mobilize the growing community of sustainability-minded students, faculty and staff across its three campuses.
The Adams Sustainability Celebration comprises an array of events, including panel sessions, virtual booths and showcases, student and faculty grants and an exhibit highlighting student groups contributing to sustainability initiatives across the university.
President Meric Gertler said the celebration highlights recent achievements, boosts engagement and inspires new sustainability ideas and initiatives.
"Universities in Canada have a crucial role to play in helping to meet the very pressing global challenge of climate change, and to work towards a sustainable, healthy and more prosperous future," President Gertler said in a video address.
"Accordingly, U of T has taken a leadership role in our involvement with UC3 and the U7+ Alliance, among other international initiatives. In keeping with the UN's Sustainable Development Goals, our approach addresses both environmental and human well-being, and is realized through research and innovation, academic programs, community engagement and initiatives related to our own operations.
"In all of this important work, we are supported by the important effort of the Committee on the Environment, Climate Change and Sustainability."
President Gertler will play a key role in the celebration via a live session on Dec. 1 that will include discussion of the newly created "Investing to Address Climate Change" charter.
The series, which runs from Sept. 22 to Jan. 21, 2021 and is free for community members to attend virtually, is hosted by the President's Advisory Committee on the Environment, Climate Change and Sustainability (CECCS) and looks to build upon the university's steady progress in pursuing sustainability-related initiatives in recent years.
Some recent highlights include: campus construction and revitalization projects, such as the installation of a massive geoexchange field on the St. George campus; instituting a Low-Carbon Action Plan to reduce greenhouse gas emissions and committing to responsible investing practices; and curriculum innovation via programs like sustainability pathways that enable students to incorporate sustainability into their studies.
John Robinson, the president's adviser on environment, climate change and sustainability and a professor in the Munk School of Global Affairs & Public Policy and in the School of the Environment, said the Adams Sustainability Celebration aims to lift the curtain on U of T's sustainability projects and encourage more people to take part in them.
"Much sustainability work happens under the floor, behind the walls or in meetings or classes that are visible only to those participating in those activities," Robinson said in a video address. "So, we're particularly excited to get behind the wall and show you the wide array of sustainability activities that are going on at U of T's three campuses."
Robinson also thanked Wendy Adams, "whose generous donation made this celebration possible."
As part of the celebration, Adam's donation is supporting the Adams Sustainability Innovation Prize – an annual competition offering $25,500 in prizes to recognize, reward and accelerate the U of T's most innovative sustainability ideas. The deadline to apply is Oct. 23.
In addition, $30,000 in grant opportunities are available to faculty and students for advancing sustainability in courses and across campus. The Adams Sustainability Student Grant can be applied for up until Oct. 30 and the deadline to apply for the Adams Sustainability Faculty Grant is Nov. 30.
Adams's donation also funded the Adams Sustainability Champion Internship, a summer internship that enabled undergraduate students to contribute to CECCS projects at U of T while researching other global universities' sustainability efforts.
Andi Alhakim, a third-year student at U of T Mississauga who is pursuing a specialist in political science and a double minor in sustainability and environmental law and policy, spent the CECCS portion of his internship working on the Campus as Living Lab sub-committee.
"We worked on making sure that sustainability projects on campus engaged students and made use of university infrastructure and community to test solutions that can work best in society – how to really make sure the university becomes a place where we experiment and test solutions," said Alhakim, who is a recipient of the Lester B. Pearson International Scholarship.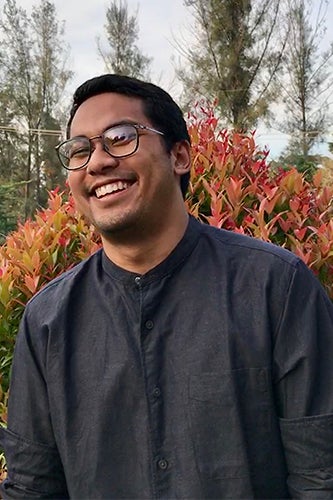 For his external university research, Alhakim was assigned to the University of São Paolo in Brazil. He says the university was a relatively late adopter of sustainability programs, but has quickly made huge strides with individual sustainability departments now set up on each of its 14 campuses.
"One of the campuses is situated by the ocean, so they made sure they had a marine research institute there. Another campus was near the Amazon jungle, so they made sure there would be a study of the biodiversity in that area," he said. "So, they made sure the characteristics and distinctiveness of each campus are used to their fullest extent."
A common thread running through all the University of São Paolo working groups was heavy student involvement, Alhakim noted.
"When you want to fast-track your path to sustainability, you want to make sure the stakeholders who are going to be delivering on many of these promises are very involved, and that certainly [means] students," he said.
Alhakim added that the University of São Paolo went to great lengths to protect the biodiversity of its own land.
"The university allocated 30 per cent of its land for ecological reserves, so it's basically protected land in which they make sure no harm is done to it," he said. "The university itself is half the size of the state of New York – so that's huge."
Ana Karen Garza, a fourth-year St. Michael's College student who is working towards a double major in environmental science and political science and a minor in environmental studies, spent the CECSS-focused part of her internship working on the Agents of Change sub-committee. She was tasked with synthesizing and analysing data from sustainability surveys carried out by the U7+ and UC3 coalitions of universities.
Garza also contributed to the CECCS sub-committee on curriculum innovation.
"I looked at courses pertinent to community-engaged learning, and whether they had components of sustainability," she said.
The rest of her internship was spent researching the sustainability work underway at the University of Cape Town in South Africa, including the role of academics, operations and governance structures.
"The University of Cape Town recently created a new position of director of environmental sustainability, and I had the chance to interview him," said Garza, who is working with CECCS as a research assistant this fall. "That was a key step for them in terms of integrating sustainability into the operational side of things, and it sets the tone for what the university will be doing in the coming years."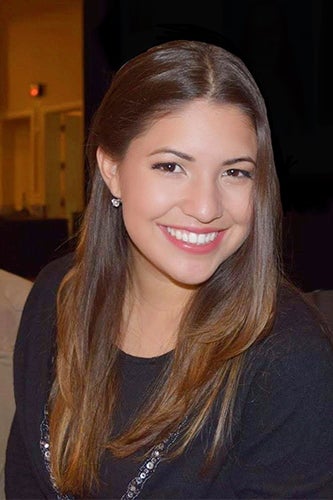 For Garza, the internship helped bridge her two majors – environmental science and political science – as she navigates her final year of undergraduate study.
"It provided me a lot of insight into how sustainability integration works at universities and, by extension, organizations – seeing how different networks interact and how important collaboration is within that work," she said.
"Having this experience of looking at the policy, governance and operational sides of sustainability was crucial for me to integrating my two fields of study, and it's definitely inspired my goals for what I want to do moving forward.
"I have more of an international mindset now of the work I want to do in sustainability."
Garza, Alhakim and the five other interns are currently compiling their findings into a research paper under Robinson's supervision. The findings will be showcased as part of the Adams Sustainability Celebration.
Also on the Adams Sustainability Celebration agenda is a Nov. 17 virtual panel focusing on the role of sustainability in U of T Mississauga's strategic plan. The discussion – one of six being organized – will be moderated by Professor Shashi Kant, founding director of the master of science in sustainability management program (MScSM) at U of T Mississauga and member of the Curriculum Innovation sub-committee at CECCS. 
The panel will comprise Amrita Daniere, professor of geography and vice-principal, academic and dean at U of T Mississauga; Beverley Ayeni, sustainability manager, strategic initiatives, and Saher Fazilat, chief administrative officer.
Kant says the panel's make-up reflects the fact that sustainability must be integrated into every facet of life at universities.
"Sustainability is not just limited to teaching in class," he says. "We have to change our behaviour and operations at universities. We'll talk about things like climate change, water management, waste management and other measures. We'll talk about the academic and research side, but we'll also hear about the operational and administrative processes built into our strategic plan."
Kant says the creation of the MScSM program was driven by an understanding that students need integrated perspectives on sustainability.
"Our philosophy is that there is no environmental sustainability, economic sustainability or social sustainability – sustainability is sustainability, and it cannot be divided up into these boxes," says Kant. "The way that our program is designed reflects that."
To that end, the MScSM program includes courses in a wide array of fields, from social sciences to economics and management.
Kant is also closely involved in efforts to craft sustainability pathways in undergraduate education at U of T.
"Every student should have some exposure to sustainability perspectives," he says. "Otherwise, when you graduate from some program, you might say: 'I have nothing to do with sustainability, sustainability is for environmental experts, it's somebody else's problem.' But you don't have to work in the sustainability sector to contribute to sustainability.
"We need to put a lot of emphasis on the fact that sustainability is not a problem for some other people – we are all responsible for the current state of the world, and we all have a role to address it."
UTC