U of T's proposed geoexchange project on Front Campus is one of urban Canada's largest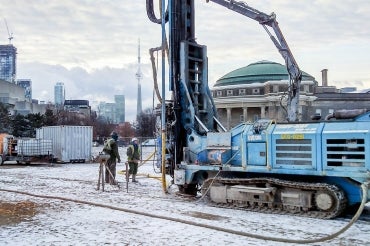 With its expansive lawn flanked by heritage buildings like Convocation Hall and University College, Front Campus is the historic centrepiece of the University of Toronto's St. George campus. Now, the iconic green space is poised to be at the heart of the university's mission to reduce carbon emissions and meet ambitious climate change commitments.
A new sustainability project proposed under U of T's Low Carbon Action Plan aims to make Front Campus the site of a geoexchange system. Boreholes would be drilled deep into the ground to allow for storage of surplus heat, generated by mechanical systems in the summer, for use in the cold winter months. 
In effect, the system would use the Earth as a thermal battery for the storage of so-called reject heat, which is typically discarded into the atmosphere.
The King's College Circle Geothermal Project is predicted to yield annual greenhouse gas (GHG) reductions of 15,000 tonnes of carbon dioxide equivalent by the year 2024, which would make it the single biggest contributor to U of T's annual emission-reduction target of 44,567 tonnes.
Kenneth Corts, U of T's acting vice-president, operations and acting vice-provost, academic operations, said the King's College Circle Geothermal project will be the largest known geoexchange project of its kind in urban Canada.
"U of T has a long track record of working to reduce carbon and promote energy efficiency across our three campuses, so it's only fitting that the historic core of our downtown campus be the site of one of our most groundbreaking sustainability projects yet," Corts said.
"In addition to providing an eco-friendly means of heating our buildings, the Front Campus geoexchange will offer incredible experiential learning opportunities for students through the campus as a living lab initiative. It's a project that truly demonstrates our commitment to integrating sustainability into every facet of university life and operations."
The plan will be brought to the Governing Council for final approval on Oct. 24.
It envisions over 420 boreholes being drilled to around 240 metres below the new parking structure planned beneath Front Campus as part of U of T's Landmark Project, a revitalization initiative slated for the St. George campus.
The resulting geothermal field is projected to service the heating needs of several buildings, including the Terrence Donnelly Centre for Cellular and Biomolecular Research and the Leslie L. Dan Pharmacy Building, as well as provide snow-melting for pedestrian walkways around King's College Circle.
It's one of two geoexchange projects slated for the St. George campus. The other is proposed for construction under the new athletics playing field set to be built as part of the revitalization of the Robert Street Field. The system is projected to reduce GHG emissions at the new Spadina-Sussex student residence – making it the lowest carbon residence on the St. George campus and 10 times less carbon intense than the average St. George campus residence (based on equivalent carbon dioxide in kilograms emitted per gross square metre).
U of T Scarborough recently completed a geoexchange system in the courtyard of the Science Wing connected to the Andrews Building and is looking at the possibility of a second phase. It is also exploring the expansion of installations connected to the Environmental Science & Chemistry Building.
Geoexchange systems are also planned for U of T Mississauga's new science building.
Ron Saporta, chief operating officer of property services and sustainability, explains that geoexchange is different from geothermal systems, which use the Earth's own heat.
"We don't have access to traditional geothermal systems in Ontario because you'd need to drill nearly six kilometres before it gets hot enough for use," Saporta said. "Instead, what we have is a geoexchange system where you're essentially using the Earth as a battery – only instead of storing electricity, we're storing heat.
"So when we burn gas to make electricity in the summer, generating extra heat, or we take heat from our air-conditioning systems, we can put it in the ground. The heat gets stored there all summer long. In the winter, we can pull it out and use it to heat buildings."
Geoexchange technology takes advantage of the fact that the Earth, at depths of several metres, maintains a very consistent temperature because it's shielded from the effects of outside air temperatures. In the winter, the ground is warmer than the outer environment, creating suitable conditions for transferring heat through fluid circulating in underground pipes. The pipes distribute this ground-stored heat to buildings for heating, with the entire process powered by low-carbon electricity.
However, the project will require buildings around King's College Circle, which are currently heated by traditional systems, to be retrofitted so they can take full advantage of the geoexchange energy. 
It's a massive undertaking that Saporta says represents a giant stride forward in U of T's sustainability journey, and one that he hopes will inspire similar projects beyond U of T.
"Not only is this the largest such project in Canada, but we're doing this in the historic core of campus, in and around historic buildings," Saporta said. "If we can show that this works here, it speaks to what can be done to aged infrastructure and old buildings in the entire province of Ontario, now and with future generations.
"It's an ambitious project, and one that demonstrates our institutional commitment to a low-carbon future."
UTC