Prize-winning undergraduate research takes stock of U of T's sustainability-related courses, groups and projects
Rashad Brugmann says there's been a "groundswell" of support for sustainability initiatives on campus – an apt choice of words considering one example lay right under his feet.
He and fellow University of Toronto students Nicolas Côté and Nathan Postma walked the narrow lanes between crops growing on Trinity College's rooftop garden, including heirloom tomatoes, sweet and hot peppers and three kinds of eggplant. 
The idea for the garden germinated two years ago in Professor John Robinson's School of the Environment course "The U of T Campus as a Living Lab", and it's grown with support from the college and alumni. 
In an effort to make students aware of the wealth of similar sustainability-related opportunities on campus, the team of undergraduates and Robinson created three inventories of sustainability courses, projects, groups, co-curricular and extra-curricular programs.
They describe their work and results in a paper published in the open-access journal Sustainability, which recently received an international campus research award from the Association for the Advancement of Sustainability in Higher Education. 
The article was written by Robinson, who is also at the Munk School of Global Affairs & Public Policy, as well as Brugmann, Côté  Postma, Emily Shaw and Danielle Pal – all U of T undergraduates at the time. Postma, Shaw and Pal were all Trinity College students, while Côté was at University College. Brugmann studied in the Faculty of Applied Science & Engineering.
The students screened all undergraduate courses in U of T's online catalogue for sustainability content and found 25 per cent – or 2,022 courses – relate to one or more aspects of sustainability.
"This is an important number," says Robinson, who is the presidential adviser on the environment, climate change and sustainability. "Its magnitude surprises people to whom we show it."
The sustainability course inventory is accessible online. The goal wasn't simply to catalogue courses that deal with sustainability, but to provide the U of T community with resources driving engagement in sustainability on campus and beyond.
The authors used the United Nations' Sustainable Development Goals – what the UN calls "a shared blueprint for peace and prosperity for people and the planet, now and into the future" – as a framework for classifying courses. The 17 goals range from ending poverty to taking urgent action to combat climate change. 
Settling on a definition of sustainability and criteria for the inventory was challenging, says Postma, who graduated with a degree in environmental studies and anthropology. They agreed to use the UN goals because they are "rigorous, well respected and recognizable," he says.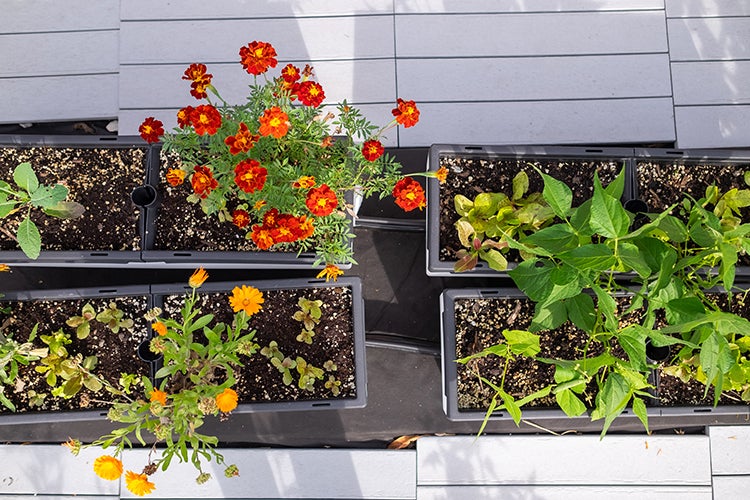 (photo by Geoffrey Vendeville)
Robinson says the course inventory has already become an indispensable reference in discussions about introducing a "sustainability pathway" to curricula, which will allow all undergraduates to study sustainability regardless of their major. The pathway is one of several sustainability-related initiatives the President's Advisory Committee on the Environment, Climate Change, and Sustainability, which Robinson chairs, is implementing across the university.
The researchers created two more inventories – one cataloguing "community-engaged learning" opportunities, including for-credit projects, and another of student groups and non-course-based opportunities that count towards a student's co-curricular record.
"In general terms, they are critical to any efforts to change curriculum, create faculty communities of practice and engage students," Robinson says. 
By producing the inventories, the researchers hoped  to accomplish more than just taking stock of ongoing efforts on campus, says Côté, an anthropology and physics graduate now working towards a master's in anthropology. "The idea is to encourage students, whatever their major, to study sustainability," he says. 
His adds that sustainability and climate change will be a part of students' lives whether they are interested in the subject or not. "Knowing about sustainability and using your skills to work on it is important," he says. 
Not only that, it can also be fun, says co-author Brugmann, who's in civil engineering. "Sustainability is really cool and interesting," he says. "There are fascinating, challenging problems that can have really creative solutions." 
The undergraduates who worked on the inventories come from a range of backgrounds – from pure and applied science to anthropology and political science. Since the paper's publication, some of the students have gone on to graduate school, while others have secured jobs related to sustainability. Shaw, for example, is studying environmental governance at the London School of Economics. Pal now works as a sustainability analyst with the Canadian Pension Plan Investment Board while Postma manages the rooftop garden above Trinity. 
Robinson says the cross-disciplinary project is typical of sustainability work. "We need to encourage more interdisciplinary work and also to build on the work that is already going on," he says.
UTC