With a focus on intergenerational equity, U of T joins global universities for U7+ summit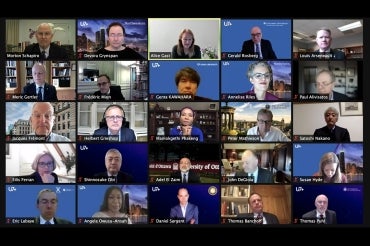 University of Toronto President Meric Gertler recently joined nearly 100 university leaders from six continents at the U7+ Alliance of World Universities Presidential Summit – hosted virtually this year – for a series of dialogues on intergenerational justice.
The U7+ Alliance of World Universities is a coalition of university presidents committed to taking concrete actions to collectively address global challenges in a multilateral context. 
At its first summit, held last year at Sciences Po in Paris, participants agreed to work together on six key commitments, from fostering equality and inclusiveness in the world and combating polarization in society, to addressing global issues such as climate change. Since then, U of T's Office of the Vice-President, International and members of the Committee on the Environment, Climate Change and Sustainability led the working group on climate change and sustainability, which worked with international colleagues to commit to measurable actions universities can take to address climate change.
This year's summit, held in late November, was hosted by Northwestern University in collaboration with Columbia University, Georgetown University and the University of California, Berkeley. The agenda, developed with input from the first U7+ Worldwide Student Forum held last summer, focused on the role universities can play in fostering intergenerational equity – ensuring that solutions to global challenges take the interests and rights of future generations into account.
University leaders discussed how to work in co-ordination with the G7 and other intergovernmental organizations as the COVID-19 pandemic disproportionately impacts the futures and hopes of youth worldwide. They also continued to make progress on the commitments from the first summit, each of which has an impact on youth. That includes global learning opportunities, ethical applications of artificial intelligence, climate change and more. 
The summit also included youth from around the world who shared their visions for the future of higher education.
At the close of the event, the university leaders voted unanimously to work together to address intergenerational justice through direct engagement with the G7 and with governments around the world.
"We commit to serving as platforms for open intergenerational dialogue, and to supporting students' development as global citizens and leaders," the collective statement says. "We also call on multilateral organizations including the G7 and leaders across public and private sectors to join us in working to create new opportunities for mutual understanding and equitable resource sharing across generations.
"We also advocate for the open exchange of accurate, scientific knowledge, and for the application of that knowledge to addressing local and global challenges within all sectors of society."
The summit identified key areas where universities can help achieve intergenerational justice:
training and nurturing responsible and active citizens
addressing the world's environmental issues through research and in leading by example
combatting polarization in society and working towards equality and inclusiveness
promoting interdisciplinary research and education and engaging with stakeholders to solve complex global issues
Next year's summit will take place in the U.K. and will be cohosted by Imperial College London, the London School of Economics and Political Science, the University of Cambridge, the University of Edinburgh and University College London.
UTC