Six ways U of T researchers – and the Royal Society of Canada – are working to make our lives better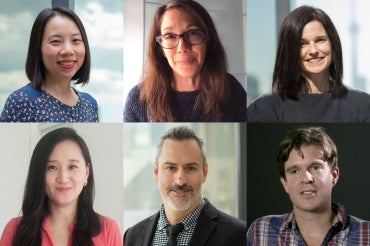 From clean energy and water to urban biodiversity, disability in HIV patients and labour activism in China, the next generation of researchers at the University of Toronto is engaged in tackling some of the most difficult – and pressing – questions of our time.
Six of those researchers were recently recognized for their leadership, talent and the transformative potential of their research by being elected to the Royal Society of Canada (RSC)'s College of New Scholars, Artists and Scientists.
Their appointment makes them members of an exclusive group who have demonstrated excellence and extraordinary productivity at an early stage in their career, and whose perspectives and expertise will strengthen the College of New Scholars, Artists and Scientists' mission of harnessing interdisciplinary approaches to generate ideas and solutions.
"Our researchers' strength across the full breadth of areas of scholarship fuels an extraordinary range of cross-disciplinary collaborations – work that is vital to developing creative and sustainable solutions for the challenges facing Canada and the world," says University Professor Ted Sargent, U of T's vice-president, research and innovation, and strategic initiatives.
The new members of the college will be honoured at the Royal Society of Canada's 2020 Celebration of Excellence and Engagement, a week-long exploration of scholarly, scientific and artistic topics. They will be recognized alongside 12 leading U of T researchers, across a diverse array of disciplines, who were named fellows of the society this year, as well two faculty members who won Royal Society of Canada medals: Barbara Sherwood Lollar of the department of Earth sciences and Marla Sokolowski of the department of ecology and evolutionary biology – both in the Faculty of Arts & Science.
U of T is a presenting sponsor of the event, which runs from Nov. 23 to Nov. 29 and includes a virtual symposium examining the impact and legacy of the discovery of insulin by U of T scientists 100 years ago.
"These researchers contribute to a culture of curiosity, creativity and collaboration across the university that is driving discovery and innovation," Sargent says. "I'm confident they will bring that same energy and dedication to the Royal Society of Canada and that their leadership will have a significant impact on the lives of Canadians – both now and well into the future."
---
Here is a quick guide to U of T's newest members of the Royal Society's College of New Scholars, Artists and Scientists:
Aimy Bazylak
Aimy Bazylak, a professor in the department of mechanical and industrial engineering in the Faculty of Applied Science & Engineering, is advancing the development of clean energy technologies such as fuel cells, batteries and electrolyzers. These technologies, Bazylak says, "will help everyone have a cleaner society."
A fellow of the American Society of Mechanical Engineers, Bazylak holds a Canada Research Chair in Thermofluidics for Clean Energy and was named this year's winner of the McLean award for her contributions to fuel cell and electrolyzer technology.
She attributes her passion for green technologies to the enthusiasm and drive of her students.
"What inspires me to do what I do is the students I work with every day – from undergraduate to graduate students – at the University of Toronto," says Bazylak, "The students I work with are so driven for a clean energy society.
"That inspiration really permeates through everything that they do and inspires me as well."
Marc Cadotte
U of T Scarborough ecologist Marc Cadotte is a prolific researcher. Having published more than 150 articles and accumulated over 11,000 citations, he has been listed among Web of Science's most cited environmental scientists since 2017.
For Cadotte, appointment to the college represents an opportunity to share his expertise on an issue of universal concern: how human activity affects the ecosystems around us and how biodiversity can be preserved and its benefits maximized.
"I grew up as a child in northern Ontario and then I moved to southern Ontario as a teenager," says Cadotte, a professor in the department of biological sciences. "I went from seeing bears and moose in my backyard to moving to a place where the landscape was fundamentally transformed by human activity. I used to be able to find nature outside my back door, and then I had to go searching for it.
"So, what inspired me was this fundamental change I saw in the environment around me. I wanted to understand why we have these impacts."
Kevin Lewis O'Neill
Kevin Lewis O'Neill is a cultural anthropologist who, working principally in Guatemala City, explores "questions of religion and politics with a philosophical interest in matters of belonging in exclusion."
O'Neill, a professor in the department for the study of religion in the Faculty of Arts & Science, says his research is inspired and driven by two key factors. "One is the politics of the research – I study matters of deportation and citizenship and matters of security throughout the Americas and the political stakes of these issues have never been higher," says O'Neill, who is also director of the Centre for Diaspora & Transnational Studies.
"The other part is that there is a pleasure to ethnographic field work. I have found something exceedingly pleasurable about the intensity of the research, the kinds of relationships I'm able to establish local stakeholders and the kinds of questions I'm able to pursue."
Diana Fu
Diana Fu's professorial career has involved considerable overseas field work. An associate professor in the department of political science at the University of Toronto Scarborough, Fu spent two years studying informal labour organizations in China. Her research examines various aspects of politics and activism in China, generating important insights for the discourse around Canada-China relations.
"Canadians need China competency now more than ever, and this is what I hope my research contributes to," says Fu, who is director of the East Asia seminar series at the Munk School of Global Affairs & Public Policy.
Chelsea Rochman
The work of Chelsea Rochman focuses on an environmental issue of national and global importance: plastic pollution and its impact on marine and freshwater ecosystems and wildlife. Rochman, an assistant professor in the department of ecology and evolutionary biology in the Faculty of Arts & Science, has studied the effects of microplastics – such as the billions of tiny fibres laundered from our clothing – on our water and has written about the dangers of this pollution.
She notes that the Canadian government has increasingly been prioritizing programs to build a more sustainable plastic economy and mitigate existing plastic pollution.
"For me, this is exciting," she says. "I've been inspired by the idea or issue of waste for a long time – since I was a child – and I'm really excited to have a career being able to both research it as well as work within our own community locally, but also globally, on tackling this issue."
Kelly O'Brien
Kelly O'Brien is an associate professor in the department of physical therapy in the Temerty Faculty of Medicine. Her research focuses on episodic disability and rehabilitation in the context of chronic disease and HIV.
She is cross-appointed to the Rehabilitation Sciences Institute as well as the Institute of Health Policy, Management and Evaluation at the Dalla Lana School of Public Health.
"Over the years," O'Brien says, "I've had the opportunity to learn from and collaborate with a number of mentors and colleagues – both academic and community-based experts – including people living with HIV, clinicians, researchers and representatives of community organizations who are dedicated to identifying new and emerging research priorities in the field and advancing research in practice to improve health outcomes and access to rehabilitation for people with chronic disease."
UTC