'Our very first biotech win': How U of T's discovery of insulin made it a research and innovation powerhouse
For nearly four decades, Patricia Brubaker has been investigating the biological activities of anti-diabetic gut hormones secreted by the intestine.
Her work is focused on the fundamental biology of the hormones and has contributed to development of drugs for the treatment of patients with Type 2 diabetes. The drugs work by stimulating the secretion of insulin, helping to lower blood sugar levels and reducing appetite, among other effects.
Brubaker understands all too well the impact such research has had on people's lives – she is a Type 1 diabetes patient herself.
"The progress over the last 40 years has been simply phenomenal in terms of how people with diabetes are treated clinically, the extension of their life spans and the prevention of complications," says Brubaker, a professor in the departments of physiology and medicine in the University of Toronto's Temerty Faculty of Medicine and a member of the faculty's Banting & Best Diabetes Centre.
Brubaker, a fellow of the Royal Society of Canada who recently won a lifetime achievement award from Diabetes Canada, says huge strides are being made in the treatment of the disease, which affects as many as one out of three Canadians when the condition known as prediabetes is taken into account.
But she stresses that research on prevention is equally crucial.
"What we need to do is figure out how we can prevent diabetes in the first place," she says.
"Diabetes prevention science is going to be all about how we can predict the onset of diabetes, which is great. But if we know someone's going to develop diabetes, how do we prevent it? That's still an area of intense investigation."
These and other pressing questions on the future of diabetes treatment and prevention science will be addressed by Brubaker and other experts at a Nov. 26 panel discussion that's part of a virtual symposium examining the impact of the discovery of insulin by U of T's Frederick Banting and Charles Best, who worked with J.J.R Macleod and James Collip. "The Legacy of Insulin Discovery: Origins, Access, and Translation" will examine insulin and diabetes from a range of perspectives, including laboratory research, clinical practice, pharmacy, commercialization, entrepreneurship, digital technology and socio-economic factors.
It's the first in a series of events organized by U of T to commemorate the 100th anniversary of the discovery of insulin, and one of the highlights of the 2020 Celebration of Excellence and Engagement, a week-long exploration of scholarly, scientific and artistic topics presented by U of T and the Royal Society of Canada.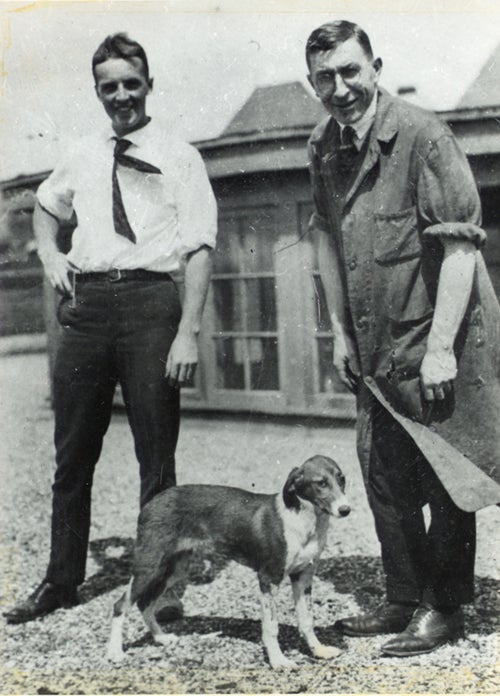 "The discovery of insulin by Frederick Banting and Charles Best, and their team, is a testament to what we can achieve when we empower scientific research and find ways to share it with the world," says University Professor Ted Sargent, U of T's vice-president, research and innovation, and strategic initiatives.
"That extraordinary work done in the early 1920s not only saved millions of lives, it laid the foundation for the University of Toronto's world-class student training programs and robust partnerships with hospitals and industry – collaborations that continue to revolutionize health care today."
Brubaker says collaborations have been crucial in her research career. Recently, she's partnered with researchers who study gut bacteria, which appears to play a role in the production of the gut hormones that she studies: GLP-1 and GLP-2.
She says our improved understanding of GLP-1 has led to the development of drugs that can mimic the actions of the hormone, which is naturally secreted by the intestine and helps produce more insulin to keep blood sugar levels in check. It has also led to the advent of DPP-4 inhibitors, a class of prescription medicines that slow the inactivation and degradation of GLP-1, making it last longer in the body.
"The long-term goal is that, if we can promote higher release of GLP-1 into the bloodstream and then maybe combine that with the DPP-4 inhibitors, we might end up with a better combination therapy," Brubaker says.
Her lab has also been exploring ways to take advantage of the relatively recent finding that release of GLP-1 is time-dependent and influenced by the body's circadian rhythms.
"GLP-1 is actually secreted at higher levels during different times of the day," she says.
"Our notion is that maybe we can take advantage of these natural rhythms to help promote release of GLP-1 when our body needs it, and not promote release when our body doesn't need it."
Brubaker identifies stem cell therapy and the development of smarter forms of insulin that don't cause patients' blood glucose to drop to unsafe levels as other promising avenues of diabetes research.
Yet, when it comes to preventing and treating diabetes, novel research is only one piece of the puzzle.
Paul Santerre, a professor in the Faculty of Dentistry and the Institute of Biomedical Engineering, says the extent of progress on diabetes and insulin will partly depend on how well research breakthroughs from scholars like Brubaker can be married with efforts at commercialization and innovation.
He notes that the discovery of insulin and its subsequent development and commercialization transformed the lives of millions of people around the world – and offers lessons that are still applicable today.
"When you contemplate the past 100 years, insulin was probably our very first biotech win that didn't only do the lab work but also executed on the translational aspect – and did it way before Canada and the investor community knew what they held in their hands," says Santerre, who is cross-appointed to the department of chemical engineering and applied chemistry and the Temerty Faculty of Medicine via his health research at the Ted Rogers Centre for Heart Research.
He says that while home-grown Canadian commercialization successes in health care could be measured with one or two wins per decade since the success of insulin's commercialization, a second wind of research commercialization began to blow through the life sciences in Canada in the early 1990s.
"Since my arrival at U of T in 1993, I've seen activity in the life sciences innovation sector grow quadratically. The future looks extremely bright and the growth is completely on the right path and must be sustained."
Santerre will reflect on this growth and the path forward during a panel discussion on commercialization and innovation at the Nov. 26 symposium.
"If we have an innovation agenda and support it in parallel with the discovery programs at the university, we can teach our students about how to do innovation, scale up a technology and introduce it to world markets in a cost-effective manner that the health-care system can afford," Santerre says. "We will end up with a generation that truly has the ability to execute on discoveries coming out of our university."
He adds that the introduction and expansion of campus-linked accelerators at universities like U of T has sparked a shift in thinking on campus.
"It's very different to the way I was trained in the 1980s, and it's very refreshing to see the innovation economy – certainly as it pertains to health sciences – start to become mainstream here in Canada," he says.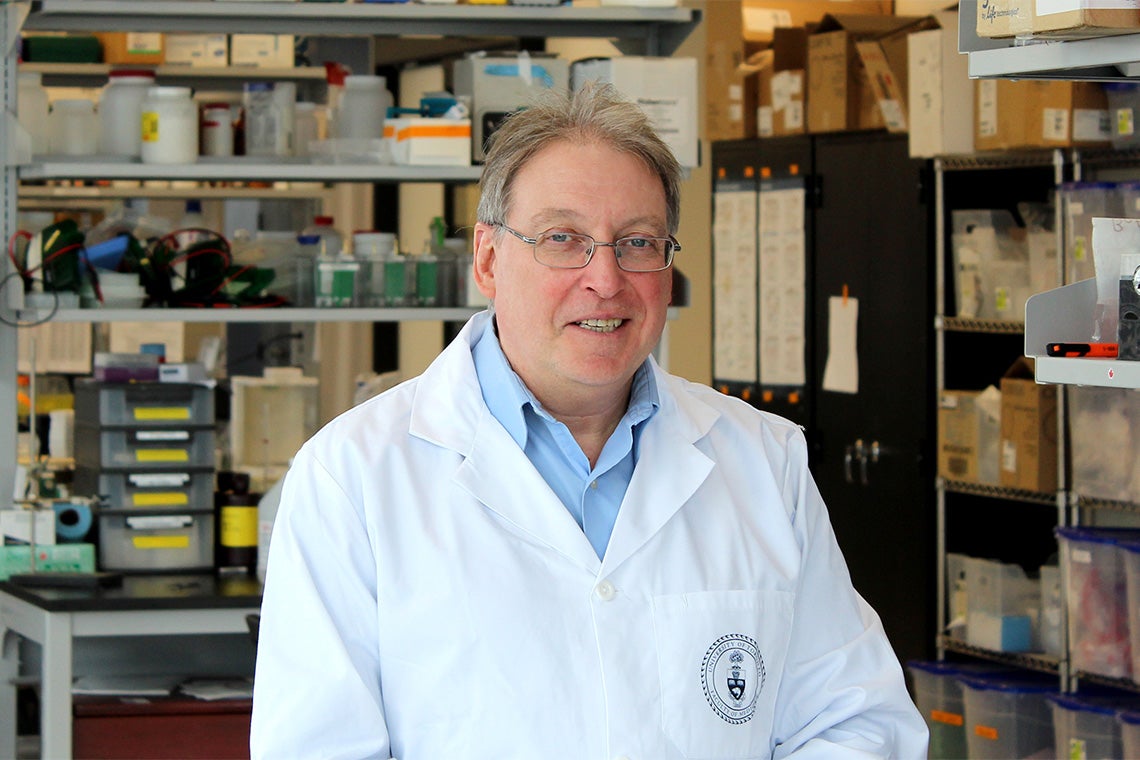 Paul Santerre, a professor in the Faculty of Dentistry and the Institute of Biomedical Engineering, says Canada's "innovation economy" is on a roll, with Toronto now attracting life sciences talent from across Canada and around the world (photo by Luke Ng)
As co-founder and director of the Health Innovation Hub (H2i), a startup incubator based in the Temerty Faculty of Medicine, Santerre has a front row seat to what he describes as a "paradigm shift."
He notes that H2i formed in 2014 with seven companies and generated $40,000 in economic value that year. Today, H2i comprises more than 130 early-stage health technology start-up companies that have generated over $45 million in economic value in the Toronto ecosystem this past year.
Santerre adds that H2i has fostered several startups working in diabetes and related areas. Examples include: Nutarniq, which, in partnership with Inuit communities, is running clinical trials on a unique formulation of Omega-3 oils from seals that could alleviate secondary effects of neuropathic events associated with diabetes; and Arterial Solutions, which is commercializing an early biomarker for early peripheral vascular disease, a primary co-morbidity associated with diabetes.
Santerre himself is chief scientific officer of Interface Biologics and Ripple Therapeutics, both venture-backed Canadian companies. Ripple Therapeutics has developed a novel drug delivery technology that could improve the efficacy and convenience of wearable insulin patches.
"It's really exciting what we're seeing," he says. "The innovation economy in Canada is creating jobs that we had never harnessed before. That is keeping our life sciences-trained experts here in Canada and is in fact attracting senior management talent to the Toronto area and drawing companies from across Canada, the U.S. and Europe to work with our homegrown companies."
Santerre says the impact of the insulin discovery, 100 years after the original investments, continues to be felt at U of T through the Connaught Awards drawn from the Connaught Fund, which was established when U of T sold the lab that produced insulin and other vaccines and antitoxins.
"I know that for a fact because I was a Connaught Award recipient back in 1994, and that small investment went on to produce some 70 patents, five faculty spin-offs and the creation of the Health Innovation Hub, which is spurring a lot more health start-up activity," he says.
Santerre says that research, entrepreneurship and funding support from sources like the Connaught Fund as well as the recent historic donation to the Temerty Faculty of Medicine are coalescing perfectly to position U of T and Canada for continued leadership in diabetes research and innovation.
"That's the future," he says. "We have plans afoot to scale what we've learned from the insulin discovery, the Connaught Labs and the impact that those revenues have had on the research and innovation machine here at U of T – not only for diabetes but many other diseases as well.
"I think Canada is a sleeping giant that has awoken."
UTC