U of T in focus: The year in pictures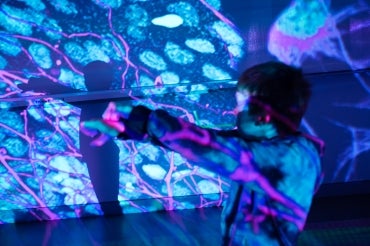 In the lab, classrooms and at a variety of events on the three University of Toronto campuses, U of T News photographers captured moments that made this year special.
Staff photographer Nick Iwanyshyn selected some of the highlights of 2018. 
---

Axel Guenther, scientific director of the Centre for Microfluidic Systems, inspects microfluidic devices in a cleanroom. This fall, U of T partnered with Canada's National Research Council to create a national innovation hub focused on microfluidics (photo by Nick Iwanyshyn)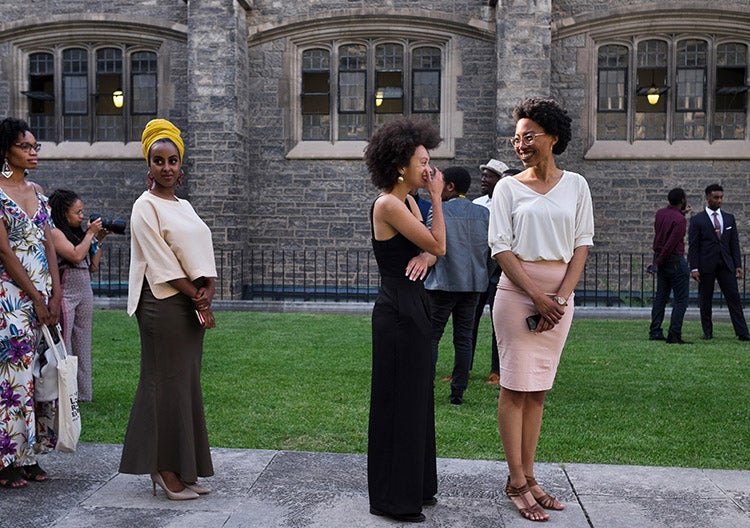 Students line up before making a grand entrance at the second student-led Black graduation ceremony in June at Hart House. In 2017, U of T became the first Canadian university to host a Black graduation (photo by Geoffrey Vendeville)

Foreign Affairs Minister Chrystia Freeland looks on during a service of remembrance at the University of Toronto's downtown campus (photo by Nick Iwanyshyn)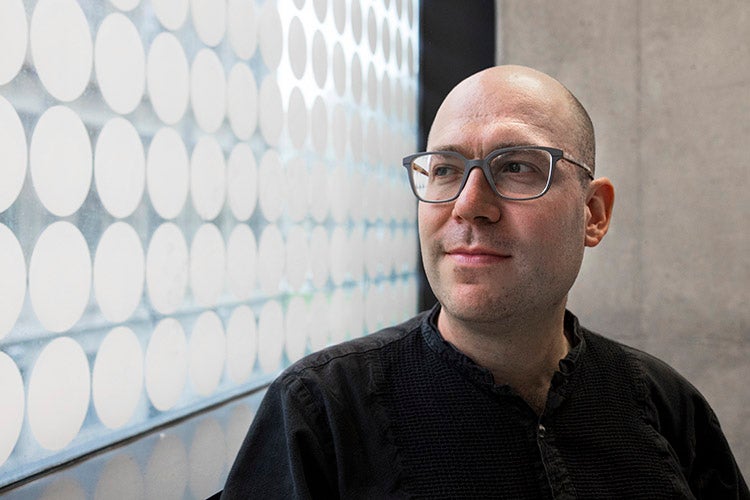 Alán Aspuru-Guzik, who came to U of T from Harvard University to become a Canada 150 Research Chair, delivered the keynote address at the University of Toronto-Tsinghua University Entrepreneurship and Innovation Forum in May  (photo by Chris Sorensen)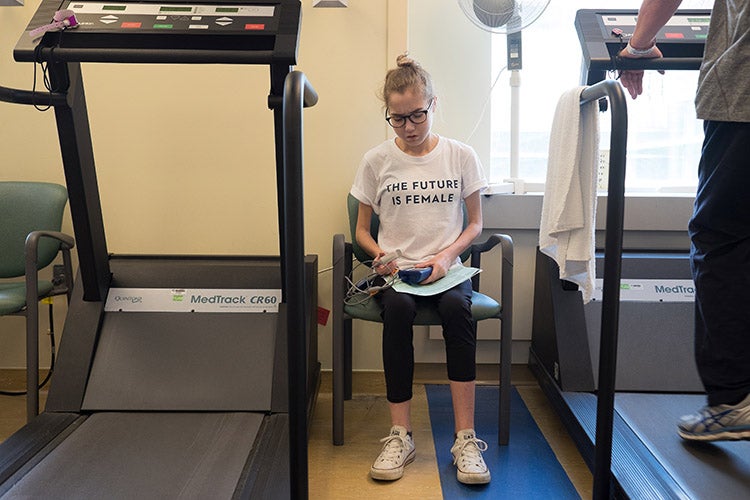 Elspeth Arbow, an undergraduate student with cystic fibrosis recovering from her second double-lung transplant, gets ready for physiotherapy at Toronto General Hospital on May 4 (photo by Geoffrey Vendeville)

Wearing matching maple leaf socks, former U.S. vice-president Al Gore and former Google CEO Eric Schmidt chat on the main stage at the Elevate technology conference in Toronto, on Sept. 26 (photo by Chris Sorensen)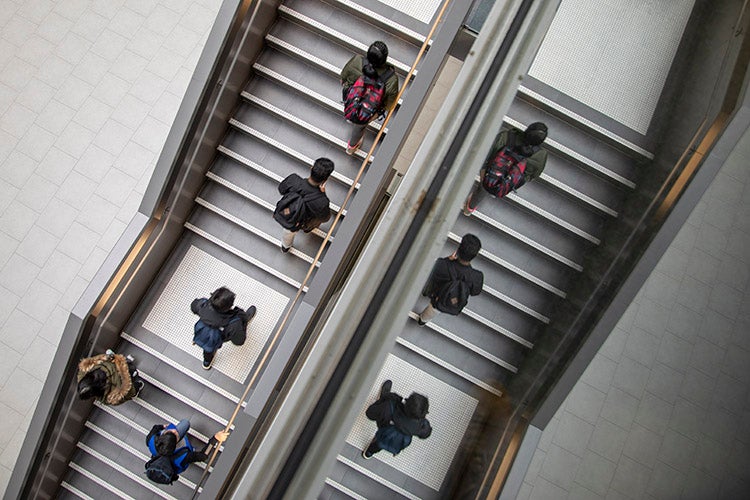 Your mind isn't playing tricks on you. Students go up the stairs at U of T Scarborough (photo by Nick Iwanyshyn)

Kirsty Duncan, minister of science and sport, watches a demonstration during a Nov. 13  announcement about new and renewed chairs in the Canada Research Chairs program, including 21 at U of T  (photo by Nick Iwanyshyn)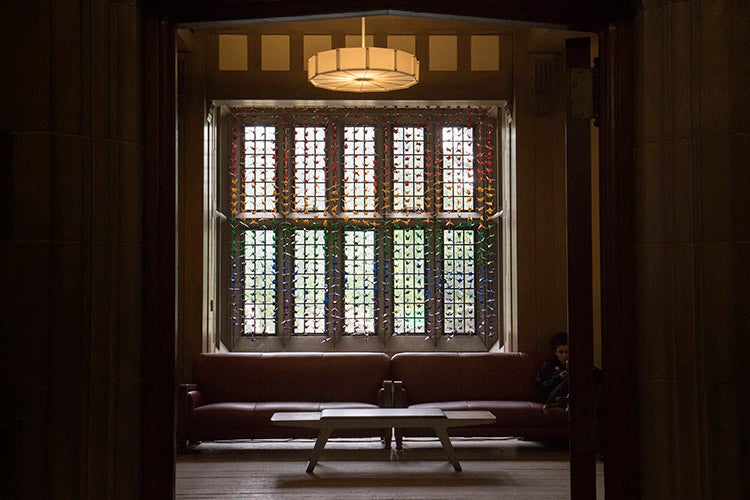 Cranes in the colours of the rainbow hang from a window at Hart House's reading room in June to mark Pride (photo by Romi Levine)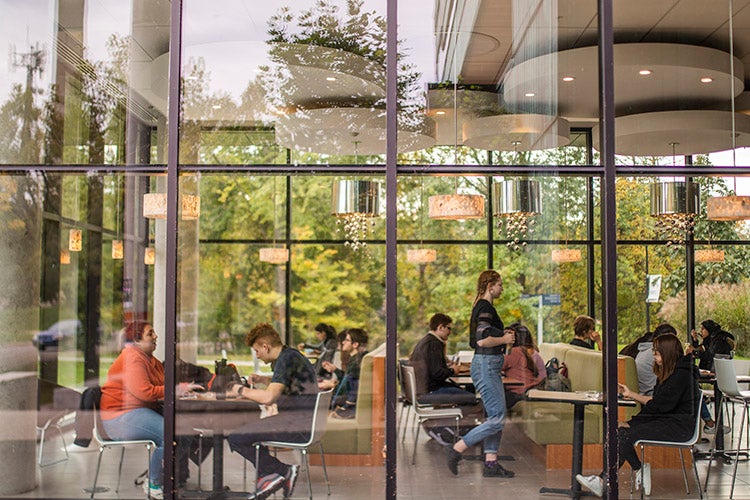 Students gather to study and chat at U of T Mississauga (photo by Nick Iwanyshyn)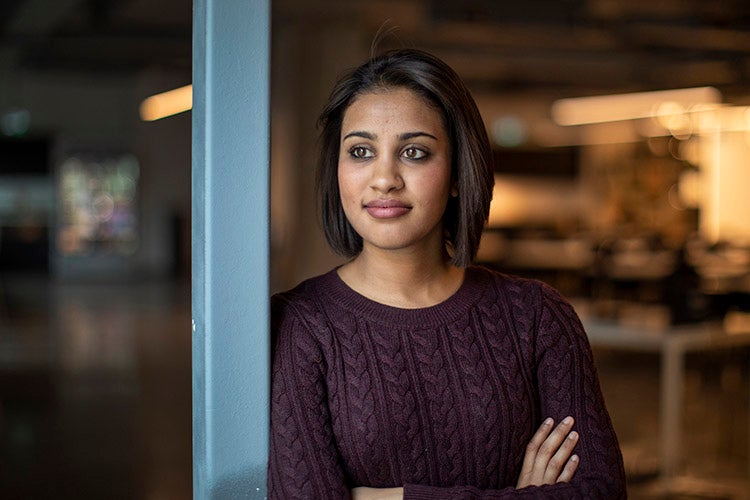 Enakshi Shah, who earned a bachelor's degree in chemical engineering at U of T, found there were lots of opportunities after graduating (photo by Nick Iwanyshyn)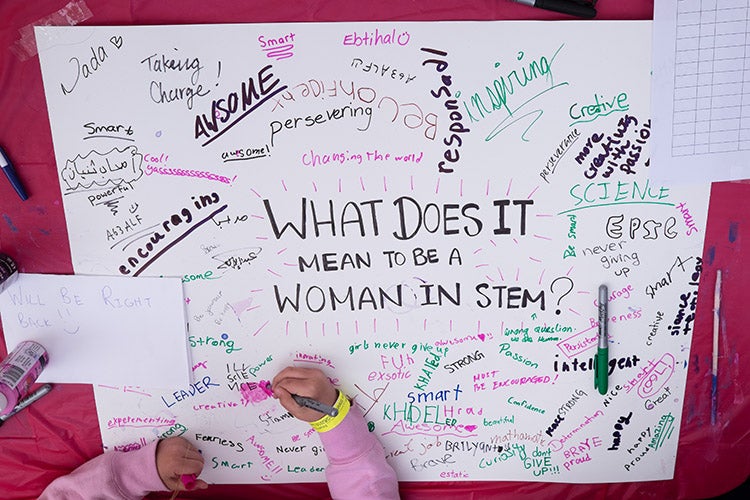 A girl adds to a poster about what it means to be a woman in science, technology, engineering and math (STEM) at Science Rendezvous on May 12 (photo by Geoffrey Vendeville).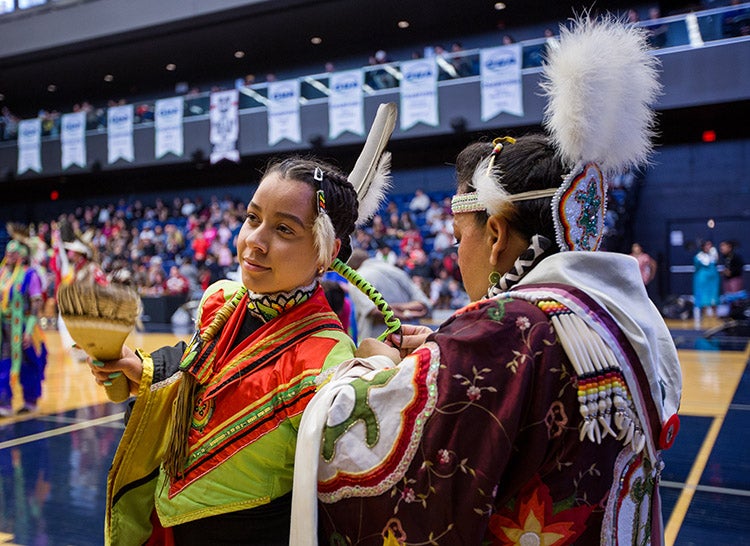 Hundreds of people in a rainbow of colours filled the Goldring Centre for High Performance Sport at the University of Toronto for the Indigenous Studies Students' Union's powwow on March 11  (photo by Laura Pedersen)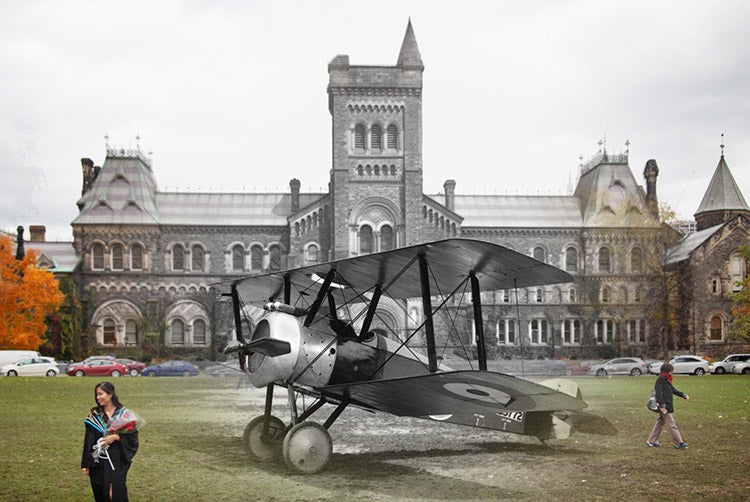 For Remembrance Day and the 100th anniversary of the armistice ending the First World War, U of T News staff photographer Nick Iwanyshyn juxtaposed archival campus photos with present-day pictures at the same location. Above, a Sopwith Camel plane appears in front of University College in 1918 (photo illustration includes a U of T Archives photograph)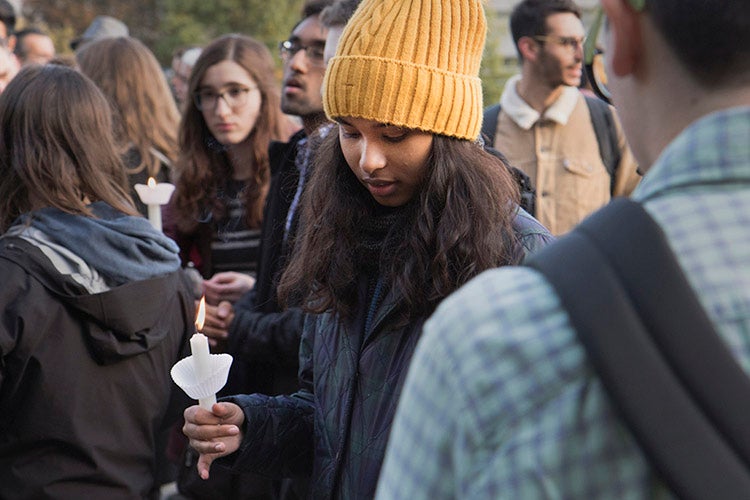 Members of the U of T community gather outside of University College on Oct. 30 for a vigil for victims of the attack on the Tree of Life synagogue in Pittsburgh (photo by Romi Levine)

Astrophysicist Matt Russo makes music using the movements of objects in space. The music was featured in Our Musical Universe, an audio-focused planetarium show that debuted at U of T in January (photo by Romi Levine)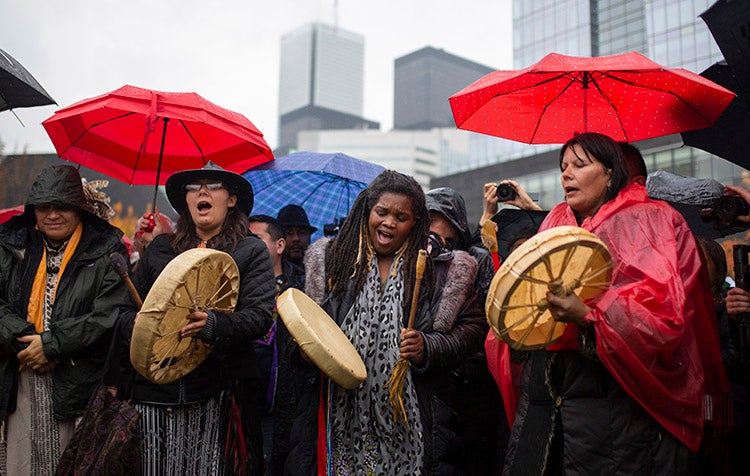 Drummers welcome delegates during a Spiritual Opening Ceremony for the Parliament of the World's Religions around the Sacred Fire in Olympic Park, on Nov. 2 (photo by Nick Iwanyshyn)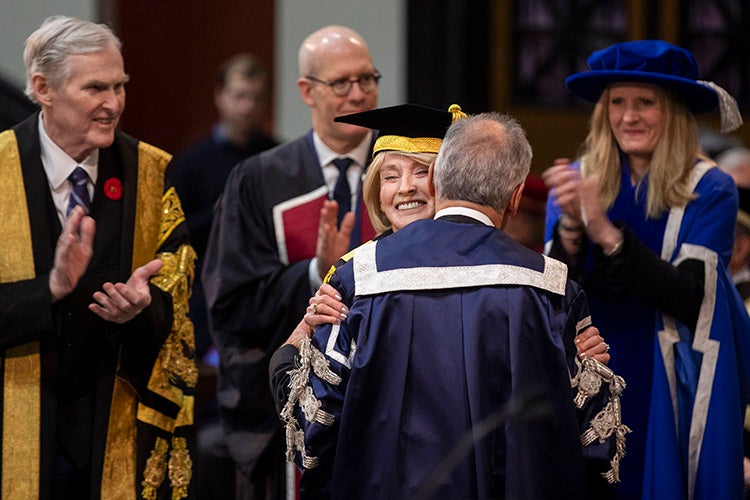 Rose Patten, centre, U of T's 34th chancellor, was installed in a ceremony in November (photo by Nick Iwanyshyn)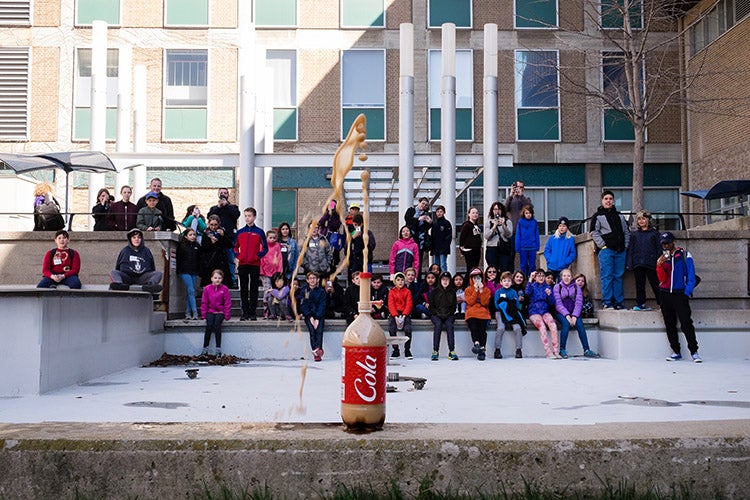 At the 25th annual Bring Our Children to Work Day on April 26, kids got to see a soda geyser made of Mentos and cola spraying 12 feet above the courtyard near Lash Miller Chemical Laboratories (photo by Geoffrey Vendeville)
UTC