U of T Entrepreneurship Week: 10 startups to watch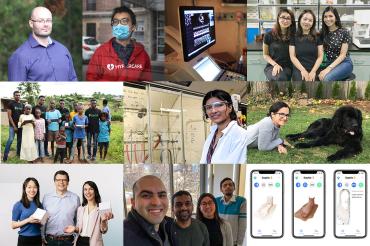 With nearly a dozen startup incubators and accelerators spread across its three campuses, the University of Toronto is a thriving hotbed of entrepreneurial activity – even amid the pandemic.
From speedy diagnostic tests for COVID-19 to inventing sustainable alternatives for the textiles used to make clothing, U of T entrepreneurs and their startups are finding innovative solutions to pressing problems – all while creating jobs and strengthening Canada's innovation ecosystem.
Over the past decade, U of T has produced more than 500 startups that have secured more than $1.5 billion in investment, with students, alumni and faculty alike getting in on the action – all contributing to U of T being recognized as Canada's top university for research-based startups.
With U of T's virtual Entrepreneurship Week kicking off today, here are 10 exciting U of T startups to keep an eye on in 2021:
---
LSK Technologies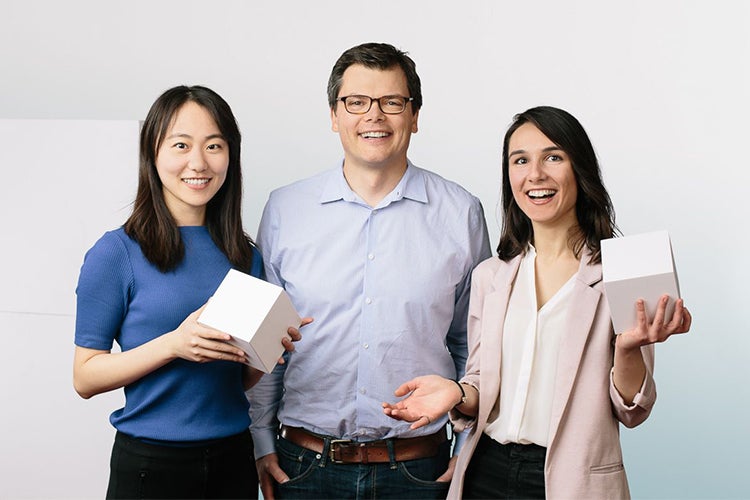 From left to right: Livia Guo, Assistant Professor Keith Pardee and Seray Çiçek of LSK Technologies, which is developing a portable, "lab-in-a-box" technology to diagnose COVID-19 and other diseases (photo courtesy of LSK Technologies)
Founded by alumni Seray Çiçek and Yuxiu (Livia) Guo, along with Assistant Professor Keith Pardee of the Leslie Dan Faculty of Pharmacy, LSK Technologies has invented a portable diagnostic device that can provide rapid testing for infectious diseases, including COVID-19.
The origins of the device stem from a special type of paper, invented by Pardee in 2016, that changes its colour in reaction to a viral genome. In 2018, Çiçek and Guo – then graduate students in Pardee's lab – built a portable device that could use the paper to provide test results. It can be used even by people who are not skilled in medical and lab processes.
Since joining U of T's UTEST and Health Innovation Hub (H2i) in 2019, the company has gone from strength to strength, creating prototypes, running pilot projects, securing investment and winning a host of awards, including at the RBC Innovation and Entrepreneurship Early Stage Competition.
The first versions of the device, dubbed PLUM, were deployed to remote Latin American communities to tackle the threat of Zika virus. When the COVID-19 pandemic hit, the company quickly retooled their platform to diagnose SARS-CoV-2.
HOPE Pet Foods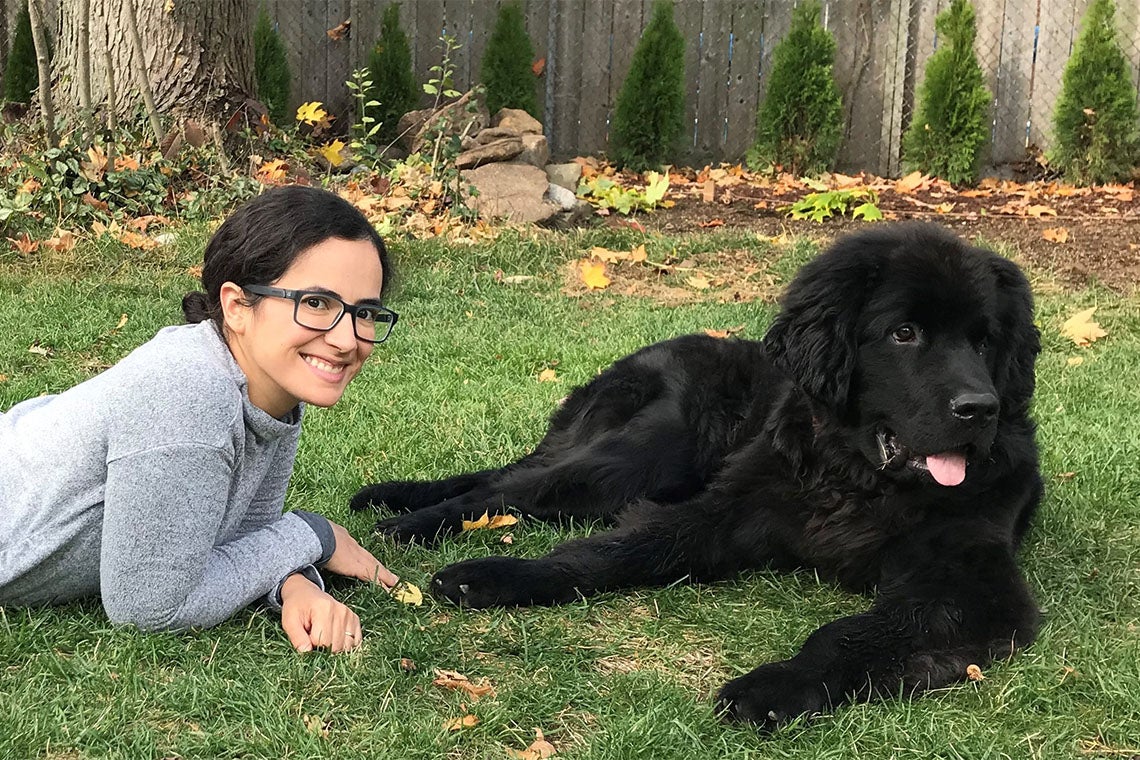 Sofia Bonilla, a U of T post-doctoral researcher who is preparing to launch a line of alternative-protein pet foods, already has her dog Snuffie gobbling up insect-based treats (photo courtesy of Sofia Bonilla)
Bugs aren't on most dog and cat owners' pet food shopping lists, but U of T Mississauga's HOPE Pet Food is looking to change that by using insects and other alternative sources of protein to produce pet foods that are both eco-friendly and nutritious.
Founded by Sofia Bonilla, a post-doctoral researcher in the field of chemical engineering and applied chemistry, HOPE Pet Food is producing dog food made with insect proteins and cat food made with algae-based proteins.
Bonilla, the mother of two small children and owner of an enthusiastic insect-protein-eating dog named Snuffie, was recently a semi-finalist in Scotiabank's Total Mom Pitch Competition. HOPE Pet Food also picked up the second place prize in the Adams Sustainability Innovation Prize and has received support from U of T's Lo Family Social Venture Fund.
"What we think we can bring to the market is an evidence-based, scientific approach, where we are really looking at the evidence behind dog nutrition and the best possible protein is the one with all the amino acids, but is also sustainable," Bonilla recently said, adding that HOPE Pet Food's products will also appeal to consumers who care about their products being cruelty-free.
ALT TEX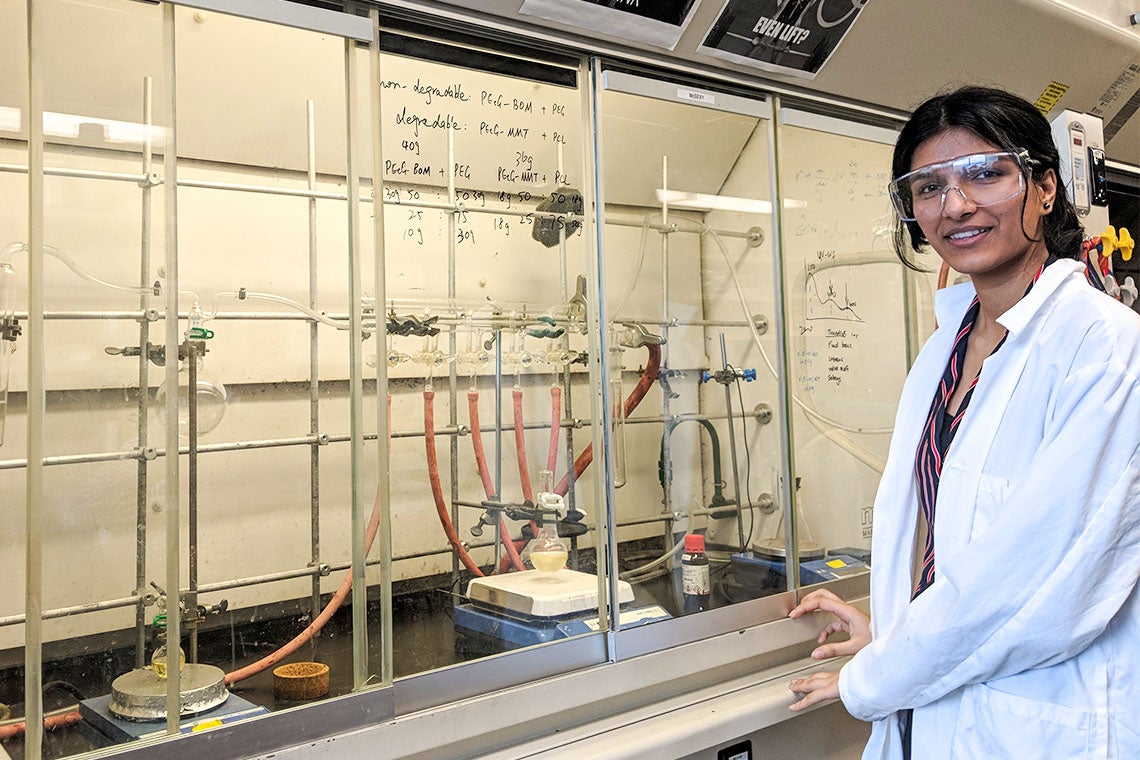 U of T alumna Avneet Ghotra co-founded ALT TEX, a startup that is developing a clothing fabric made from unused industrial food waste (photo by Myra Arshad)
Supported by U of T Mississauga's ICUBE accelerator, ALT TEX is looking to infuse sustainability into the fashion industry with its unique polyester alternative made from converted food waste.
The startup, co-founded by Avneet Ghotra, a 2018 alumna of U of T Mississauga who specialized in environmental science and biochemistry, created a novel fermentation process that converts food waste into bio-plastic fibre that mimics the look and feel of polyester but is biodegradable.
The company says a single shirt manufactured using its carbon-neutral fibre could help remove one kilogram of food waste from landfills, save nine kilograms of carbon emissions and save four kilograms of micro-plastic pollution.
ALT TEX has also received support from the Lo Family Social Venture Fund and recently bagged top spot at the Adams Sustainability Innovation Prize.
Xesto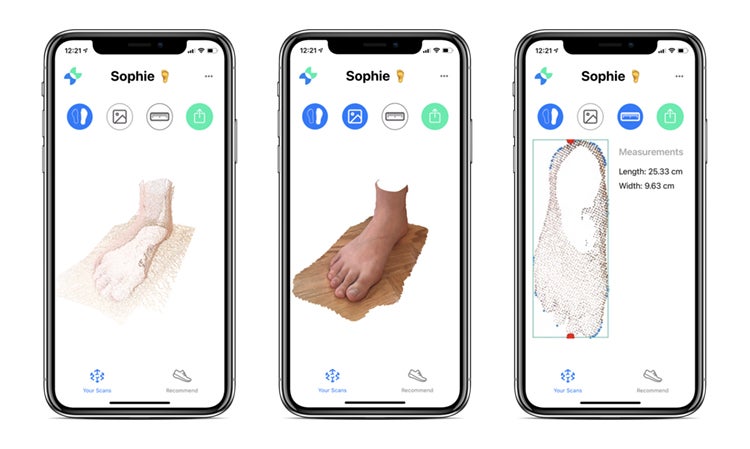 Using the iPhone's TrueDepth camera, Xesto offers a free app that allows users to take pictures of their feet in order to obtain an accurate shoe size (image courtesy of Xesto)
The iPhone's TrueDepth camera may have been designed with facial recognition in mind, but U of T startup Xesto has developed a way to use the technology so you can find perfectly fitting footwear.
The UTEST startup, whose co-founders worked with researchers in the Edward S. Rogers Sr. department of electrical and computer engineering in the Faculty of Applied Science & Engineering, offers a free app that allows users to take pictures of their feet in order to obtain an accurate shoe size. The Xesto Fit app then references the output with the sizing guidelines of over 150 shoe brands.
Xesto has been granted one patent for its process and has another pending, with CEO and co-founder Sophie Howe saying the startup's involvement in UTEST was a big step forward.
"It was our entry to the U of T startup community, which has provided us with an incredible amount of resources and a launchpad that enabled our growth," Howe said in an article posted at U of T News.
Augmented Reporting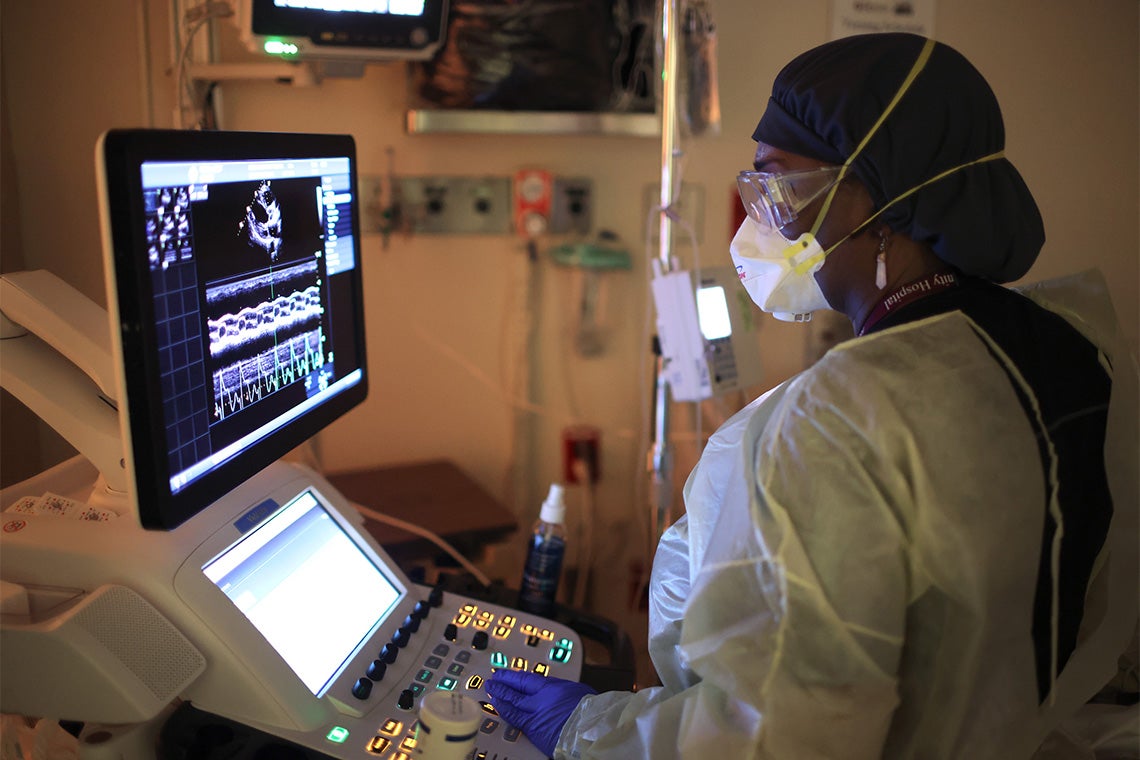 Cloud-based software developed by U of T alumnus Santiago Luna helps sonographers write summaries of echocardiograms for cardiologists, shaving as much as five minutes off the time needed to produce a report (photo by Scott Olson via Getty Images)
As a student in the executive master of health informatics (EMHI) program at U of T's Institute of Health Policy, Management and Evaluation, Santiago Luna was tasked with finding a way to use information technology to improve health outcomes.
As an experienced sonographer specializing in echocardiograms – ultrasound tests that examine the heart – Luna set about developing cloud-based software that applies updated clinical guidelines to measurements taken during an echocardiogram, helping sonographers summarize the test to give to cardiologists.
Developed with fellow EMHI program alumni Oliver Tsai and Prabhdeep Dhaliwal, the software – called Augmented Reporting – automates echocardiogram reports and better aligns them with fast-changing clinical guidelines.
"The idea is to have technology do what it should for clinicians – free their time so they can do what they're supposed to be doing: diagnosing and doing medicine," Luna said. "That's my hope."
Qoherent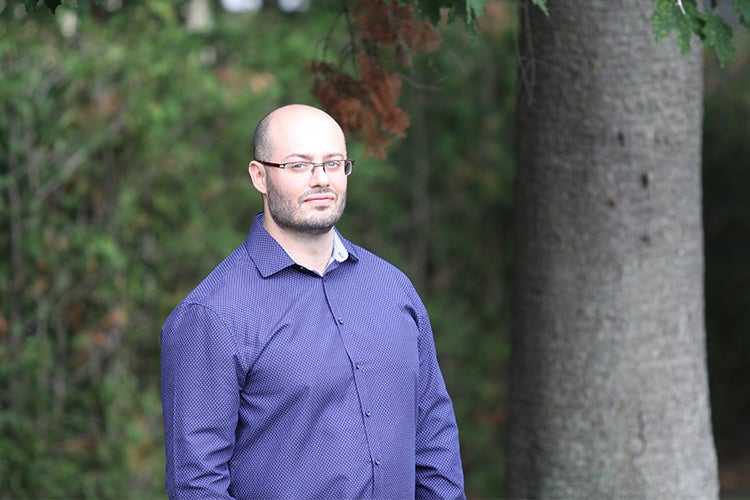 Ashkan Beigi of Qoherent, which aims to help scientists and engineers create wireless technologies and harness the power of machine learning, says the Creative Destruction Lab played a key role in helping him develop the company (photo courtesy of Ashkan Beigi)
Qoherent is developing ways to improve aspects of machine learning for wireless applications, allowing scientists and engineers to create better wireless technologies.
Last September, Qoherent scored a huge win at the Startupfest in Montreal, where it competed with more than 500 startups from around the world and won a $100,000 top prize.
The company was part of the quantum stream at the Creative Destruction Lab, an accelerator for scalable science and technology companies based in the Rotman School of Management.
Founder Ashkan Beigi said that going through the Creative Destruction Lab program provided him with intensive entrepreneurial training and networking opportunities and helped him chart a "road map" for the company. He also credited the co-working space at U of T's ONRamp with providing him with an ideal working environment.
"I'd love to go back to ONRamp when we can because it's a good space to be in, one of the best I've ever seen – and a great community to be part of," Beigi said.
Themis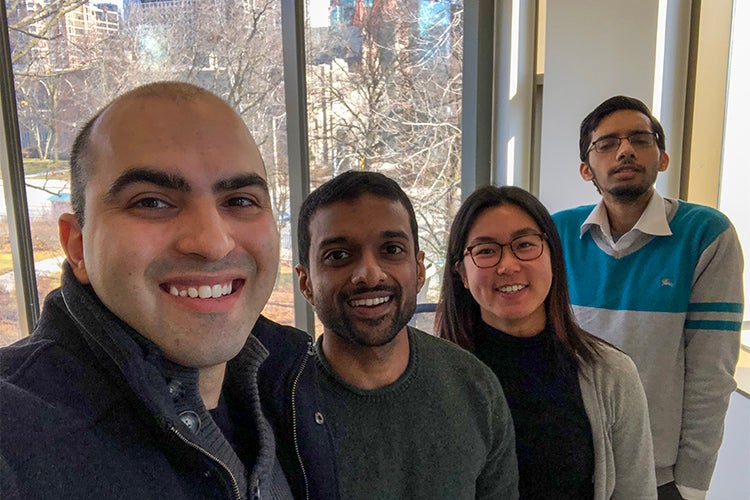 The team from Themis uses AI to create a Microsoft Office add-in that saves hours of time drafting legal papers. The students' startup pitch took home the grand prize at this year's Demo Day (photo courtesy of Themis)
Themis, a startup whose co-founders include U of T Engineering students Cindy Chen and Amardeep Singh, has developed an AI program that helps significantly reduce the time it takes to draft legal contracts.
The company's AI-powered Microsoft Word add-in automatically builds a library of clauses from a lawyer's precedents and makes those available within Word.
Last September, Themis took home the $20,000 top prize at Demo Day, the culmination of an intensive four-month entrepreneurship and mentorship program at the Entrepreneurship Hatchery at the Faculty of Applied Science & Engineering.
"There are no competitors who provide this fully integrated solution out of the box," said Rishi Dhir, one of two lawyers – alongside Jey Kumarasamy – who co-founded the company with Chen and Singh.
Going forward, Themis is looking to continue to test its prototype and partner with small law firms across Canada to garner feedback.
Hypercare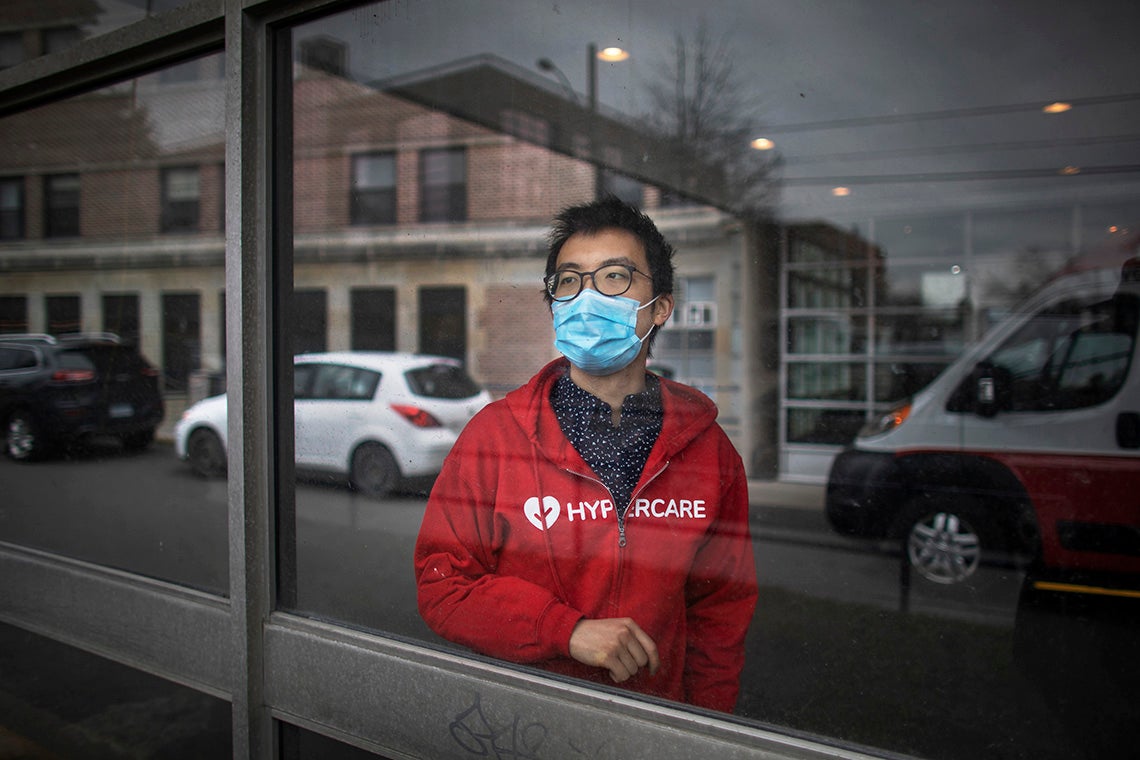 Albert Tai developed the idea for Hypercare, a health-care communications app, while he was a U of T student. The tool is now being used by Toronto's Michael Garron Hospital, among others, to co-ordinate care of COVID-19 patients (photo by Nick Iwanyshyn)
Hypercare, a digital app developed by U of T alumnus Albert Tai, enables health-care workers in different facilities and hospitals to streamline their communications, helping improve the care of COVID-19 patients.
Prior to the app being rolled out, a physician attending to a patient with COVID-19 would typically need to go through multiple phone calls and pager messages to co-ordinate care.
Hypercare simplifies matters by enabling the physician to use the app to alert critical care response teams, which can facilitate the transfer of the patient to the intensive care unit while co-ordinating with the intensivist and anesthesiologist over the app.
Launched by Tai alongside Joseph Choi, an emergency physician at the University Health Network and assistant professor in U of T's department of medicine in the Temerty Faculty of Medicine, and software engineer Umar Azhar, Hypercare received support from the Health Innovation Hub (H2i) and UTEST, before securing investments from angel investors.
The company's app is now being used by nearly 600 health-care staff throughout Toronto's Michael Garron Hospital. It's also being used by inner city physicians to improve care for people experiencing homelessness.
Reeddi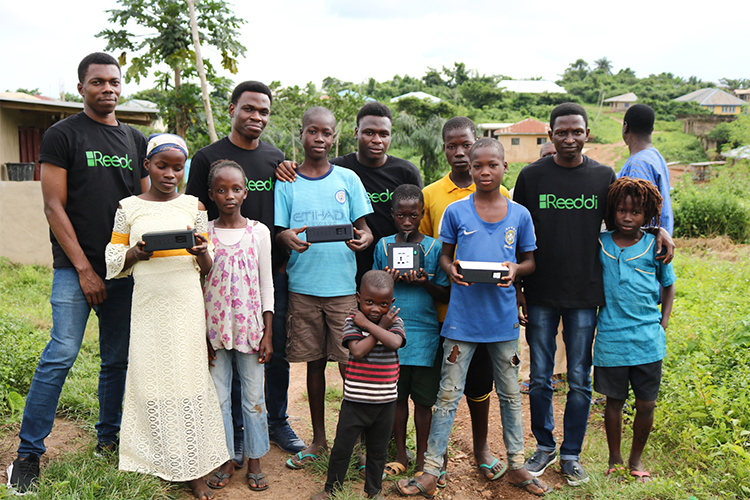 Olugbenga Olubanjo (back row, second from left) poses for a photo with members of the Reeddi team, local community members and his startup's power-providing capsules during a pilot project in Ayegun, Nigeria (photo courtesy of Olugbenga Olubanjo)
Clean energy startup Reeddi has developed a portable tool that provides clean and affordable electricity to individuals, households and businesses in energy-poor regions of the world.
Founded by Olugbenga Olubanjo, who has personal experience of growing up in energy-poor communities in Nigeria, the company provides portable energy via compact capsules that are charged at solar-powered stations located in communities. Customers rent the capsules at an affordable price and are incentivized to return them on time by earning credits that can go toward future rentals. 
For Olubanjo, who earned a master of applied science in civil engineering at U of T, helping and giving back has always been central to his entrepreneurial outlook.
"At the end of the day, it's not only about making money. Anyone can make money, but it's about the happiness that you give people," Olubanjo told U of T News in 2019. "Just knowing that my innovation could have a positive impact on people's lives – oh my God, there's no feeling like that in life."
Reeddi received support from the Entrepreneurship Hatchery and the Lo Family Social Venture Fund.
Erthos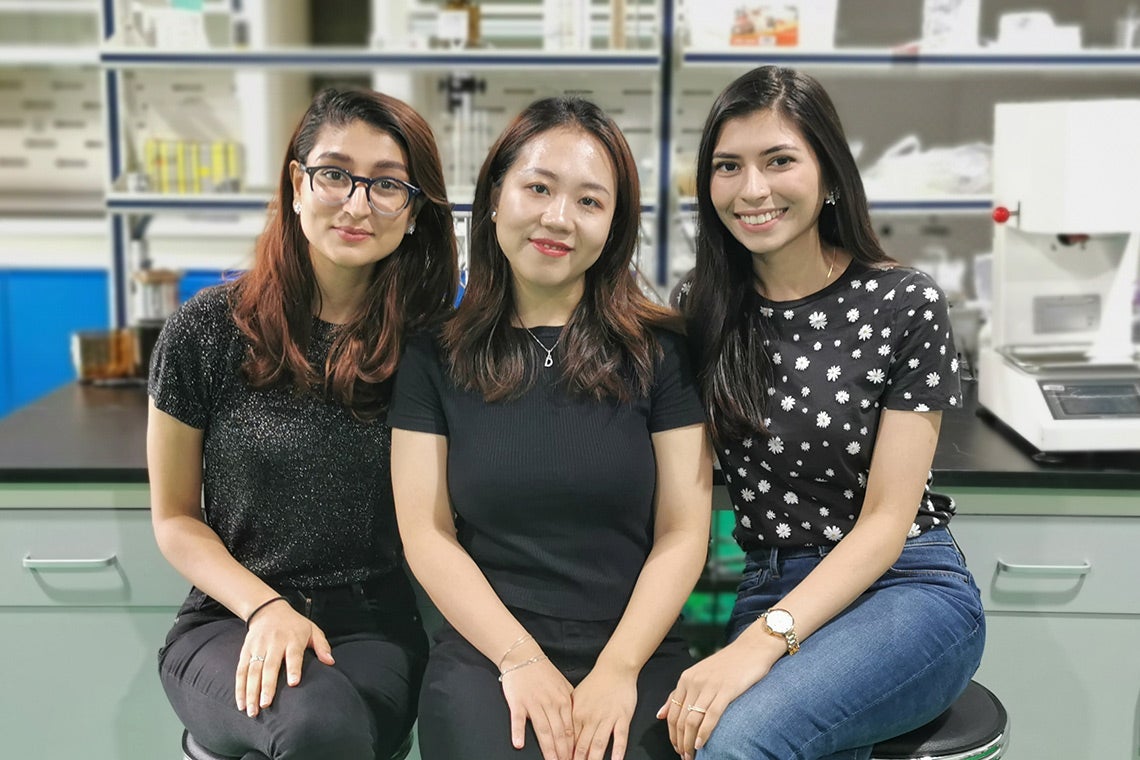 Erthos co-founders and U of T alumnae Kritika Tyagi, Chang Dong and Nuha Siddiqui (photo courtesy of Erthos)
Erthos is looking to tackle the global issue of single-use plastics – which pollute the environment and pose a range of health risks to humans and animals alike – by offering eco-friendly resin-based alternatives to plastic inputs.
The company's resins serve as alternatives to polypropylene, polyethylene and polystyrene – common non-biodegradable inputs in the single-use plastic manufacturing industry – and are compatible with existing plastic manufacturing technologies, making them easy to adopt.
"We were one of the only eco-focused companies out there that wasn't going against the plastic manufacturers," CEO and co-founder Nuha Siddiqui told U of T News last year. "We were actually trying to work with them to develop products that worked with their technology."
Erthos is also working on solutions to help brands integrate compostable plastics into their existing supply chains, enabling the adoption of "Erthos-certified single-use products."
The company began its life under the name "EcoPackers" back in 2016, when Siddiqui and co-founders Kritika Tyagi and Chang Dong were focused on creating compostable packaging materials, but recently rebranded to Erthos to reflect its vision for the future of plastics.
 "The name erthos™ is significant in many ways. It represents a belief system that puts our earth first (earth + ethos)," the company said when it announced the rebranding.
After receiving support from the Creative Destruction Lab, Erthos raised $4.3 million in pre-seed and seed financing in December 2019, which included an investment from CDL co-founder Ajay Agrawal.
UTC