U of T startup Hypercare helps hospitals co-ordinate COVID-19 care 'efficiently and securely'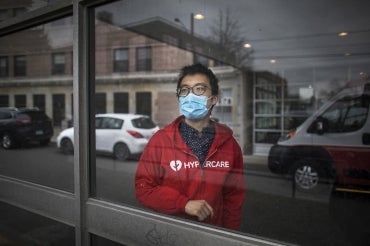 COVID-19 is forcing health-care providers around the world to adapt old methods and invent new ones to care for people sickened by the novel coronavirus. 
Such is the case at Michael Garron Hospital (MGH) in Toronto's east end, where a digital app called Hypercare – developed by University of Toronto alumnus Albert Tai – is helping health-care staff inside and outside the hospital communicate faster and more effectively. 
"Hypercare enables MGH health-care providers to efficiently and securely collaborate in the care of patients," says Dr. Patrick Darragh, chief medical information officer at MGH. "This is particularly helpful in the care of COVID-19 patients, which requires co-ordination between many services, such as infectious disease, infection control, respirology and critical care." 
To illustrate how the app is used at MGH, Darragh describes a typical COVID-19 scenario: An attending physician assesses a patient with COVID-19 and finds her respiratory status has deteriorated. Using the locating feature of the app, the physician sends a Hypercare text to the Critical Care Response Team (CCRT) to alert them that the patient will likely require mechanical ventilation. The CCRT facilitates the safe transfer of the patient to the intensive care unit (ICU), and co-ordinates over Hypercare with the attending intensivist and anesthesiologist for the patient to be intubated upon arrival.
"Before Hypercare, this process of co-ordinating care would require multiple phone calls to an operator, then waiting by a phone for the on-call medical service to be paged and call back, which is very inefficient and slow," says Darragh. 
Tai says he developed what became Hypercare as part of a course he took in 2016 while doing his master's degree in information systems and design at U of T's Faculty of Information. Students were tasked with developing an idea to solve a problem in the health-care sector in a computer science course taught by Mario Grech, Liam Kaufman and Helen Kontozopoulos, while being mentored by physicians Dr. Robert Wu, Dr. Allan Martin, and Dr. Matt Strickland. 
Through his research, Tai discovered health-care professionals in hospitals faced considerable difficulties communicating with each other as they used old-school devices like fax machines, pagers and call centres. He also saw many health-care workers using WhatsApp, but noted a lack of security and privacy with the tool. 
When Tai graduated in 2017, he teamed up with Dr. Joseph Choi, an emergency physician at University Health Network and assistant professor in U of T's department of medicine in the Faculty of Medicine, and Umar Azhar, a software engineer with a passion for tackling health-care challenges. 
The three launched Hypercare and received support and guidance from H2i (Health Innovation Hub) and UTEST, two of U of T's many entrepreneurship hubs on campus. Next, they secured investments from prominent angel investors in Canada and the United States. The company is now expanding rapidly and has seven full-time staff and 35 health-care organizations as clients.  Hypercare recently hired four summer co-op students and is seeking to hire two more full-time employees.
Darragh says MGH rolled out the Hypercare app in November, adding there are now nearly 600 health-care professionals using it throughout the organization.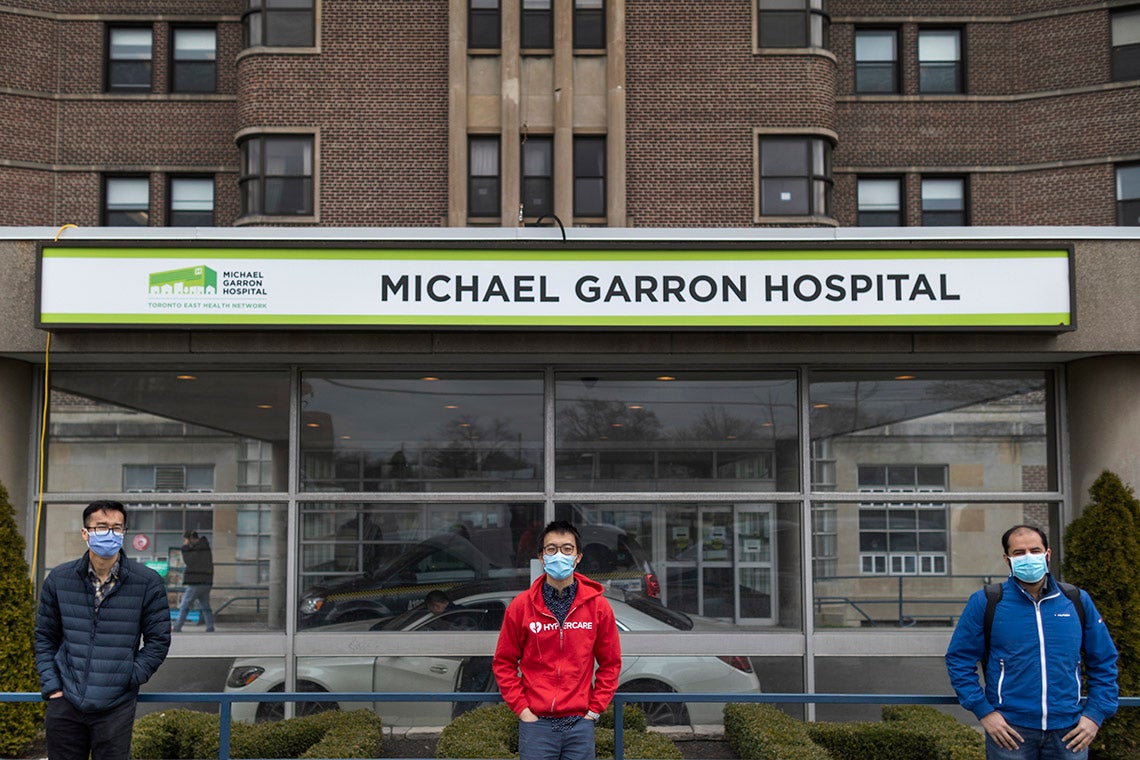 Hypercare's founders at Toronto's Michael Garron Hospital (from left to From left to right): Dr. Joseph Choi, Albert Tai and Umar Azhar (photo by Nick Iwanyshyn)
While the app proved to be immediately useful in helping MGH users communicate, Darragh says it has proven to be especially valuable during the current COVID-19 pandemic. 
"With virtual care now on everyone's minds, it really does underscore why a platform like Hypercare works," he says. "It connects medical services – not only within the hospital, but also health professionals outside the hospital, too." 
Hypercare has offered its app free of charge to hospitals for the next three months during the COVID crisis. That has enabled MGH to extend use of the app to family physicians in the East Toronto Health Partners (ETHP) Ontario Health Team. 
"COVID-19 has forced the temporary closure of a number of MGH sub-specialty clinics, which assist family physicians to care for their patients," says Darragh. "With access to Hypercare, now ETHP family doctors can text clinical questions to MGH sub-specialists and immediately receive advice about how to manage their patient.
"When there are so many services shut down because of COVID-19, without Hypercare, often the alternative for a family doctor would be to send their patients to the emergency department. But that is inefficient for both the patient and the health-care system. Hypercare is solving that problem. It's bridging the communication divide between health-care providers in the outpatient setting and those in the hospital."
The Hypercare app is also having a positive impact on the Toronto health-care community's ability to care for one of the most vulnerable populations: people experiencing homelessness. 
"People who have been tested for COVID-19 and are experiencing homelessness have nowhere to self-isolate while they are waiting for a test, or when they have been diagnosed with the virus but aren't sick enough to need a hospital," says Tai. 
Inner City Health Associates (ICHA), a group of more than 100 physicians providing transitional primary care, psychiatry and palliative care to people experiencing homelessness in Toronto, is implementing a provincially funded plan to identify, protect, care for and treat Toronto's homeless population during COVID-19.
Dr. Ritika Goel, the ICHA's interim COVID-19 recovery site associate medical director, explains that Hypercare embedded a paging function into health providers' phones, eliminating any need for new hardware or back-end fixes, and giving everyone easy access to on-call schedules.
"Physicians, RNs and other team members serving the homeless population can communicate with one another in real time and share patient information securely via our phones," Goel says. "On any given day, we quickly know who is on call. It puts the whole team on the same page right away."   
She adds that Hypercare's tool lets a variety of people, including physicians, nurses, shelter staff and trainees, identify which members of the community experiencing homelessness are most at risk.
"It takes a complex process and makes it as easy as answering a couple of questions in a conversational style."  
–with files from Ann Brocklehurst
UTC/Freelance