Focused on sustainability, U of T startup puts insects on the menu – for your pet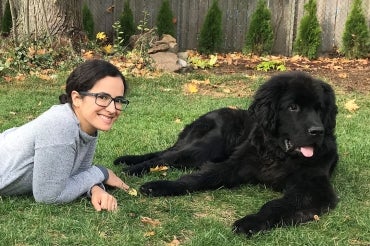 A University of Toronto startup is looking to improve the nutrition of dogs and cats while protecting the environment. 
Working with U of T Mississauga's ICUBE accelerator, HOPE Pet Foods bills itself as both meat-free and sustainable, and is preparing to launch a line of pet foods built around alternative proteins – namely insects and algae.
"A few years ago, I became very interested in the sustainability of the food system," says Sofia Bonilla, a post-doctoral researcher at U of T and the startup's founder. "I was really concerned about food waste and my expertise is in proteins – and that sort of connected the need for alternative proteins.
"That's how I started learning what proteins would be a good alternative to meat." 
Bonilla's pet food is made from non-traditional food sources – at least as far as North American standards go. The dog food she is producing relies on insect proteins while the cat food she created relies on algae proteins. She got the idea while working as a post-doctoral researcher at Wageningen University and Research, a public research university in the Netherlands.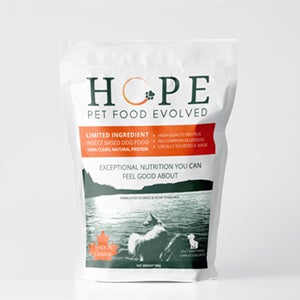 "I was in the Netherlands and there was a big company producing insects and I learned more about how insects are a complete protein – not like plants, where you would need to mix different plants to get the same amino acid profile. So, I started learning about insects," Bonilla says. "Then, part of my research was using algae for the protein content, and that's how I started learning about alternative proteins."
Bonilla, who has an 11-month-old Newfoundland dog named Snuffie (pronounced Snoofy) that eats insect-based treats, saw an opportunity for her proteins in the pet food market, which relies heavily on meat. About 25 per cent of meat in North America is used for pet food, according to Bonilla.
"It's a big number," she says. "It just made sense to focus on that market."
Bonilla is actively marketing her product and has enjoyed some early successes. The mother of two small children was a recent semi-finalist in the Total Mom Pitch Competition presented by Scotiabank. Her company also won second prize in the Adams Sustainability Innovation Prize, and she recently received support through U of T's Lo Family Social Venture Fund.
"Obviously, the funds are great. But it's more about validation that we are on the right track. That we can change and improve how we can feed our pets," she says. "Trust is the main thing we need to earn. That's what we're trying to do."
Bonilla believes that her background as a scientist will help her win the trust of pet owners.
"What we think we can bring to the market is an evidence-based, scientific approach, where we are really looking at the evidence behind dog nutrition and the best possible protein is the one with all the amino acids, but is also sustainable," she says.
She adds that HOPE Pet Foods allows pet owners to purchase food that is more closely aligned with values such as sustainability and being "cruelty-free."
Although eating insects is far from mainstream in North American culture, it is a widely accepted practice in many other parts of the globe. Bonilla says North Americans' attitude toward insects hasn't affected her work to date.
"We really haven't had one person say they would never give this to their dog ... I guess only time will tell."
UTM